Celebrating 50 Years of German- Bangladesh Relations
27 March 2022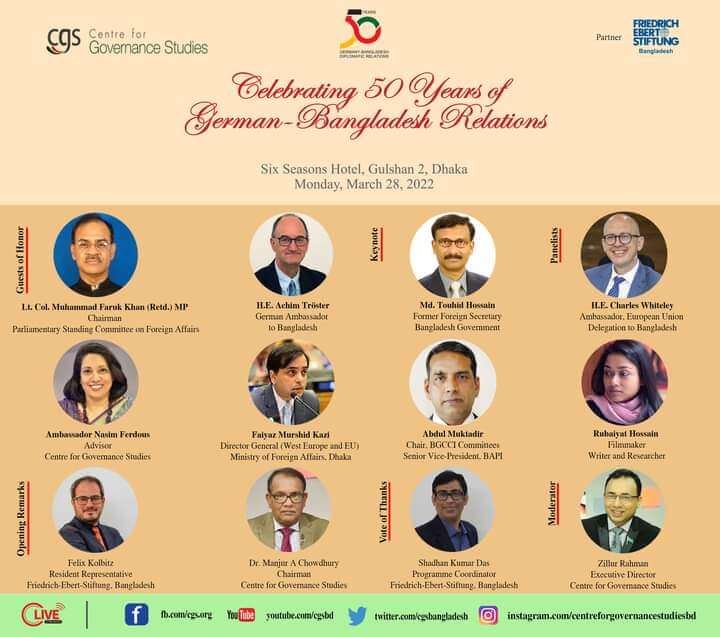 ---
It gives me immense pleasure to welcome your representatives for coverage of an event titled Celebrating 50 Years of German- Bangladesh Relations. The event will be held on Six Seasons Hotel, Road 96, House 19, Gulshan 2, Dhaka, on Monday 28th March, from 9.30 am to 1 pm.
Lt. Col. Muhammad Faruk Khan (Retd.) MP, Chairman of the Parliamentary Standing Committee on Foreign Affairs and former Minister, and H.E. Achim Tröster, German Ambassador to Bangladesh, will join the program as guests of honor.
Felix Kolbitz, Resident Representative, Friedrich-Ebert-Stiftung Bangladesh, and Dr. Manjur A Chowdhury, Chairperson, Centre for Governance Studies, will give their opening remarks in the program.
The keynote paper will be presented by Md. Touhid Hossain, former Foreign Secretary of Bangladesh Government.
The panel discussion will be moderated by Zillur Rahman, Executive Director of the Centre for Governance Studies. The Panelists in the event are: H.E. Charles Whiteley, Ambassador, European Union (EU) Delegation to Bangladesh, Ambassador Nasim Ferdous, Advisor, Centre for Governance Studies, Faiyaz Murshid Kazi, Director General (West Europe and European Union), Ministry of Foreign Affairs, Dhaka, Abdul Muktadir, Chair, Bangladesh-German Chamber of Commerce & Industry Committees, and Senior Vice-President, Bangladesh Association of Pharmaceutical Industries, Rubaiyat Hossain, Filmmaker, Writer and Interdisciplinary Researcher.
Comments