The Digital Security Act 2018: In the Eyes of the Civil Society
03 March 2022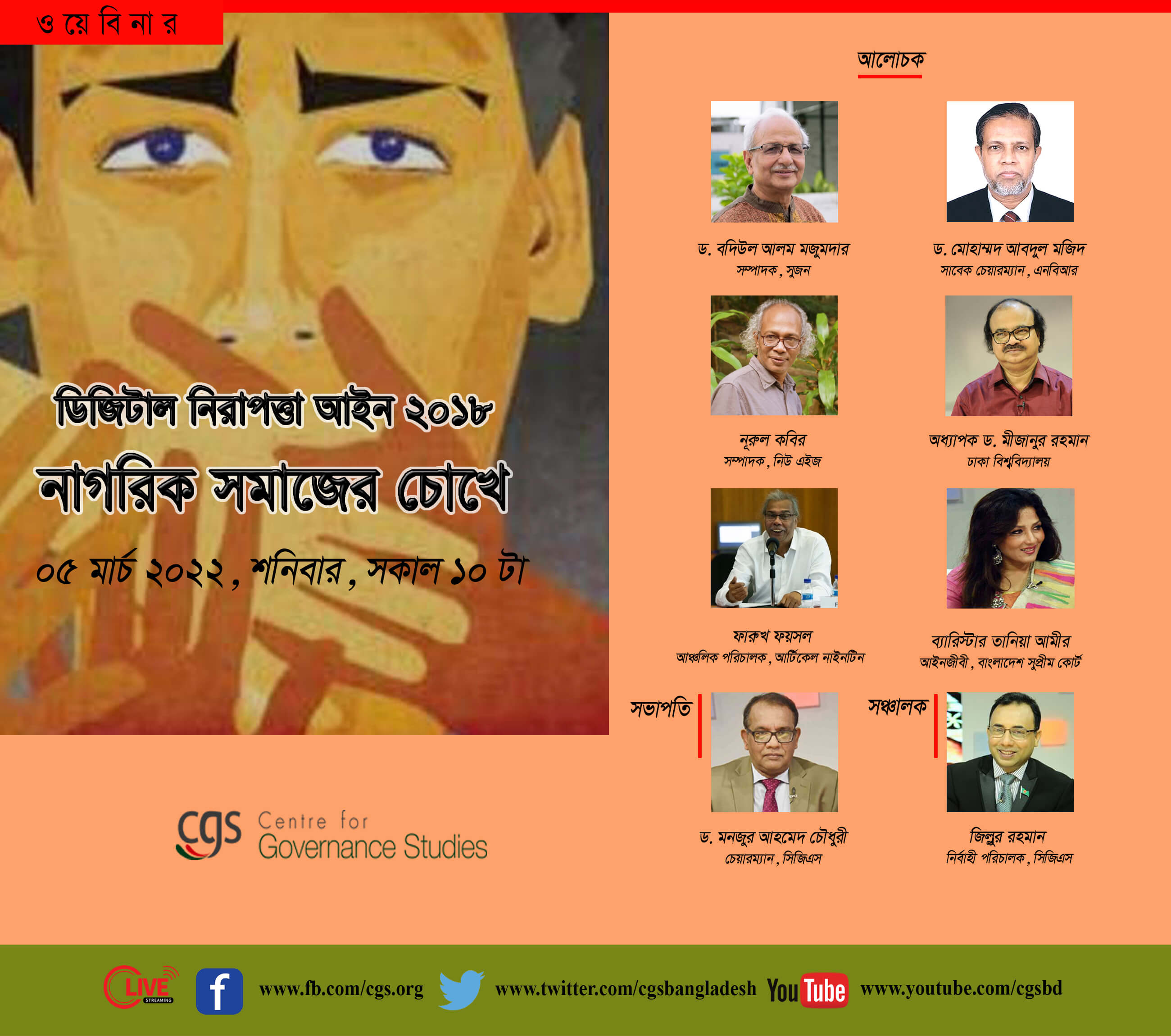 ---
Press Release
Despite widespread criticism and condemnation from human rights advocates, students, civil society organizations, and the international community for its too vague and imprecise provisions, the Digital Security Act was passed in 2018. Various forms of freedom of expression are criminalized under the Act. It empowers law enforcement authorities to arrest people without a warrant solely on suspicion of committing a crime through the use of mass media. According to different media reports, more than 1500 cases have been filed under the DSA from January 1, 2020, to March 2021. 925 cases were filed in 2018; 1189 cases in 2019 and 1128 cases in 2020. As a think-tank, The Centre for Governance Studies (CGS) has been able to track 835 cases with detailed information from January 2020 till the 30th of January 2022. In order to highlight this issue, the Centre is organizing a webinar titled, "The Digital Security Act 2018: In the Eyes of the Civil Society" next Saturday, 5th March 2022 at 10.00 A.M.
The discussants of the webinar will be Dr. Badiul Alam Majumdar, Secretary, SHUJAN; Dr Muhammad Abdul Mazid, Ex-Chairman NBR; Nurul Kabir, Editor of The New Age; Professor Dr Mijanur Rahman, Faculty, University of Dhaka; Barrister Tania Amir, Advocate of Bangladesh Supreme Court; Faruq Faisel, Regional Director for Bangladesh and South Asia at Article 19.
The webinar will be presided over by CGS Chairman Dr Manjur Ahmed Chowdhury and will be hosted by CGS Executive Director Zillur Rahman.
Comments