The Digital Security Act 2018: In the Eyes of the Politicians
26 February 2022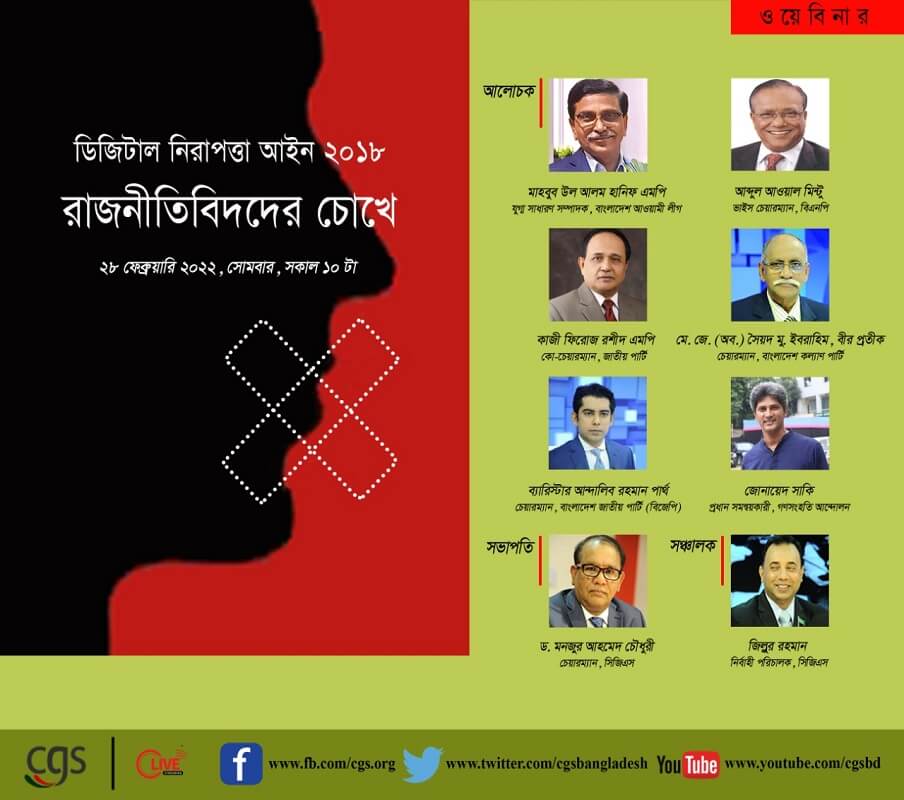 ---
Press Release
Freedom of expression is an inalienable right of the people of a democratic country. Since the inception of Digital Security Act- 2018 in Bangladesh, it has been inciting fear among different groups of people as far as voicing any opinion is concered. According to the different media reports, more than 1500 cases have been filed under the DSA from January 1, 2020 to March, 2021. 925 cases were filed in 2018; 1189 cases in 2019 and 1128 cases in 2020. As a think-tank, The Centre for Governance Studies (CGS) has been able to track 835 cases with detailed information from January 2020 till the 30th of January 2022. In order to highlight this issue, the Centre is organizing a webinar titled, "The Digital Security Act 2018: In the Eyes of the Politicians" next Monday, 28th February 2022 at 10.00 A.M.
The discussants of the webinar will be Mahbubul Alam Hanif MP, Joint General Secretary of Bangladesh Awami League; Abdul Awal Mintoo, Vice Chairman, Bangladesh Nationalist Party (BNP); Kazi Firoz Rashid MP, Former Minister and Co-Chairman of the Jatiya Party; Major General (Retd) Syed Muhammad Ibrahim Bir Protik, Chairman, Bangladesh Kallyan Party; Barrister Andaleeve Rahman Partho, Former Member of Parliament and Chairman of Bangladesh Jatiya Party (BJP); and Zonayed Saki, Chief Coordinator of Ganosamhati Andolon.
The webinar will be presided over by CGS Chaiman Dr. Manjur Ahmed Chowdhury and will be hosted by CGS Executive Director Zillur Rahman.
Comments