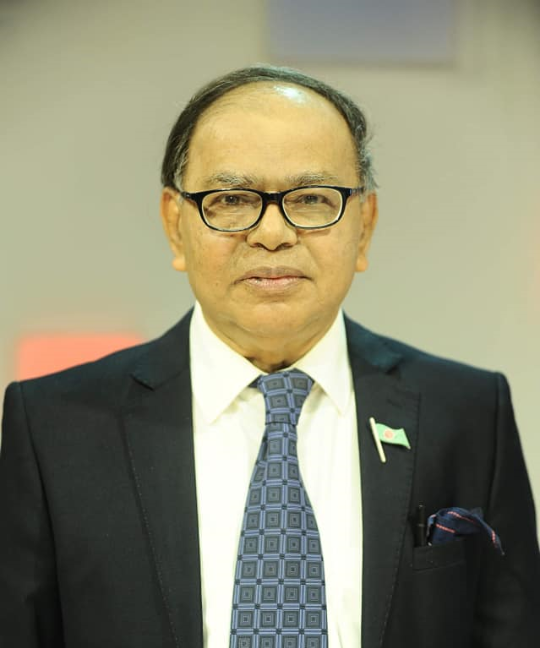 ---
Ambassador M. Shafiullah,Retired in 2001 his last diplomatic assignment was Ambassador to Libya with concurrent accreditation to Tunisia, Malta and the State of Palestine 1995 to 2001. He served in Bangladesh Embassies in Bangkok,Kathmandu, Canberra, United Arab Emirates and Stockholm in various capacities.At the Headquarters he served as Director-General for Middle East and North Africa.
He headed a challenging assignment to repatriate about 70,000 Bangladesh work forces fleeing from Kuwait when Saddam Husain occupied the Sheikhdom on 1st August 1990 from Jordanian desert. With the support of International community, NGOs, Missionary institutions, Red Cross, IOM and Jordanian Government some 65,000 Airlift to Dhaka inthree months.
He was a member of Bangladesh Delegation to the Commonwealth & OIC Summits and Al-Quds Committee meetings. To a number of Presidential visits he was acting Chief of Protocol.
Shafiullah served Bangabandhu SheikhMujibur Rahman as his Press officer for three years at an extraordinary time when Bangladesh wastransiting from a war-torn landmass into a viable Nation State! Shafiullah accompanied Bangabandhu to his visit to Kuwait, Egypt and India. He was privileged to witness signing ceremony of historicBangladesh-India Border Demarcation Treaty & temporary Farakkha BarrageTreaty by Bagabandhu & Mrs. Indira Gandhi in New Delhi on 16 May 1974.
During Liberation War stranded in Islamabad Shafiullah undertook a perilous journey through Mountain to reach Afghanistan. In July 1972 he reached Home ending his Odyssey!!
He was Senior Research Fellow at Bangladesh Enterprise Institute(BEI), a prestigious Think Tank for eight years.He worked in Monthly magazine "The Concept of Pakistan".
He was occasional contributor to the Daily Star.Shafiullah participates in TV Talk Shows on national & international affairs.Ambassador Shafiullah obtained M.A. in Psychology from Dhaka University.
Comments