Celebrating 50 years of Bangladesh
18 December 2021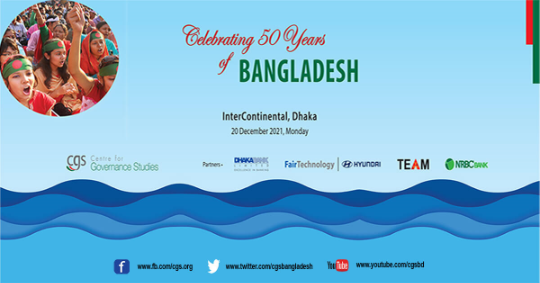 ---
Press Release
It gives me immense pleasure to welcome your representatives for coverage of a discussion regarding the liberation war and Bangladesh's 50 year-long journey since independence. The event will be held on 20 December 2021, Monday at the Crystal Ballroom of Hotel InterContinental, Dhaka, from 9:30 am to 12:00 pm.
The Chief Guest and keynote speaker will be Dr. Akbar Ali Khan, Economist and Former Advisor of the Caretaker Government. Heroes of the liberation war, Lt. Col. Jafar Imam (Retd.), Bir Bikrom, Maj. Gen. Helal Morshed Khan (Retd.), Bir Bikram, and Maj. Gen. Syed Muhammad Ibrahim (Retd.), Bir Protik, will be the special guests at the program where they will reminisce on their experiences of the war.
Dr. Manjur A. Chowdhury, Chairman of the Centre for Governance Studies, will be the chair and Mr. Zillur Rahman, Executive Director of the Centre will deliver the welcome remarks.
In this event, winners of the 'CGS 50 Years Achievement of Bangladesh- Essay Write-up Competition 2021' will be honored.
Comments