National Dialogue on LDC Graduation
21 November 2021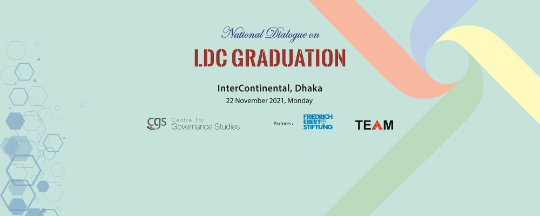 ---
Press Release
The Centre for Governance Studies (CGS) is hosting a day-long National Dialogue on LDC Graduation to be held on November 22, 2021, at 9:45 am at InterContinental Dhaka (Crystal Ballroom).
The National Dialogue is organized with an objective to facilitate the government, development partners, private sector, NGO, CSOs, and academics to sit together, discuss and outline an action plan for the smooth and sustainable transition from LDC. There will be three Rounds on Preparedness for Smooth and Sustainable LDC Graduation, LDC Graduation and Effective Development Cooperation, and LDC Graduation: Opportunities and Challenges for Commerce and Trade.
Mr. M A Mannan MP, Minister, Ministry of Planning, Government of Bangladesh has kindly consented to remain present as the Chief Guest in this Program.
We are expecting an august gathering of politicians, business leaders, diplomats, academics, civil society representatives, and journalists. Due to the Covid 19 pandemic, only limited personnel will be invited to the event, and the health and safety of individuals will be ensured according to the guidelines of the World Health Organization.
Comments