গণমাধ্যমের শত্রুমিত্র
18 August 2021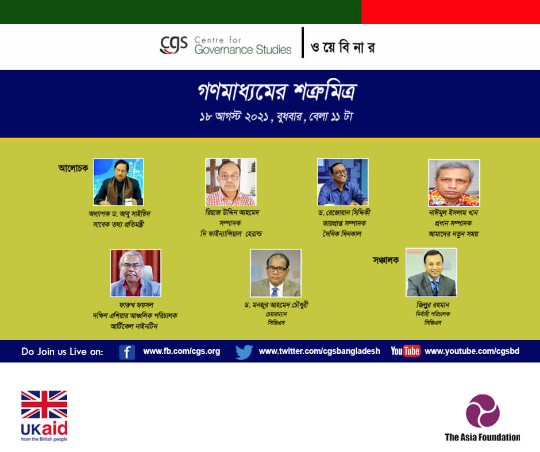 ---
Press Release
গণমাধ্যমের শত্রুমিত্র

"I have never seen such crisis in the media industry of Bangladesh in my lifetime," said by Nayeemul Islam Khan on a webinar organized by the Centre for Governance Studies. The webinar was arranged by the Centre for Governance Studies on 18th August 2022 on the title of "Friends and Foes of Mass Media. It was moderated by the Executive director of the organization Zillur Rahman.
Besides Nayeemul Islam Khan, The editor-in-chief of Amader Notun Shomoy, the other discussants were Former Minister of State for Information Prof. Dr Abu Sayeed, Editor of The Financial Herald Riaz Uddin Ahmed, Acting Editor of the Daily Dinkal Dr. Rezwan Siddiqui, Regional Director for South Asia at Article 19, Faruq Faisel and CGS Chairman Dr. Manjur Ahmed Chowdhury.
During his speech, Nayeemul Islam, who is both an owner and editor of different newspapers, discussed the challenges of the media industry from other dimensions. Although around 700 newspapers are licensed in Dhaka city, only 50 newspapers are being distributed through hawkers. He emphasized the corruption, nepotism and unprofessionalism of the journalists in Bangladesh. Lately, He suggested initiating an advocacy program for junior journalists to guide them on coming out from self-censorship and a series of discussion events on such agendas.
Faruq Faisal, in his speech, when we talk about friends and foes of mass media, it would be more important to find out whose enemy and friends mass media is. The monopoly of ownership in the media industry has greatly affected the freedom of journalism in Bangladesh, he added. Rizwan Siddique said, in the absence of democracy, everyone is the foes of the media. Until and unless we work to bring back the practice of democratic principles, journalism will never be the same again.
The enemies of the media are those who are in no favour of democracy, said Dr.. Manjur Ahmed Chowdhury. He suggested taking a lesson from the history of vibrant journalism during our pre-liberation days. Riaz Uddin Ahmed said, owning a newspaper is like bringing a visiting card to get access to the ministry. Editors are invaded by the businessman. There was a time when journalists, civil society and trade bodies used to work together but partisan between them affects journalism as a whole, he added.
Former Minister Prof. Abu Sayeed stated journalists are being divided into different groups that cause journalism questionable. He addressed the issue of media ownership where he proposed the monopoly of media business should be stopped.
Full Webinar YouTube Link: https://www.youtube.com/watch?v=0caeOBe6YpI&t=163s
Comments