Digital Press Conference on Dengue Situation in Dhaka How to Stop Epidemic Transmission
11 August 2021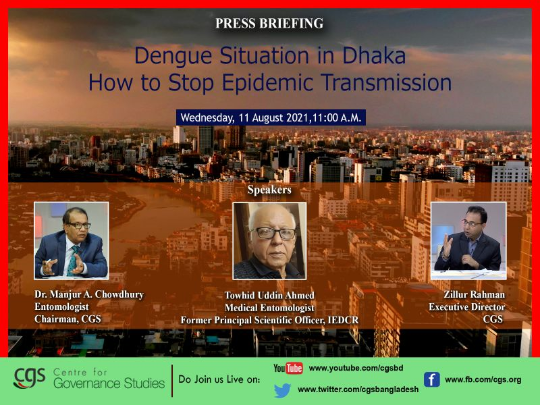 ---
Press Release
CGS hosts a press conference on the rising dengue epidemic in Bangladesh
As the rainy season arrives once again, the rate of dengue infections is rising to unprecedented levels, quickly becoming a mass public health crisis in metropolitan centres such as Dhaka. To shed some light on this matter, the Centre for Governance Studies hosted a press conference on the 11th of August where experts on the matter gave their educated opinions.
Medical Entomologist and Former Principal Scientific Officer of Institute of Epidemiology, Disease Control and Research (IEDCR) Towhid Uddin Ahmed, and Chairman of Centre for Governance Study (CGS) Entomologist Dr. Manjur A. Chowdhury talked in length about the current dengue situation. Executive Director of the CGS Zillur Rahman, hosted the discussion.
Dr. Manjur A. Chowdhury stated that according to epidemiologists and other health care specialists in Bangladesh, the dengue situation is estimated to have reached the level of an epidemic and should be now treated with similar regard as the ongoing covid pandemic. The medical entomologist pointed out that the dengue virus is spread through the adult Aedes mosquito, and the most immediate way to combat the spread of the dengue epidemic is to clear out areas where the adult mosquitoes reside and eradicate them. However, this kind of integrated vector control of diseases as prescribed by the WHO is not currently being followed by the government and relevant authorities, who are more focused on eradicating the larva of mosquitoes instead of targeting adult mosquitoes. Dr. Manjur emphasized that this is not good practice and is too slow a response in tackling the immediate spread of infections.
Towhid Uddin Ahmed reflected on this point that the ineptitude of relevant authorities is the main reason why the disease is currently at this level of contagion. He stated that Dhaka is the hub of dengue spread in Bangladesh and by controlling it in Dhaka, it can be controlled throughout the nation. However, weak reporting systems and a lack of monitoring facilities is resulting in the mishandling of the situation. According to the former chief scientific officer, the only way to stop the spread of the disease is to take a door to door initiative where mosquito repellents are sprayed in every possible location adult mosquitoes reside, or the government has to allow and promote facilities where people themselves can use repellents on mosquito clusters.
The panellists of the conference agreed unanimously that the best way to proceed forward is to focus efforts to eradicate adult Aedes mosquitoes instead of their larvae. The panellists also emphasised that the general public needs to keep their environment safe and clean by removing all empty containers out in the open so they don't become breeding grounds for mosquitoes. The public was also urged to use mosquito repellents, and keep children under mosquito nets at night. Finally, the operators of mosquito repellent foggers need to be trained to eradicate adult mosquitoes that reside in abodes instead of spraying open drain-ways and low lying places.
Facebook live: https://fb.watch/7jfpRYDWVG/
Comments