গণমাধ্যমের স্বাধীনতা এবং জনস্বার্থ
22 May 2021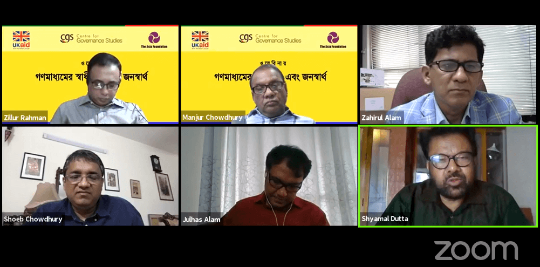 ---
Press Release
Webinar on Freedom of Media and Public Interest
Yesterday, on 22th May, A webinar titled, "Freedom of Media and Public Interest" was organized by Centre for Governance Studies. The 2 hour long online discussion was moderated by the Executive Director of Centre for Governance Studies Zillur Rahman.
The discussants of the webinar were Syeda Rizwana Hasan, Chief Executive, Bangladesh Environmental Lawyers Association (BELA), Shaymal Datta, Editor at Bhorer Kagoj, Chowdhury, President, The Asian Age, Zahirul Alam, Head of News, NTV and Julhas Alam, Head of Bureau, AP.
The discussion covered the current state of media freedom in Bangladesh in terms of protecting and promoting the rights of the common people. The contemporary heated issue regarding journalist Rozina Islam was also touched upon by the speakers. Julhas Alam, in his speech raised concern about the editorial policy of the newspaper where he said a fine line should be established between ethics and standard to enhance the quality of such policy. He also pointed out the presence of multiple competing press clubs in a single district which is creating division among journalist. On that note, Zahirul Alam noted that a dark alliance has emerged in this sector that is directly affecting the quality of investigative journalism, and the mushroom-like growth of media houses is in fact detrimental to freedom of media as it reduces check and balance evaluation.
Shoeb Chowdhury emphasized on media law and broadcast law, which are in his opinion not up to international standard. He suggested increased coordination and consensus among journalists to tackle contemporary challenges. Shaymal Datta, who himself is a leading journalist recommended some initiate steps to build training institutions in the country. He said, social media is neither social nor media, so it is very harmful that people are depending on this platform as a source of information. He also elaborated on the diminishing role of the media industry in contributing to societal development post the liberation war era.
Syeda Rizwana Hasan in her speech prioritized the accountability of public servant who are being paid through people's taxes. She also demanded an answer to why the phone calls of common people are being tapped and leaked.
In conclusion, the speakers encouraged the journalist's association to come forward as a group to protect their rights despite their ideological differences.
Webinar YouTube link: https://www.youtube.com/watch?v=cIowUaB_kno
Webinar Face book live link: https://fb.watch/5EzBHtTKg3/
Comments