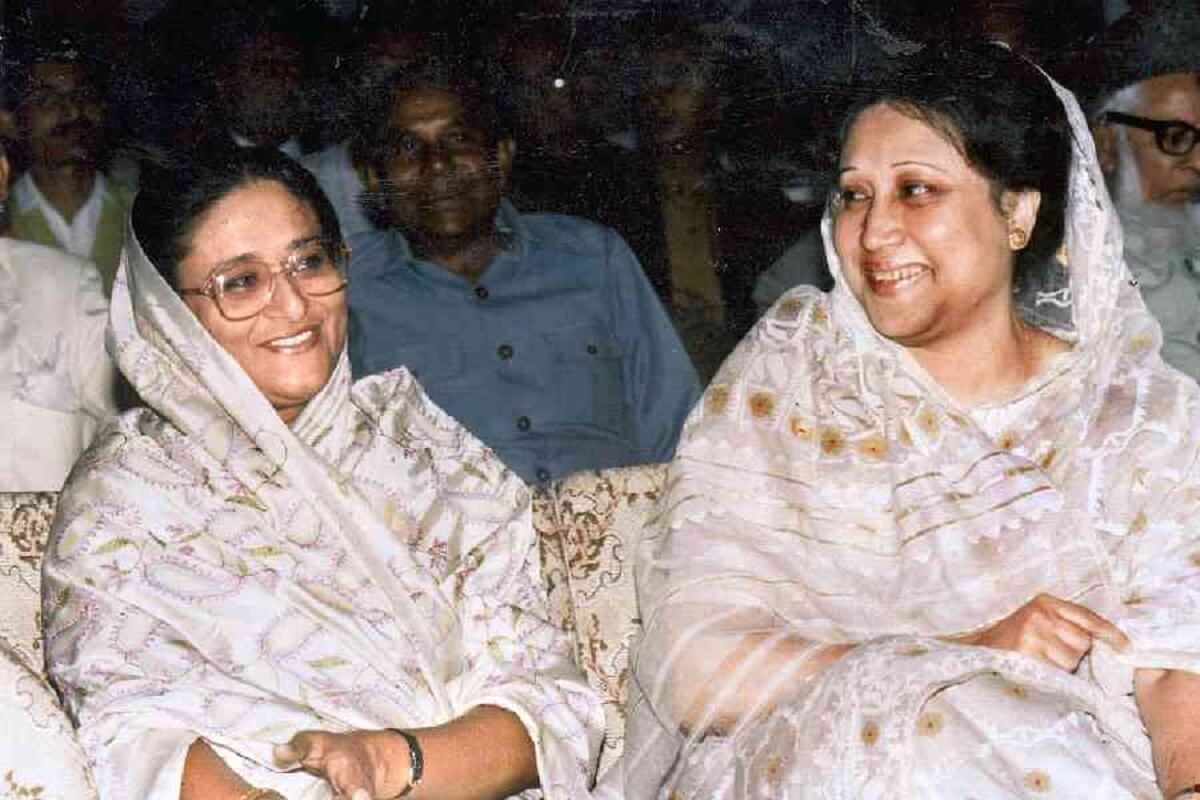 ---
When Bangladesh goes to the polls in a few months, will Prime Minister Sheikh Hasina be able to serve up a credible stage for democracy?
As Bangladesh gears up for the 12th Jatiya Sangsad (national parliament) early next year, a recent visit to Dhaka gave me a quick firsthand glance of the emerging political landscape in the country. For any casual onlooker, there are transformational changes taking place, including airport expansion to newly built flyovers, ongoing metro construction and buzzing malls. From a very difficult beginning with the Liberation War, our eastern neighbour has surely come a long way in its 52 years.
The Bangladeshi polity is largely represented by two electoral competitors, namely the Awami League and Bangladesh Nationalist Party (BNP); almost every adult can be said to have a slight bias towards one or the other.
The present Awami League government led by Sheikh Hasina, Bangabandhu Sheikh Mujibur Rahman's kanya (daughter), having held sway since 2009, is pitching strongly for a return to power. The political schism that has always existed in Bangladesh has now been cleaved deeper because of the recent history of elections and electioneering manoeuvres.
While Bangladesh has taken great strides socially and economically, the Hasina government continues to find its raison d'etre in the historical events of 1971. The Awami League has certainly claimed the legacy of independence effectively; the 50th year celebrations gave Hasina and her party the impetus to revive past memories as seen through images of the Liberation War and its first prime minister Sheikh Mujibur Rahman plastered across public spaces including the Dhaka airport that boasts of a special gallery.
Months before rival parties get locked in an electoral campaign, Hasina has begun to build a political narrative to strengthen her case. For now, Khaleda Zia's BNP persists with its rejection of the election Commission's invitation to a fresh dialogue ahead of the parliamentary polls citing their distrust of the present administration. The Awami League is equally adamant about not reviving the caretaker government (a neutral interim government that oversees a free and fair election), and this has led to the present impasse.
In 2014, the BNP stayed out of the election on similar grounds of mistrust, a decision that proved costly because they continue to remain in the political wilderness. The BNP had no scope to make amends in the subsequent 2018 elections, which was a sham of sorts, to put it mildly. Despite assurances to the contrary, Awami League ground workers burned the midnight oil to stuff the ballot boxes with temerity that paid off. Ironically, in 2018, the Awami League would have won the popular majority even without such manoeuvres.
But a repeat of the 2018 elections will be unacceptable, both domestically and for Bangladesh's external supporters. The Awami League will be hard-pressed to show that it is capable of holding multiparty elections. But, of course, the BNP's continued intransigence compli-cates the prospect of a credibly contested election.
Holding elections with new political formations may be a possibility on the table. Previous electoral trends indicate that in the event of any fairly held elections, the two main political parties usually muster about 35-40 per cent of the vote.
I was told that the situation remains unaltered, although media polls have been discouraged and there are no handy statistics to substantiate that claim. There exists a 15 per cent swing vote and another small percentage captured by independent candidates as well as by a few Right-wing parties which very rarely translate into seats. A new Left coalition has emerged, but its appeal is uncertain.
The Awami League could usually bank upon the minority vote. However, inadequate government response in the face of periodic violence and vandalism against Hindus and their temples has led to serious misgivings within this loyal group. In spite of this, their options remain clearly limited in the present political environment; who do they pick other than Hasina?
At one level, the Awami League government's progress is impressive. Ranging from significant infrastructural development, collaborative international projects, digital growth, effective handling of the Covid-19 pandemic crisis, the vaccination programme and more. Their robust counter-terrorism programmes have led to controlling the jihadi elements even as the state's extra-judicial measures have caused concern.
But delving deeper, warts begin to show up. Unprecedented levels of corruption, irresponsible financial behaviour and weaknesses in the regulatory system have led to Bangladesh's "growth miracle" story losing its sheen. Poor banking policies have contributed to huge inflationary trends.
At the political level, the executive has blurred the lines of separation of powers. The extended Awami League terms in power have been co-terminus with a greater sense of entitlement; this is supplemented by a well-oiled machinery to not only promote the government's viewpoint but also hold out the threat and fear of retributive action for those who would continue to defy the enthroned establishment.
Dhaka is once again rife with planted conspiracy theories. Certain sections of the pro-government media are leaving no stone unturned to evoke public sympathy through building supportive narratives. The DigitalSecurity Act is a perfect tool in their hands to clamp down on any point of view perceived as antagonistic.
Political impunity has grown stronger in the absence of Opposition and the leadership crises within the BNP. Its chairperson Khaleda Zia and heir apparent Tarique Rahman remain outside the political system on account of corruption charges. Given their political isolation, all BNP members may not be happy with the leadership's decision to not join the elections. While the BNP leadership has so far remained together, the temptation to defy the high command by some and return to the electoral space cannot be ruled out.
Such an eventuality would provide the best alibi for the Awami League to hold a seemingly multiparty election. It would also give the US latitude to ease the recent tension that they have caused by their critique of the shape of democracy in Bangladesh and their insistence on holding free and fair multiparty elections. Sheikh Hasina's recent vitriolic attacks in parliament against sanction-generating states and popular media editors could be indicative of uncertainties within.
In control of the domestic apparatus, Hasina has leveraged its geographical position adeptly vis-a-vis the regional and extra-regional powers. Arguably, it is assured of Indian support given its immediate interest in seeing a return of the pro-Delhi regime. And China will string along.
Apparently, Hasina's return strategy is in play. However, there are no guarantees in politics and six months is a long time for any roadmap to go awry. And who knows that better than Bangladeshis?
The writer teaches international relations at O.P. Jindal Global University, Sonipat, Haryana
This article was originally published on The Telegraph Online.
Views in this article are author's own and do not necessarily reflect CGS policy.
Comments