Flow Generation: The uncertain future and the possibility
08 January 2020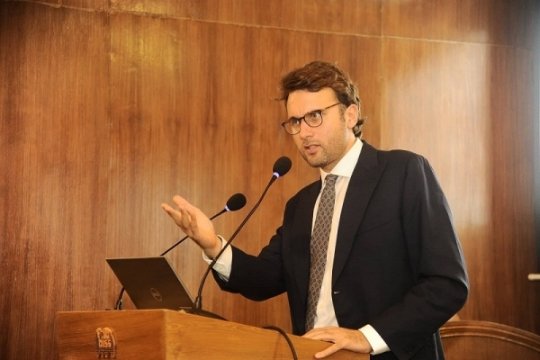 pl1
---
Everything keeps changing in a blink, and unlike our parents, we have no idea how to make it to retirement. The popular dimensions of jobs have been changed, and a new and technology-based dimension has taken place where university degrees' have become obsolete. To earn a living, one need to familiar with technology and the use of software, where home becomes the office and algorithm is the boss. The curriculum is taught in the universities has been becoming obsolete eventually. The modern and advanced machineries have taken place to complete the tasks instead of human hands. It is believed and talked by some that every job in the world will be taken by 'Robots' and humans will be useless and become jobless. What should we do as the future is uncertain but interesting?
Nicolo' Andreula, an Italian economist, strategist and public speaker, addressed these concerns in a public lecture organized by Centre for Governance Studies (CGS), a non-profit autonomous think-tank. The title of the public lecture was "Flow Generation" and it was held on 8 January 2020 at the auditorium of Bangladesh Institute of International and Strategic Studies (BIISS). In his speech, Mr. Nicolo Andreula expressed his opinion and discussed the necessity for accumulating various alternative skills, adopting a lifetime learning process and considering a portfolio career by employees globally to cope with the uncertainties technological advancements were causing. Due to the drastic advancement of technology, the jobs sectors are changing frequently as well as approximately 40 percent of the formal university degrees will be obsolete but, 85 percent of the jobs are yet to come by 2030 according to a global study. Mr. Nicolo Andreula termed this generation as Flow Generation and advised to accept the changes and grasp the opportunities by acquiring new skills. He predicted that Bangladesh has a bright future with over 6 lakh IT freelancers and those Bangladeshi young minds that are willing to learn how to swim and surf in the waves of technological disruptions instead of sitting idle at home. He cited an example of a survey in the Netherlands that 34 percent of people are engaged in regular jobs while 66 percent of jobs include freelancers, contractors or part-timers. Addressing the question of the audiences, Mr. Nicolo Andreula said that everything is changing so frequently and the formal curriculum has been becoming obsolete eventually but digitalization, automation, robotics have been reshaping the globe and creating more jobs. So without sitting idle and being paralyzed with fear you need to continue your learning process and learn to flow with this new generation.
The lecture was attended by academics, former diplomats, policy analysts, and students. Students as well as other percipients actively participated in the program and asked questions regarding job sectors, automation, university degrees, global economy, freelancing, etc. Mr. Nicolo Andreula responded to all those concerns rose by the students and advised them to be optimistic for the coming era because it will be more auspicious then before.
The lecture was held based on a book 'Flow Generation: A Survival Guide for our Unpredictable Lives' written by Nicoló Andreula and Vera Sprothen where they shows readers how to move beyond fear and brave the unknown, as we enter a future that seems more unpredictable than ever – and yet it's better than we think. Mr. Nicolo' Andreula has worked for leading professional service firms such as McKinsey & Company and Goldman Sachs, building long-standing relationships with clients like Google, Netflix, Uber, Microsoft, the World Economic Forum. He runs executive education programs for Ferrari, JLL and Unicredit Bank, and holds MBA courses and seminars in leading business schools around the world such as INSEAD, Nanyang Business School in Singapore, and the Chinese University of Hong Kong. He is regularly invited to speak at high profile events - e.g. at Japan's House of Representatives, the United Nations Economic Commission for Africa or the APEC Senior Officer's Meeting in Vietnam.
Mr. Nicolo' Andreula holds an MSc. in Economics from Bocconi University and an MBA from INSEAD, his research work has been featured on several international publications, ranging from the Harvard Business Review to Forbes. He is also the co-founder of the TEDx Conference in Bari, his hometown in Southern Italy, and the Scientific Director of the Master in Digital Entrepreneurship at H-Farm.
CGS executive director Zillur Rahman gave the opening remarks and moderated the public lecture session. Among others, CGS vice-chairman Manjur A Chowdhury, a member of the board of directors M Shafiullah also was present at the program.
Comments