Perceptions of Corruption Before and During The Pandemic
21 September 2022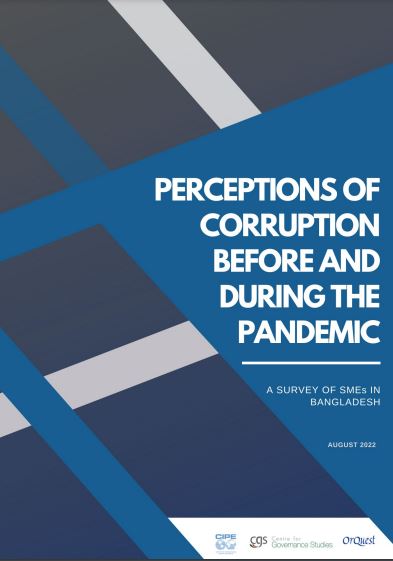 ---
Pervasive corruption has plagued Bangladesh's public and private sectors for decades. Despite the government's repeated assertion of a "zero tolerance" policy toward corruption, the country's overall standing in the Corruption Perception Index published by the global watchdog Transparency International has remained remarkably low. Institutions to combat corruption have remained weak and ineffective due to the lack of resources and political commitment. It is widely believed that perpetrators of corruption enjoy impunity. Furthermore, the current political environment, which lacks inclusivity, transparency, and accountability, has exacerbated the situation.
The Centre for Governance Studies (CGS) has collaborated with the Center for International Private Enterprise (CIPE) and Bangladeshi survey firm OrgQuest to create a comprehensive survey on small and medium-sized enterprise (SME) perceptions of corruption in Bangladesh before and during the COVID-19 pandemic. The SME survey attempts to assess the entire scope of corruption in Bangladesh and provide actionable information to address it more effectively. The survey looks at the country's most frequent kinds of corruption, the significant barriers caused by corruption, and the efficacy of current anticorruption activities.
This research was carried out in order to lay the groundwork for an action plan to move Bangladesh toward a more inclusive, accountable, and corruption-free governing system.

Please Download the Full Survey
Comments