Why Pakistan 'Super Floods' are A Warning for South Asia and The Rest of The World
Tom Hussain | 19 September 2022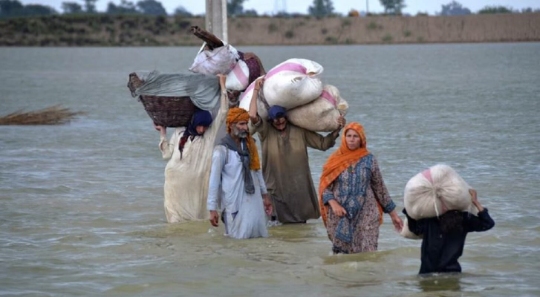 ---
• Monsoon misery exposes climate change threat as millions face acute starvation
• Army and volunteers step up aid relief operations, but analysts warn Pakistan must quickly learn from lessons of previous disasters
"Are you sure you're ready for this?" asked Falaknaz Asfandyar, a princess of the erstwhile royal family of Swat, a mountainous valley in northern Pakistan.
"Our last relief convoy was mobbed by people demanding that we hand over the goods we were taking to people further up the valley," she said last Saturday, as workmen at her home in Saidu Sharif loaded sacks of wheat flour and other dry rations onto three trucks for delivery to areas devastated by monsoon-fed flash floods on August 25.
This was the third of four humanitarian aid shipments she had scheduled after raising about US$28,000 in donations for the flood victims of Swat.
Falaknaz said she had been involved in raising funds for Swat natives since a massive earthquake struck northern Pakistan in 2005, killing more than 70,000 people.
As Falaknaz and her daughter waited for the trucks to catch up with their SUV at the town of Madyan, their presence drew a crowd of men from adjacent valleys searching for food for their families.
A man tried in vain to persuade Falaknaz's secretary to distribute the relief goods there and then, rather than further up the Swat valley at Bahrain, the last town still reachable by road.
"Our families are starving," he said, as he showed photographs on his mobile phone depicting the severe damage wrought by the floods. "Our food stocks are exhausted and I have no money because I haven't been able to work for the last two weeks."
The situation witnessed by This Week in Asia offered a snapshot of the devastation caused by what has been dubbed as a "super flood", with Pakistan's climate minister describing the disaster as "apocalyptic" and "the climate catastrophe of the decade".
The International Federation of Red Cross and Red Crescent Societies and the International Commi¬t¬tee of the Red Cross have warned that many of the more than 33 million Pakistanis directly affected by the floods face acute starvation.
They said 21 million acres of standing crops in Pakistan were under water, including about two-thirds of the rice which would have been harvested in October, and roughly as much of the nation's rudimentarily stored wheat had been destroyed. Over 733,000 livestock animals were killed.
Pakistan, with about 230 million inhabitants, is the world's fifth most populous country. About 43 per cent were classified as food insecure by the United Nations before the floods.
Increasingly desperate conditions and the lagging state response to the super flood have sparked incidents of looting and rioting at aid relief centres around Pakistan, including in Swat.
Just as the crowd of aid seekers seemed to have reached a critical mass around Falaknaz's vehicle in Madyan, a police truck with four armed officers armed with AK-47 rifles pulled up and the relief convoy sped away under escort.
As the vehicles headed to the valley, Falaknaz pointed out the devastation wrought by the floods.
River banks were shorn of farmland, homes and roads with such precision that it appeared to have been engineered. Enormous slabs of concrete from destroyed multistorey hotels 50km north were strewn across the river bed, diverting its course.
All cross river bridges along the way to Bahrain were partially or completely destroyed.
The only substantial riverside infrastructure seemingly unscathed was the 37-megawatt Daral-Khwar hydropower project completed last year with the help of Chinese engineers.
Nationwide, some 7,000km of roads and 500 bridges have been destroyed.
UN Secretary General António Guterres on Tuesday said "there is nothing natural about the new scale" of the floods that hit Pakistan and other extreme weather events worldwide. "They are the price of humanity's fossil fuel addiction," he said.
A United In Science report said current data showed greenhouse gas concentrations continued to rise to record highs, with fossil-fuel emission rates now above pre-pandemic levels after a temporary drop due to Covid lockdowns.
"The ambition of emissions reduction pledges for 2030 needs to be seven times higher to be in line with the 1.5°C goal of the Paris Agreement," the report from the World Meteorological Organization advised.
Karachi-based environmental activist Afia Salam said "the signs are definitely that climate change impacts" caused Pakistan's super flood, and the drought and record springtime temperatures which preceded it.The latest research by the Pakistan Meteorological Department showed the country's average temperature rose by one degree Celsius over the last 100 years, she said – compared to the 0.6-degree increase it reported in 2019.
"One degree is a lot for a country like ours. It has triggered this chain reaction," said Salam, president of the Indus Earth Trust, a non-profit organisation focused on the sustainable development of Pakistani communities affected by climate change.
The severe heatwave in the spring meant the atmosphere had "a lot more capacity to suck up moisture" from the lakes of Pakistan's major dams and its enormous integrated system of canals fed by the River Indus and its many tributaries, and from its 1,046km Arabian Sea coastline, she said.
Most of the areas of Pakistan inundated by the subsequent deluge were not historically affected by the annual monsoon, she said, until climate change pushed the weather pattern west, away from the dams in its previous catchment areas, from 2010 onwards.
"All these changes are directly linked to climate change," Salam said.
In Swat, Falaknaz's relief convoy pulled into the small town of Bahrain shortly after army engineers, following nearly two weeks of working round the clock, had temporarily restored road access to the upper part of the valley for the first time since the flash floods struck.
Flood victims instantly began pouring through the three-metre-wide track, having already looted an aid convoy earlier in the day, an administrator said.
The hours-long process of lugging the relief goods for 300 pre-vetted needy families up a steep 100-metre staircase began under the supervision of officials and Swat Levies militia troops. But by the time aid packages were organised for distribution, tempers inside the local administration compound had begun to fray. Shouting matches erupted between officials and people trying to cut the queue.
Meanwhile, people in the residential areas surrounding the administrator's office had taken to their rooftops, demanding to know why others were being helped first.
Crowds banged at the locked gates, people started climbing over walls, and one invader was bloodied by a rifle-butt blow to the face administered by security personnel.
The mob began venting its rage on a police officer guarding the front gate.
"If they storm the place, we won't be able to stop them from ransacking it," a paramilitary sergeant said, as the princesses were hurriedly ushered into a heavily guarded office for their safety. The crowd was eventually persuaded to disperse.
The following morning, This Week In Asia recounted the events at Bahrain to Sajid Akber, the Pakistan Army brigadier sent to lead the military's relief efforts immediately after the floods struck in Swat.
The 46-year-old officer was not surprised, saying the army had received several such reports of breakdowns in public order.
With the major highway in Swat only temporarily reconnected after two weeks, "the frustration and impatience of the local population is understandable", Akber said.
"Yes, there are capacity issues, but I have seen the officials of the civil administration working and they are doing so to the best of their capabilities."
The day he arrived to assume command of the Swat brigade, Akber flew up the valley in a small Bell helicopter to the tourist hotspot of Kalam, where thousands of travellers were left stranded after floods destroyed a 35km stretch of highway connecting it to Bahrain and the rest of the country.
Travelling upstream, the Swat valley narrows into the picturesque setting of a crystal blue river sandwiched between tree-covered mountains which stretch up to glacial lakes. This makes it a temperate haven for tourists seeking to escape Pakistan's searing summer heat.
But a "scene from a Hollywood disaster movie" greeted Akber when he landed in Kalam. "People swarmed onto the landing pad from all sides begging to be evacuated," he said.
It took him and accompanying soldiers some time to calm the terrified, desperate residents and tourists, and to convince them his reconnaissance mission would trigger rescue and relief operations, he said.
The flash floods caused immense infrastructural damage, he said. At multiple places, roads were washed away, particularly in Bahrain and Kalam where the Swat river span is very narrow. All commercial structures and homes built along the riverbank were washed away, as were about a dozen bridges.
The resultant connectivity problem upstream from Bahrain to Kalam created three immediate challenges for the army's rescue and relief teams, Akber said.
The first was to feed and evacuate more than 5,000 tourists stranded by the floods at Kalam and the adjacent lake resort in Kumrat valley, where dozens of recently constructed hotels had disintegrated under the pressure of debris-laden torrents.
Similarly, some 1,200 sick people, including pregnant women and those requiring complex medical treatment, had to be ferried by helicopter to the army's relief operations centre in Kanju, at the foot of the Swat valley.
But that paled in comparison to the needs of the roughly 84,000 residents of 83 villages in the three isolated valleys which meet at Kalam, Akber said. Another 50,000 people in 42 villages between Bahrain and Kalam were also cut off by the floods.
The brigadier said army squads had by last Sunday reached about half of the far-flung villages in Kalam, with soldiers climbing up slippery, crumbling tracks at heights of between 2,000 and 3,000 metres for up to five hours, accompanied by mule trains and local volunteers carrying food for affected communities.
"It's certainly not enough and we need to do more. But I'm pretty sure we will be able to physically reach all the cut-off villages with food stocks in the next week or so, either by foot, mule or helicopter," Akber said.
"But maintaining their food stocks is one thing and evacuating critically sick people is another thing," he said, adding that Bahrain and Kalam lacked tertiary care hospitals.
The army began setting up temporary medical camps to treat affected communities late last week.
The scale of the damage meant the army's medical corps simply did not have the personnel or resources to care for the population, Akber said.
But the capacity gap is rapidly being plugged by volunteer teams of civilian medical specialists and retired army doctors who have reached out to the military to volunteer their services.
As Akber spoke to This Week In Asia, an MI-17 helicopter approached the base carrying a team of about a dozen civilian doctors returning from Kalam, where they had attended to hundreds of patients over three days.
The doctors briefed Akber and his staff about the conditions they had encountered, reporting cases of malnutrition, vitamin and calcium deficiencies, upper respiratory tract infections, diarrhoea and scabies were rife among flood victims.
Akber said the army's morale was greatly lifted by the generosity and passion of volunteers and private donors, and he looked forward to supporting them with the army's logistics chain.
But he said it was obvious authorities in Swat had to adapt to climate change by strictly enforcing bans on the construction of homes and commercial premises along river banks and mountain streams.
Indus Earth Trust's Salam said the 2010 floods which affected more than 20 million Pakistanis were among "the lessons we do not seem to be able to learn".
Pakistan was in the top 10 of countries vulnerable to climate change for more than 15 years and "just that one fact should have triggered action, a policy response, and on ground implementation to correspond to the threat level", Salam said.
Climate change triggered "the human tragedy that is unfolding before us, but we didn't learn anything. We allowed people to stay within the path of harm".
If Pakistan and other such developing countries "keep lax policies and attitudes in dealing with climate change, and do not make adaptation our top priority" by climate-proofing their infrastructure, and transport and energy policies, they would find the global community less forthcoming with financial assistance, she warned.
"I don't think the world is going to stand up every time we land ourselves in this position," Salam said.
Countries like Pakistan affected by climate change "have a right to ask for reparations" from industrialised nations, she said.
"But if people see inaction, they are not going to pay up."
Tom Hussain is an Islamabad-based journalist who has spent his 35-year career covering South Asia and the Middle East.
This article was originally published on South China Morning Post.
Views in this article are author's own and do not necessarily reflect CGS policy.
Comments