Regional Connectivity: How Can It Benefit Bangladesh
22 May 2017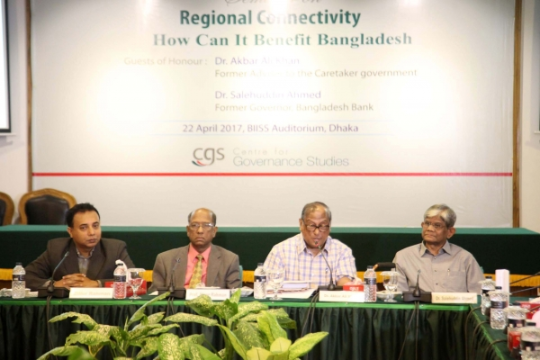 s13
---
The Centre for Governance Studies organized a half day Seminar on "Regional Connectivity: How Can It Benefit Bangladesh" on 22 April 2017 at the auditorium of Bangladesh Institute of International and Strategic Studies. The seminar was held against the background of huge expectations of benefits that Bangladesh is yet to have from increased connectivity and regional and sub-regional cooperation. The Seminar brought together some best minds of Bangladesh comprising political leaders, bureaucrats, scholars, economists, policy analysts, business leaders, and media personalities to discuss and deliberate on the issues and provide future directions.
This seminar critically examined how inadequate market access, non-tariff barriers, insufficient physical connectivity, sharing of water resources and lack of people to people relations hindered the realization of expected level of benefits to Bangladesh. The speakers focused on the major constraints to increased connectivity that came from both within countries and within the region in terms of lack of mutual benefits and realization of optimum level of cooperation. Growing competition between China and India on political and economic fronts and the Myanmar refugee issue remain as important areas of concern for Bangladesh.
While China seems to use connectivity and infrastructure development more in terms of addressing its own internal regional imbalances, India insisted on keeping a distance from China's huge infrastructure enterprise called the 'One Belt One Road initiative' on political and security considerations. New Delhi is yet to participate in the BCIM corridor project to the benefit of all participating countries in the areas of trade, investment, and infrastructure. The speakers were unanimous in asserting that the concept of connectivity should go beyond the old-fashioned concept of transit, and needs to be broad-based connectivity and multilateral cooperation in facilitating trade, investment and institutional linkages.
Most of the speakers maintain that Bangladesh is uniquely positioned to take advantage of its location in the Eastern sub-region of South Asia. It is a centre point of different initiatives that seek to connect Bangladesh, Bhutan, India and Nepal (BBIN) with the ASEAN and other East Asian countries. With deeper trade, investment and connectivity linkages within the sub-region, Bangladesh can benefit from new markets, new import sources of high-quality and better priced products, increasing opportunities for transport and logistics services. The speakers emphasized that the future line of connectivity must be on developing maritime infrastructure critical to promoting both intra and inter-regional connectivity and trade, as much for India as for the other South Asian nations. About 90 per cent of Bangladesh and India's trade by volume and 70 per cent by value moves through ports.
The connectivity by sea through the Bay of Bengal and Indian Ocean is crucial in this respect. The Bay of Bengal Initiative for Multi-Sectoral Technical and Economic Cooperation (BIMSTEC) and the India-Myanmar-Thailand Trilateral Highway, to build the missing links of the Trans-Asian Railway and the Asian Highway networks will play an important role in the future. At this important juncture, the speakers urged for developing Bangladesh's negotiating and bargaining skills in various deals and agreements realizing the fact that in regional as well as international bargaining, a state has to become 'agenda-maker' as a first mover, or ends up being an 'agenda-taker. The Seminar concluded with an optimistic note of Bangladesh's ability to be an 'agenda-maker' so that it can take the expected benefits of regional connectivity opportunity and huge potentials.
Comments