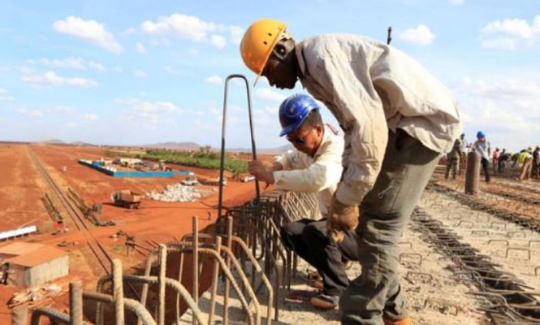 ---
Much attention this coming week will be focused on US Secretary of State Antony Blinken's visit to Africa, where he will unveil Washington's new regional strategy. However, the US is far from the only major power seeking to raise its profile on the continent, whose fortunes, along with those of its 1.2 billion population, are on an upward trajectory.
Take the example of Europe, where the war in Ukraine is putting new economic importance around its engagement with Africa. This is especially so in the area of energy, given the urgent need to diversify away from Russian fossil fuels.
The International Energy Agency estimates Africa could replace as much as one-fifth of Russian gas exports to Europe by 2030. European-based energy firms are reportedly considering projects worth at least $100 billion on the continent, including in South Africa, Kenya, Mozambique, Namibia and Tanzania. Namibia alone could provide around half-a-million barrels per day in new oil production, following promising exploratory drills in recent months.
This energy diplomacy underlines how much the Ukraine conflict has turbocharged the priority that the EU had already begun to place on Africa. This was showcased last year with the launch of the "Global Gateway" project, widely seen as a counterpart to China's mammoth Belt and Road Initiative.
The EU-Africa summit last February mobilized up to €300 billion ($305 billion) for public and private infrastructure around the world by 2027. Half of this is intended for Africa — focused on renewable energy, reducing the risk of natural disasters, digital connectivity, transport, vaccine production and education — with European Commission President Ursula von der Leyen proclaiming the EU-27 to be the continent's "most reliable" global partner.
From the new EU initiatives in the region to Brexit and the great power game underway between Washington, Moscow and Beijing, interest in the African continent is likely to grow.
What the EU wants, in the words of EU High Representative for Foreign Affairs Josep Borrell, is an "equal partnership" based around "a new, integrated strategy for and with Africa." Brussels wants to encourage Africa as a champion of the EU's rules-based, multilateral approach to world order, seeing the EU as a counterweight on the continent to other prominent world powers, such as China, with the "power politics" they are perceived to offer.
While the European pivot is being spearheaded by Brussels, individual nations are also doubling down on their engagement with the continent, with French President Emmanuel Macron visiting recently and last year hosting the first France-Africa summit of his presidency.
Outside the EU, the UK is another European power with renewed focus on Africa. For the UK, the continent has assumed new importance as London seeks to consolidate ties with key non-EU nations following Brexit.
Meanwhile, other great nations are stepping up their serenading of the continent, too. Only last month, Russian Foreign Minister Sergey Lavrov went to the region after growing criticism there of Moscow preventing Ukraine from exporting its agricultural produce via the Black Sea.
Lavrov and Russian President Vladimir Putin are keen to revive the Soviet Union's former influence on the continent. To this end, Putin hosted the first-ever Africa-Russia summit in Sochi in 2019, with a second planned for 2023, to try to entrench Moscow's foothold there.
Russia's increasingly close ally China is also showing great interest, aiming to better connect its Belt and Road Initiative with the continent's development. Beijing's top leadership — the president, premier and foreign minister — have reportedly made around 80 visits to over 40 different African countries during the past decade. Beijing is also a frequent host of China-Africa summits.
In this context, US President Joe Biden's team is seeking to ramp up American engagement with Africa. The new US strategy, which Blinken is kicking off, seeks deeper partnership with the continent aimed at substantially increasing two-way trade and investment focused on sectors such as energy and climate, health and digital technology.
The administration is framing the initiative as a way to promote shared US-Africa prosperity. Yet it is also designed, in part, to counter China in the region, with former Trump National Security Adviser John Bolton publicly acknowledging that China and Russia "interfered with US military operations and posed a significant threat to US national security interests" on the continent.
This shows that while the upsurge of attention to Africa by Western powers and China largely reflects economic calculations, broader political considerations are also in play. From the new EU initiatives in the region to Brexit and the great power game underway between Washington, Moscow and Beijing, interest in the continent is likely to grow.
Andrew Hammond is an Associate at LSE IDEAS at the London School of Economics.
This article was originally published on Arab News.
Views in this article are author's own and do not necessarily reflect CGS policy.
Comments