Electoral Politics and People's Right to Vote
24 November 2018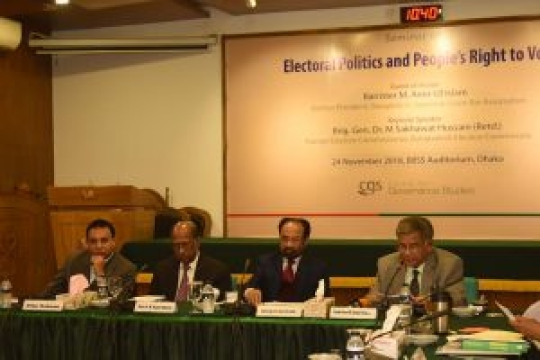 s10
---
The dubious performance of EC to hold a free, fair, contested and credible upcoming Parliamentary election, introducing controversial electronic voting machines (EVMs) in the polls without adequate preparations, EC's unwillingness to respond to complaints raised by the opposition parties and is not providing them with adequate space, were the major observations by the discussants that came from a seminar on "Electoral Politics and People's Right to Vote". The seminar was held on 24 November 2018 and it was organized by Centre for Governance Studies(CGS) at the auditorium of Bangladesh Institute of International and Strategic Studies(BIISS). Barrister M Amirul Islam was present as the guest of honor. CGS Chairman Prof Dr. M Ataur Rahman chaired the event and Zillur Rahman, CGS Executive Director, moderated it. Brigadier General M Shakhawat Hossain (Rtd.), Security specialist and also a former election commissioner, presented the keynote paper and expressed his concern on the questionable performance of EC and controversial electronic voting machines (EVMs). Academicians, Politicians, Researchers, Security and Defense Analyst, Retired Military Personnel, Civil Society, and Media Personnel attended the event and shared their remarks on the upcoming election.
Among discussants, Barrister M Amirul Islam expressed his concern about the lack of accountability of the executive authority which leads the country in the wrong direction. Mr. Islam also concerned about the growing politicization of state institutions, controversial electoral activities, together with fraudulent devices to turn the whole procedure into a packaged framework. He added that people should feel comfortable when they cast their votes and EC should ensure it. M Hafizuddin Khan, a former caretaker government adviser, doubted the capabilities of EC to hold a free and fair election. He also expressed his concern about the arrogance shown by the chief election commissioner for using EVMs. "Nation will be in the right direction for its strong culture and heritage, though elections are not free from flaws", Professor Syed Anwar Hossain said. In his remarks, Advocate S M Rezaul Karim, Awami League Law Secretary, urged the nation's intellectuals, civil society members and various professionals to be careful about their comments and opinions which can influence the people positively. Bangladesh Nationalist Party leader JahiruddinSwapan said that political parties' attitudes changed on the basis of power. He also added that the relation between the ruling party and its adversaries should be amicable to build strong and sustainable participatory pluralism. ShusashonerJonnoNagorik secretary BadiulAlamMajumdar said that a massive crisis would ensue in the country if it wasn't a genuine election. Ruling Awami League joint general secretary MahbubulAlamHanif said that EC was not influenced by the government as the 2014 election provided no pleasant experience.
The seminar was also addressed, among others, by journalist Naimul Islam Khan, Dr. Mohammad Abdul Majid, Professor AbulKashemFazlulHuq, Lieutenant General Md. Mainul Islam (Rtd.), Munira Khan, Election observer and president of Fair Election Monitoring Alliance, BNP vice-chairman Abdul AwalMintoo and others.
Comments