The Challenges of Electoral Integrity in Bangladesh
18 December 2018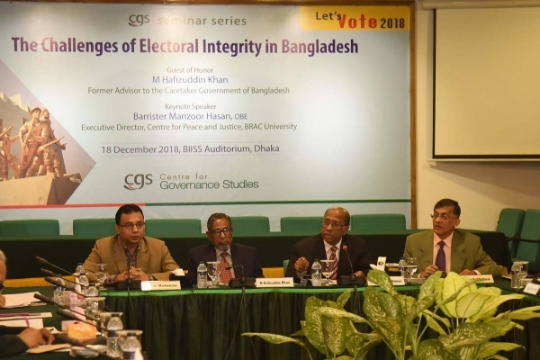 s9
---
The capability and willingness of the election commission to conduct a free and fair election are dubious due to its recurrent actions and activities. 'Level-Playing Field' appeared an uncertain atmosphere in the upcoming election. The questionable and prejudiced actions proved that the commission was failed to keep its neutral image. The security of voters alongside political leaders and activists needed for a fair and inclusive election. These observations were stated by the participants of a seminar on "The Challenges of Electoral Integrity in Bangladesh". The seminar was held on 18 December 2018 at the auditorium of Bangladesh Institute of International and Strategic Studies(BIISS). Centre for Governance Studies chairman and Bangladesh Political Science Association President Prof Dr. M Ataur Rahman chaired the event and Zillur Rahman, CGS Executive Director, moderated it. The executive director of Centre for Peace and Justice under Brac University, Manzoor Hasan presented the keynote paper and addressed that for the betterment of democracy a credible electoral process is necessary to a peaceful transfer of power. He added that the election commission should be free from any influence from the executive branch of the government. The seminar was attended by Academicians, Politicians, Researchers, Security and Defense Analyst, Retired Military Personnel, Civil Society, and Media Personnel.
Addressing the election commission as inefficient, M EnamulHuq, Former inspector general of police, opined that non-partisan voters were fearing undue pressure and feeling insecure to cast their vote. Muhammad Abdul Mazid, National Board of Revenue's former chairman, expressed his concern on the credibility of the election and stated that that controversially elected government remained weak in foreign-level bargaining. Bangladesh Nationalist Party's assistant international relations secretary RumeenFarhana said that a fearsome and frustrating atmosphere for voters had been made by the ruling party. Zonayed Saki, Ganosamhati Andolan chief coordinator, also Left Democratic Alliance candidate for Dhaka 12 constituency, expressed his concern on the laws and said that the state is forwarding towards an authoritarian regime. Former bureaucrat Mofazzal Karim said that the Election commission failed to gain its trust as a neutral institution. He also said that administrative and law enforcement agencies should play their due role towards a credible general election. Sakhawat Hussain, Retired Brigadier General, and Former Election Commissioner, opined his concern on the Election Commission's ability and said that it was incompetent to handle matters properly in a conflicting situation.
Among other discussants, fair Election Monitoring Alliance president Munira Khan, former adviser to the caretaker government M Hafizuddin Khan, former chief information commissioner Muhammad Zamir, former state minister Abul Hasan Chowdhury, BNP chairperson's advisor Ataur Rahman Dhali, Dhaka University teacher Mamun Ahmed, Jahangirnagar University teacher Shahab Enam Khan, CGS vice-chairman Manjur Ahmed Chowdhury also spoke at the seminar.
Comments