Can people vote freely?
18 December 2018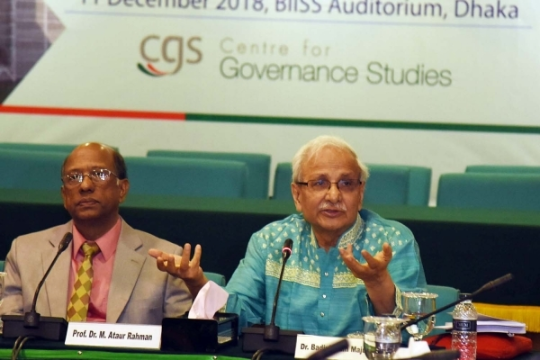 s7
---
Institute of International and Strategic Studies(BIISS). Academicians, Politicians, Researchers, Security and Defense Analyst, Retired Military Personnel, Civil Society, and Media Personnel attended the event and shared their remarks on the upcoming election. The speakers of the seminar expressed their apprehension about the existing uneven election atmosphere for oppositions. Absence of neutral Election Commission, administration and law enforcement agencies were the observations that were expressed by the discussants. SushashonerJonnoNagorik secretary BadiulAlamMajumdar was the keynote speaker of the seminar. In his speech, he said the neutrality of the election commission is still questionable due to their recent activities. The fair election would be difficult with partisan behavior of the law enforcement agencies and with thousands of cases, arrests, enforced disappearances of oppositions created a 'dreadful atmosphere', he added. He further said that the election has to overcome the image of distrust to avoid a controversial election. The media personnel should play an unbiased role to create a favorable election atmosphere for both candidate and voter and avoid self-censorship. CGS Chairman and Bangladesh Political Science Association President Prof Dr. M Ataur Rahman chaired the event and Zillur Rahman, CGS Executive Director, moderated it.
Former Election Commissioner M Sakhawat Hossain opined that the presence of female voters would indicate the peaceful election atmosphere. He warned political parties not to boycott the polls although there were irregularities. Sheikh Shahidul Islam, Jatiya Party (JP-Manju) Secretary-General, stated that everyone knew who would be the ruling party in the parliament and who would sit in the opposition. Writer Syed Abul Maksud opined that the fair and peaceful election would be possible if voters stayed at home. Professor Asif Nazrul warned that only participatory polls and safety centres could bring voters at the polling centres. BNP joint secretary general Syed Moazzem Hossain Alal expressed his concern on the biased activities of the EC, the administration and the law enforcement agencies and how these could be overcome. Jatiya Oikya Front leader and Gonoshasthaya Kendra founder Zafrullah Chowdhury doubted the victory of the ruling party (Awami League) if the election was fair. In response, Awami League advisory committee member Yusuf Hossain Humayun assured the fair and peaceful election.
Among others, Former FBCCI president Mir Nasir Hossain, Prof Rashed Al Mahmud Titumir, chairperson of development organization Unnayan Onneshan, Manjur Ahmed, vice chairman of CGS, former ambassador M Shafiullah, News Today Founding Editor Reazuddin Ahmed, Barrister Rokanuddin Mahmud spoke at the seminar.
Comments