বাংলাদেশের নতুন মধ্যবিত্ত, গণতন্ত্র ও ধর্মের প্রশ্ন
13 June 2019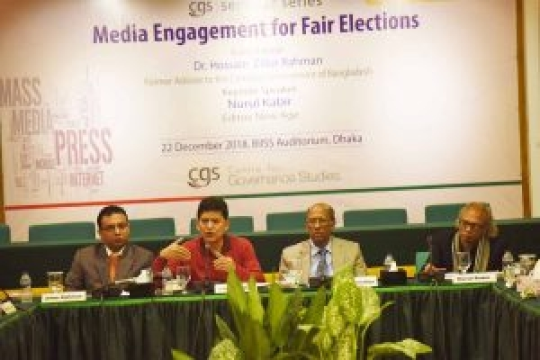 s6
---
A seminar on "Politics of Bangladesh, Rising Middle Class and a Few Questions (বাংলাদেশের নতুন মধ্যবিত্ত, গণতন্ত্র ও ধর্মের প্রশ্ন)' has been organized by Centre for Governance Studies (CGS), a non-profit autonomous think-tank, at Bangladesh Institute of International and Strategic Studies (BIISS). The seminar was attended by Academicians, Politicians, Civil Society, and Media Personnel. Dr. Ali Riaz, professor of politics and government at Illinois State University, US, presented the keynote paper on 'Politics of Bangladesh, Rising Middle Class, and a Few Questions' where he discussed the role middle class, religious influences in politics, the controversial 2014's election, and so on. Dr. Riaz said that the neo-middle class is unwilling to participate in liberal political movements and cultural issues which has weakened the country's democratic status. He added that after withdrawing the ban on religion-based politics which was banned in 1972's constitution Islamist political parties grew in numbers as well as the influence of religion has increased not only in politics but also in society and daily lifestyle. He also added that new civilian authoritarianism is seen in Bangladesh after 2008's election. Dr. Riaz also showed his concern about the abuse of law and extrajudicial killings. The seminar was chaired by CGS Chairman Dr. Ataur Rahman and moderated by CGS Executive Director Zillur Rahman.
The speakers of the seminar expressed their concern on the role of neo-middle class, the rise of religion-based politics, accountability of the government, and so on. Dr. Hossain Zillur Rahman, former caretaker government adviser, opined that money and the political connection is the main identity to a neo-middle class which was social identity and education before. He also said that a lack of accountability leads to civilian authoritarianism. Mahmud Reza Chowdhury, an Expatriate writer, expressed his concern on the absence of political values of neo-middle class and involvement in the corruption. Dr. Akbar Ali Khan, the caretaker government adviser, said that the neo-middle class is still weak to ask their democratic rights. former Food Minister and Awami League Leader Dr. AbdurRazzak pointed out that religious political parties had been introduced by military dictators. Addressing the national elections 2014, he said that it was a controversial election because of a political party's absence from the election and they never could have denied it. Communist Party of Bangladesh (CPB) president Mujahidul Islam Selim quoted that people are attracting to religion-based politics due to a lack of democratic solutions.
The seminar was also addressed by BNP vice-chairman Enam Ahmed Chowdhury, former state minister for Foreign Affairs Abul Hasan Chowdhury, Daily Manab Zamin Editor-in-chief Matiur Rahman Chowdhury, Dhaka University Social Sciences Faculty Dean Dr. Sadeka Halim. Gonoshasthaya Kendra founder Dr. Zafrullah Chowdhury, DU teachers Prof. Abul Kashem Fazlul Haque and Dr. Rashed Al Mahmud Titumir, BRAC Institute of Governance and Development (BIGD) head of operations Sarwar Jahan Chowdhury, Federation of Bangladesh Chambers of Commerce and Industry (FBCCI) former director Abdul Haque, columnist Syed Abul Maksud, and Gonoshanghati Andolon chief coordinator Zonayed Saki.
Comments