Cross-Border Security : Challenges & Cooperation Bangladesh Perspective
13 August 2017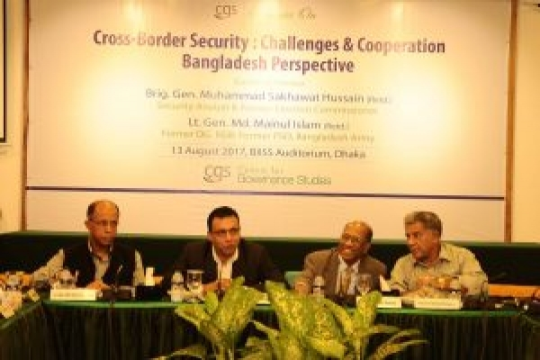 s5
---
A seminar on "Cross-Border Security: Challenges & Cooperation Bangladesh Perspective" had been organized by the Centre for Governance Studies(CGS) on 13 August 2017 at the auditorium of Bangladesh Institute of International and Strategic Studies(BIISS). The seminar was attended by Academicians, Politicians, Security and Defense Analyst, Retired Military Personnel, Civil Society Media and Personnel. Academician Shahab Enam Khan, Professor at International Relations, Jahangirnagar University, presented the keynote paper focusing on Bangladesh-India Water Sharing agreement, River management, Transit Issue, Border Smuggling, Border Killing and so on. The seminar was chaired by Prof Dr. M Ataur Rahman, CGS Chairman and Zillur Rahman, CGS Executive Director, conducted it.
The speakers at the seminar discussed the recent issues including bilateral relations between Bangladesh and India and opined their concern on border smuggling and BSF attitude to the people of Bangladesh. DilipBarua, General Secretary of Samyabadi Dal, opined that the border problems will persist until the attitudinal problems go. He also added that Prime Minister is trying to improve the bilateral relations and even-handed over Ulfa leader AnupChetia to India as well as transit. Security specialist and also a former election commissioner Brig Gen (retd) M Sakhawat Hossain said Bangladesh shares a very complicated border with India as 'Bengal and Punjab were divided in a cruel manner' during the India-Pakistan partition in 1947. "So, Bangladesh-India border management is a very difficult task." He expressed his concern about border killing by BSF and opined that if India stops cow export completely, Bangladesh will be benefited in the long run with the local farming getting the opportunity to thrive on. Former Director-General of Border Guard Bangladesh Lt Gen (retd) MdMainul Islam said that border smuggling including cows and other items are mainly occurred because of the eco-sociological condition of the border adjacent villages. He added that border people are forced to engage in smuggling as they have no sources of income. ManabZamin editor Matiur Rahman Chowdhury expressed his concern on the political unity to solve the border-related problems. He also opined that a political dialogue needed or the Rohingya issue might turn into a big humanitarian crisis.
Jatiya Party presidium member Kazi Firoz Rashid MP, ambassadors Wali-ur Rahman and Mohammed Shafiullah, Bangladesh Kalyan Party chairman Maj Gen (retd) Syed Muhammad Ibrahim, former AL MP Prof Abdul Mannan, former chairman of NBR Dr. Muhammad Abdul Mazid, business leader Abdul Haque, human rights activist advocate Dr. Md Shahjahan, Barrister M Sorwar Hossain, and Daily Dinkal acting editor Dr. Rezwan Siddique, among others, spoke on the occasion and expressed their concern on security, international relations, and politics.
Comments