Media Engagement for Fairer Elections
22 December 2018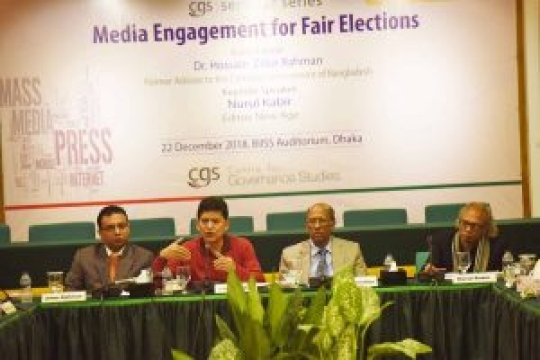 s4
---
A Seminar was organized on "Media Engagement for Fairer Elections" on 22 December 2018 at the auditorium of Bangladesh Institute of International and Strategic Studies(BIISS). The seminar was addressed by journalists, academics, jurists, economists, researchers, politicians, political analysts, civil society and others. The speakers of the seminar opined that the media was not playing an adequate role in the upcoming election as well as urged media personnel to cover the upcoming election impartially and to stick with their professional ethics. NurulKabir, New Age Editor, presented the keynote paper and addressed the political engagement of journalists. He expressed his concern about the adequacy of nonpartisan journalists who work for the people. Dr. Hossain Zillur Rahman, advisor to a former caretaker government, addressed the seminar as the guest of honor, Professor Dr. M Ataur Rahman, CGS chairman and president of Bangladesh Political Science Association, chaired the event, and CGS executive director Zillur Rahman moderated it.
In his speech, Dr. Hossain Zillur Rahman urged that journalists should follow the ethics and basic norms of media and avoid their views and choices. He added that personal political views are acceptable but blind and ethical creates a problem in the whole system. He also expressed his concern on lower electioneering of opposition candidates, the continuation of 'ghostly' cases, and restriction on election observers which are fading away from the festive election environment. Mr. Zillur further said that the biggest challenge would be the free and fair atmosphere where the voters could cast their votes without fear. Citing the 'Reporters Without Borders statistics', Professor Dr. M Ataur Rahman Bangladesh ranked 146th in the world among 180 countries in terms of press freedom. He opined that media should act impartially and face the challenges of weak election management, the power centric political parties, etc. to hold a free, fair and credible election. Matiur Rahman Chowdhury, ManabZamin Editor, opined agreed with the speakers that journalists can change the situation but they are chained by censorship. Ayesha Kabir, ProthomAlo content consultant, expressed her doubt in an inclusive election in Bangladesh. She criticized the role of media and pointed out that the media in Bangladesh sees no evil, hears no evil, speaks no evil. Former election commissioner M Sakhawat Hussain showed his doubt in a free and fair election and said that it may be inclusive but a contested one. Professor Syed Anwar Husain said that democracy did not flourish in Bangladesh as the media continued to be plagued by immaturity.
AL Advisory Council Member Advocate Yusuf Hossain Humayun, BNP Vice Chairman ShamsuzzamanDudu, Begum Rokeya University, Rangpur, Vice-Chancellor Dr. Nazmul Ahsan Kalimullah and South Asian Monitor Executive Editor ChandanNandy, among others, addressed the seminar.
Comments