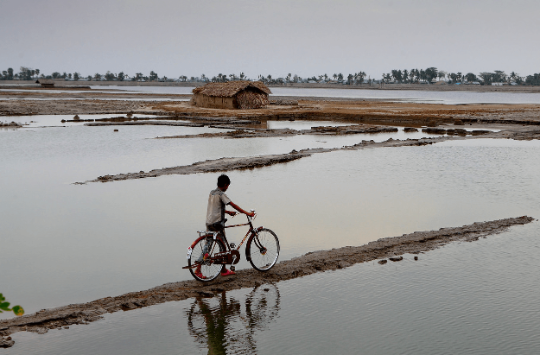 ---
Climate change is compounding the environmental dangers that Bangladesh's low-income people are facing, leaving them unable to appropriately shelter, nourish, and educate their children, according to Henrietta Fore, executive director of UNICEF.
She made this comment during a visit to the country in early March 2019.
It is a worldwide phenomenon driven by changes in the planet's normal climate, such as temperature and precipitation levels primarily due to human actions. The long-term viability of Earth's ecosystems, as well as the future of humanity and stability of the planet, is all at risk as a result of increasingly unbalanced weather conditions.
Now-a-days, we can notice how seasonal features are gradually changing.
We are experiencing hotter summers, unpredictable monsoons, and unexpected heavy rains that lead to numerous hazards such as flooding and landslides. When we discuss climate change, we frequently refer to temperature rises due to vehicular movement and industrial activities, specifically in relation to the greenhouse effect.
As a result, we sometimes refer to climate change as being "anthropogenic in origin". Global warming is ultimately caused by the human economy and industry, not natural forces.
Bangladeshis are especially sensitive to the consequences of climate change and natural catastrophes since they live in a country where a fourth of the land is just above sea level. Those who live near the coast are much more vulnerable to the devastation caused by quick onset catastrophes, and the risk is already a reality for millions of people.
The factors of climate change are natural disasters, unfavourable geographical regions, plain and low-lying topography, dense population, extreme poverty, reliance on climatic condition sectors, alternation in the pattern of seasons, and inadequate infrastructure.
Due to climate change, Bangladesh has a history of various natural calamities such as floods, landslides, cyclones, tornadoes, river erosion, droughts, tidal surges, and salinity intrusion. Excessive heat is also another impact of climate change.
According to the UN and other officials, heavy rainfall in the country's southeast caused landslides and flash floods in refugee camps, displacing hundreds of Rohingya muslims by July 30, 2021. Mamunur Rashid, the district administrator, said at least six Rohingyas, including three children, died in landslides and flooding, while 15 Bangladeshis were killed and more than 200,000 people were left stranded in Cox's Bazar. According to a draft UN assessment that lays bare the catastrophic human health effects of a warming globe, tens of millions of people will face starvation, drought, and illness in the coming decades.
Bangladesh is a country with a vast coastline and hence, the negative effects of saltwater intrusion are enormous. Coastal areas have the most severely deteriorated land and water. According to a 2018 study by the International Food Policy Research Institute (IFPRI) and Ohio State University titled "Coastal Climate Change, Soil Salinity and Human Migration in Bangladesh", Chattogram and Khulna are likely to see the highest intra-district additional migration, estimated to be between 15,000 and 30,000 migrants per year.
A recent study styled "Surface urban heat island intensity in five major cities in Bangladesh: patterns, drivers and trends", concluded that Dhaka has experienced a temperature spike of about three degrees Celsius in a span of 20 years, while the world is trying to keep global temperature rises below 1.5 degrees.
Climate change has made Bangladesh extremely vulnerable. The nation's low elevation, high population density, and limited infrastructure, as well as an economy that is mainly focused on farming, all place the country in jeopardy.
As per a report by the Environmental Justice Foundation (EJF), Bangladesh is expected to lose around 11 per cent of its land by 2050 due to a projected 50 centimetre rise in sea levels, and one out of every seven people in Bangladesh will be displaced as a result of climate change.
So, up to 18 million people may have to relocate because of the rising sea-levels alone.
Despite being the world's largest producer of greenhouse gases and home to many of the most polluted cities, by becoming aware of the calamity that is climate change, China is working to reduce air pollution through a variety of environmentally friendly techniques as well for mitigating the adverse effect of climate change.
The Chinese government recently approved the "Delta Strategy 2100", a long-term and comprehensive plan aimed at guaranteeing water and food security, economic prosperity, and stable climate.
Bangladesh's climate-related expenditures have increased in the last seven years and the country is currently working on a National Adaptation Plan to combat climate change, according to Prime Minister Sheikh Hasina's national statement at the COP26.
However, if the policies are not being executed correctly, the government's efforts and actions may not be adequate. We can put in measures like greening the neighborhood, disaster management, becoming energy efficient, improving water resource management, choosing renewable energy, changing management policies, fining polluters, and reducing waste. Like China, by becoming aware of the dangers of climate change Bangladesh can avoid the negative effects that come with it.
Apart from that, the harmful effects of climate change can be reduced by carefully excavating canals and rivers, planting trees, and reducing fuel consumption. Furthermore, everyone should be serious about addressing this terrible situation, and the government should be vigilant in enacting the necessary legislation to do so.
Sabiha Akter Seema is a Program Assistant at Centre for Governance Studies (CGS).
Views in this article are author's own and do not necessarily reflect CGS policy.
Comments