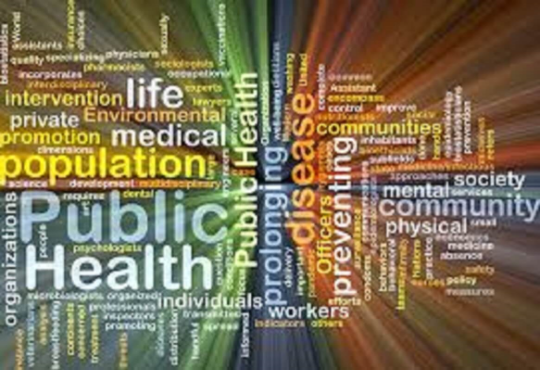 ---
Public health refers to all organised measures, whether they be public or private, that are taken to prevent disease, enhance health, and lengthen the lives of people in general, according to the World Health Organization (WHO).
Its actions strive to create healthy environments for everyone, with a focus on entire communities rather than individual patients or diseases.
This approach includes developing healthy eating habits, examining disease, preventing injury, and diagnosing, reducing, and responding to infectious diseases.
The field of public health is multidisciplinary. For example, epidemiology, biostatistics, social sciences, and healthcare administration all are applicable. Environmental health, community health, behavioral health, health economics, public policy, mental health, health research, health politics, gender issues in health, and sexual health are some of the other major areas of study.
Bangladesh is a country that is still in its early stages of development. Due to its high population density, a significant proportion of individuals live day-to-day and with an insecure healthcare system.
As a result, poor maternal and child health, exacerbated by hunger and poverty, are major public health issues in this developing country.
The Covid-19 outbreak has also raised a slew of concerns regarding the state of our public health system.
So, we must concentrate on public health institutions if we are to properly plan for the future.
Mismanagement in Bangladesh's public health sector is caused by a number of additional problems, such as poor food quality and habits, numerous types of pollution such as air and sound, antibiotic abuse, poor waste mismanagement, and so on.
According to the WHO, there were 1,578,819 confirmed cases of Covid-19 in the country from January 3, 2020, to December 10, 2021, with 28,017 deaths. A total of 105,277,826 vaccine doses had been administered as of December 6, 2021.
The amount of hazardous waste, public health concerns, and environmental risks are expected to rise this year according to experts.
And as per a survey by BRAC from July 20 to August 10 last year titled "Effective Management of Medical Waste Amid Covid-19 Pandemic," about 93.4 per cent of coronavirus related medical waste is not properly disposed of.
Experts are concerned that the country's regular waste management infrastructure will not be able to handle the additional strain of highly contagious garbage.
According to a worldwide survey, Bangladesh's air quality was the worst in the world with Dhaka being the second most polluted city in terms of air pollution in 2020. (DS, March 18, 2021).
As per IQAir's global air quality data platform's Globe Air Quality Report 2020, "South Asia remained the most polluted area in the world with Bangladesh, India, and Pakistan sharing 42 of the 50 most polluted cities worldwide."
A health alert is triggered when the AQI falls between 201 and 300, indicating that everyone may face more serious health impacts.
On August 4, 2021, local English daily New Age published that, according to a recent newspaper report, Shaheed M Monsur Ali Medical College in Sirajganj purchased 50 blood testing tubes for Tk 6.74 million, or Tk 135,000 each, although similar tubes retail for between Tk 300 and Tk 500 apiece.
The hospital also purchased two dissection tables for Tk 6.99 million, despite the fact that such tables are available for Tk 5,000 to Tk 20,000 each, the article said.
So, corruption in the health sector should be reduced for the betterment of public health in our country.
Nowadays, another major health crisis in Bangladesh is dengue. Stagnant water in various places such as buckets, plastic drums, flowering tubs, and open tanks in under-construction buildings mainly serve as breeding grounds for the Aedes mosquito.
Fear has gripped the country as a result of previous dengue fever outbreaks. Bangladeshi health officials recorded an additional 4,624 cases of dengue fever between September 15 and October 4, raising the overall number of cases to 19,133 this year.
In comparison, 464 incidents were reported over a comparable period in 2020. Dhaka, Chattogram, and Barisal continue to have the highest disease activity.
Since July 1, the majority of instances have been recorded with 7,841 cases reported in September alone.
In Japan, under the Development Cooperation Charter, the country's Headquarters for Health Policy approved the "Basic Design for Peace and Health" as a conceptual guideline for the global health policy in September 2015.
According to a health ministry poll, the average life expectancy of Japanese men and women achieved new highs in 2020. Men's life expectancy climbed by 0.22 years from the previous year to 81.64 years, a new high for the ninth year in a row, while women's life expectancy increased 0.30 years to 87.74 years, a new high for the eighth year in a row.
So, Bangladesh's health policy should be more specialised for increasing life expectancy and minimising all sorts of public health-related problems.
Measures to ensure the safe and environmentally friendly management of healthcare waste can protect from negative health and environmental effects from the unintentional release of biological hazards.
Clinical professionals like doctors and nurses who mainly focus on supporting people after they become ill or injured, should aim to mitigate problems from occurring repetitively by implementing academic activities, recommending policies, and carrying out research.
In addition, the public health sector strives to reduce health inequities.
As such, a wide-ranging consultation on the country's healthcare system, including legal reforms, should be restructured.
All types of food items should be prepared in hygienic conditions and antibiotic abuse should be stopped.
Various types of pollution should be reduced by creating awareness and taking proper initiatives for the management of waste that are produced from different institutions such as restaurants and hospitals.
Corruption in the health sector should also be reduced by implementing proper law enforcement.
Furthermore, the public and private sectors should come forward to improve the public health sector by creating awareness through seminars, and policy enforcement.
Sabiha Akter Seema is a Program Assistant at Centre for Governance Studies (CGS).
Views in this article are author's own and do not necessarily reflect CGS policy.
Comments