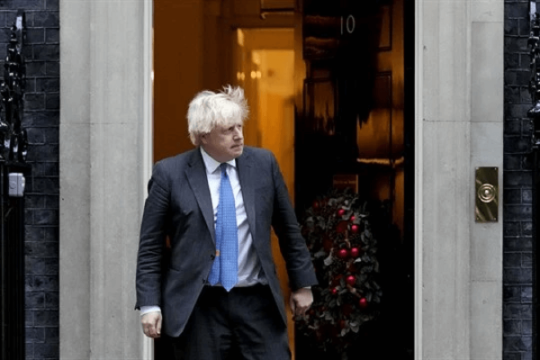 ---
Novak Djokovic, Boris Johnson and Prince Andrew are in the spotlight this week, an unholy trinity dominating headlines around the world. Their stories are discrete and in many ways dissimilar, but all three have, in one way or another, let down the millions of people who looked to them for inspiration and guidance.
As I mentioned in my column last week, top-ranked tennis player and anti-vaxxer Novak Djokovic caused a ruckus after he was allowed into Australia to compete in the Australian Open tennis tournament, despite not being double vaccinated, as is required for entry by the government. He then faced deportation after it emerged he had lied on his Travel Declaration Form, but was cleared to enter after winning an appeal, only to end up being deported after a federal court ultimately ruled against him. The back and forth over Djokovic's visa status has been something of a tennis match in itself.
Meanwhile, Prince Andrew, the second son of British Queen Elizabeth II, was recently stripped of his military titles and royal patronages after it became clear he would have to face a civil case in the United States over allegations that he sexually assaulted Virginia Giuffre in 2001, when she was still a minor.
As for the last of the trio, British Prime Minister Boris Johnson, it was revealed he attended a BYOB—or Bring Your Own Booze—party held in the garden of No. 10 Downing Street, the prime ministerial office and residence, last May, while the nation was under a strict lockdown to curb the spread of the coronavirus.
From tennis royalty to British royalty to, well, BoJo, there has been no shortage of disappointing behavior from the world's celebrities and leaders.
Why bring this up now, and in a column that focuses on issues of intergenerational justice and equity? Surely these men have already received more than enough attention. There is a case to be made, however, that the connection between these three stories, and especially their impact on global cooperation and intergenerational relationships, has been underexamined.
First, these three men, like so many other famous figures who have made headlines for the wrong reasons, have inadvertently undermined global solidarity.
Whatever "heartfelt apologies" Johnson may offer, his digression has tarnished the reputation of the United Kingdom abroad. Prince Andrew's wrongdoings have also embarrassed the country and fans of the British monarchy worldwide.
The case of Djokovic is slightly different, as it actually reflects most poorly on the Australian government, whose wavering over whether or not to grant Djokovic a visa despite his not having been vaccinated, comes across as weak. Claims that the government's desire to ensure an exciting, star-filled Australian Open took priority over enforcing its own COVID-19 regulations have undermined global perceptions that Australia is dealing with the virus effectively and equitably.
Misbehavior by Novak Djokovic, Boris Johnson and Prince Andrew will undoubtedly change the way in which aspirational but vulnerable young people see the world around them.
That the rest of the world is watching these "dumpster fires," popcorn in hand, is understandable. After all, famous figures should be reprimanded for their mistakes, and no country is above global scrutiny. But such acute attention tends to create political gridlock, particularly when it comes to the global diplomacy and cooperation needed to address the world's urgent crises. Politicians get distracted by domestic blame games, and delegations at international gatherings begin to squabble. Cooperation gets overshadowed and often left behind.
The second, longer-term effect of these incidents is how they shape the minds of younger generations. These three men's actions will undoubtedly change the way aspirational but vulnerable young people see the world around them.
Arguably, Djokovic has ruined tennis for millions of young fans. Rather than being light relief from the chaotic world in which we live, the Australian Open has now become a battlefield for yet more heated debates, with pro-vaxxers and anti-vaxxers lined up on either side of the net.
The recent death of Andrew Jennings—a British journalist who uncovered corruption at the highest levels of FIFA, soccer's global oversight body, and the International Olympic Committee—serves as another sad reminder of how easily the world of sports can be tarnished. As Jennings said when it became clear that top officials at FIFA, including its former president, Sepp Blatter, were embroiled in a long list of criminal offenses, "These scum have stolen the people's sport."
Of course, fans of all ages were disappointed by Blatter's misconduct and are likely to be by Djokovic's behavior for some time to come. But young fans who look to sports for respite and inspiration will be most hurt in the long run.
Similarly, for countless young women across the globe, the case against Prince Andrew is yet another reminder that the world is a dark and scary place. Andrew is, of course, innocent until proven guilty of the allegations against him. But the fact that he regularly consorted with convicted pedophile Jeffrey Epstein and his long-time confidante Ghislaine Maxwell, who was recently found guilty of sex trafficking, already represents a shocking degree of impropriety. Young girls will be asking themselves what they can do to protect themselves as they navigate a world filled with elite and seemingly unaccountable predators.
Finally, if Johnson manages to avoid political and especially legal consequences for attending the Downing Street party, it will come as a huge blow to the millions of young people fighting for justice in the United Kingdom and beyond.
His decision to attend such a party while he was supposed to be steering the country out of a lockdown was obviously a mistake. Worse still, the prime minister and his political allies are now offering poor excuses in an attempt to divert the course of justice. Johnson, for example, has claimed that he did not know that the event he attended "was a party." And with citizens across the U.K. now seeking refunds for the fines they were ordered to pay for violating lockdown regulations while the prime minister attended a garden party, Johnson's actions now risk clogging up the British court system.
How can we expect to nurture a new generation of dedicated public servants when today's leaders behave this way, often facing little to no consequences? And perhaps more importantly, why would young people want to join public service? If they are really committed to making the world a better place, then they are unlikely to see formal institutions, where telling lies appears to be part of the fabric of the daily routine, as the avenue to do so.
Djokovic, Andrew and Johnson have undoubtedly taken up too much of our time and attention. But if it makes the world stop and think about the example we are setting for the next generation, then perhaps it will be worth it.
Aishwarya Machani is a U.N. Foundation Next Generation Fellow. She led a consultative process bringing together hundreds of young people from around the world to contribute to the U.N. secretary-general's "Our Common Agenda" report. She also co-authored "Our Future Agenda," an accompanying vision and plan for next and future generations. She recently graduated from the University of Cambridge.
This article was originally published on World Politics Review.
Views in this article are author's own and do not necessarily reflect CGS policy.
Comments