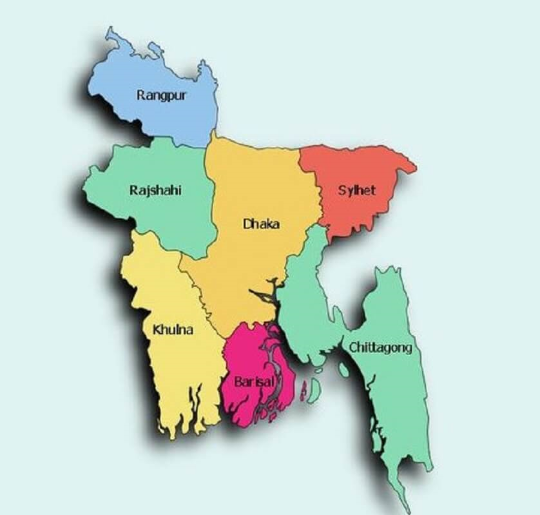 ---
Any repeating pattern of social conduct, or more particularly, ordered interrelationships between distinct aspects of a society is referred to as social structure.
Different familial, religious, economic, political, institutional, value, and social positions of members of a society form up the social structure.
Any society's social structure is influenced by its historical context. As a result, Bangladesh's social structure must be evaluated in this light.
According a study about "Bangladesh: A Country Study", by James Heitzman and Robert Worden, with the exception of the Hindu caste system, the local society in the 1980s was not rigorously stratified; rather, it was open, fluid, and diffused, without a unified social organisation and social structure.
In Bangladesh, traditional Muslim class differences were mostly irrelevant. The prohibition of marriage between members of high-born and low-born families, which had historically been a sign of the social divide between the two groups, had long since vanished. Most matrimonial pairings were formed on the basis of wealth and influence rather than family ties.
Bangladeshi society has changed dramatically since independence, with the rise of capitalism in the agrarian economy, rural-urban migration, and rise of the informal sector.
The social structures of the rural and urban areas have evolved differently. The peasantry, artisans, and working classes make up the great majority of rural society's proletariat.
Capitalist farmers, rich peasants, medium peasants, marginal peasants, and the landless are the various social classes that have formed in rural areas.
Regional differences in urban social organisations are significant. Cities like Dhaka, Chattogram, and Khulna have major industrial and commercial enterprises as well as thriving service industries.
The nature of the urban social structure has been shaped by modern values transmitted from the west.
Corporate executives, public servants, professionals, intellectuals, artists, industrialists, and businessmen now populate the urban landscape.
Urban social status is mostly determined by wealth and education. Urban lives, clothing, etiquette, leisure activities, and so on differ according to class and wealth.
Over-urbanisation has resulted in increased crime, unprecedented growth of slum housing, and the spread of informal sectors in a few prominent cities.
An unprecedented number of rural residents have flocked to the capital city in recent years and a distinctive cultural evolution has resulted from the combination of rural and urban values.
Bangladesh has had several ups and downs throughout its history. The country's economy, education, and other social variables have all suffered greatly over the years. Bangladesh, as a least developed country, has a high level of corruption in almost every aspect of life. In many areas, corrupt politics has hampered the country' progress.
Various factors are responsible for changes to the social structure in a society, such as women empowerment, entrepreneurship, economy, corruption, television and the internet, education, function of the government and other institutions.
By establishing equal rights, reducing the harassment of women, creating more employment, reducing corruption in all sectors, creating awareness about public health, giving moral education, ensuring proper law enforcement and introducing our culture elaborately, we can make a strong social structure in our society.
Dengue fever is a massive health problem in our country right now. The Aedes mosquito breeds in a variety of locations, including buckets, plastic drums, blooming tubs, and open tanks in under-construction structures.
This year has seen a lot of rain, which has allowed for the buildup of water in a variety of locations, making them ideal breeding grounds for Aedes mosquitoes, the dengue virus's carrier.
Our country has been driven by fear as a result of the dengue virus epidemic. To minimise this major challenge, we have to take proper initiatives or change the existing social structure.
Since January, 27,451 patients have been admitted to different hospitals with dengue fever, according to the Directorate General of Health Service (DGHS).
With 7,841 recorded cases, September was the month with the most hospitalised dengue patients, followed by August with 7,698 reported cases.
The number of cases fell to 5,604 in October. According to the IEDCR, all dengue patients in Bangladesh this year were infected with DEN-3, a form of the virus that can increase mortality.
Bangladesh has had outbreaks of DEN-1 and DEN-2 strains in past years, but this year DEN-3 is more frequent.
The chief health officer of the Dhaka North City Corporation (DNCC), Brigadier General Mohammad Jobaidur Rahman, detailed the efforts the DNCC has made to control the disease's spread, including larvicide and adulticide spraying, public awareness campaigns, and cleanliness drives, among others.
Mobile courts have also been set up to detect and levy fines on private properties that are Aedes larvae breeding grounds.
The Dhaka South City Corporation adopted similar measures and is tackling the reproduction and transmission of dengue on numerous fronts.
These campaigns began in April 2021 by both city corporations. Another element contributing to the disease's rise is a lack of public involvement in its control.
"An integrated vector management mechanism should be in place," said Professor Kabirul Bashar.
"Environmental control, biological control, chemical control and community involvement are the four primary components of a vector management policy," he added.
To reduce the dengue crisis, the government must execute the policy as soon as possible and also follow the guidelines of the WHO.
Increasing awareness through seminars, webinars and news broadcasts is also an important factor.
Rather than just involving the private sector and general people, strengthening the country's healthcare infrastructure, ensuring a proper social structure and long-term management system is also needed to address the dengue issue.
Sabiha Akter Seema, Program Assistant, Centre Governance Studies.
Views in this article are author's own and do not necessarily reflect CGS policy.
Comments