National Dialogue on LDC Graduation
23 November 2021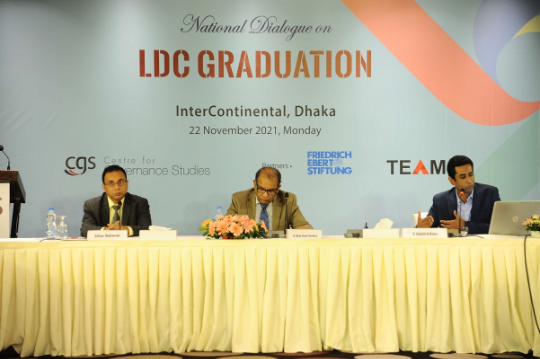 ---
National Dialogue on LDC Graduation

The Centre for Governance Studies (CGS) organized a 'National Dialogue on LDC Graduation' on November 22, 2021 at the InterContinental Dhaka. The national dialogue was divided into three round tables and was attended by around 100 distinguished guests that included Ministers, MPs, opposition party leaders, development partners, businessmen, economists and CSO representatives. The first session was on "Preparedness for smooth and sustainable LDC graduation", second on "LDC graduation and effective development cooperation", and third on "LDC graduation: Opportunities and challenges for commerce and trade". During the event, attendees shared opinions, thoughts and suggestions for consideration of a smooth LDC graduation. The sponsors of the event were Friedrich Ebert Stiftung (FES) Bangladesh and TEAM Group BD.
CGS Executive director Zillur Rhman delivered the welcome address where he highlighted the lack of initiatives by the government for Smooth Transition Strategy (STS) to address graduation challenges and to ensure positive outcomes from Bangladesh. He said that measures were not being taken by the government to consult with development partners and other stakeholders for the preparation of STS. He also added, "LDC graduation is a matter of pride for the nation. However, the challenges have to be met effectively and efficiently otherwise the blessings will turn into a curse". He mentioned that the objective of the national dialogue was to reflect on the opportunities and challenges for Bangladesh, generate innovative ideas and make recommendations to policy makers for smooth and sustainable transition from LDC.
CGS Research Director Dr. Abdullah-Al-Mamun presented the concept notes. He highlighted that simply graduating from LDC shouldn't be our ultimate goal; our goal is to become a developed country by 2041 through the smooth pathway of LDC graduation. He said that previous LDC graduates were small nations in terms of the size of the population and GDP. Therefore, Bangladesh is the first real test case of LDC graduation. If not properly managed, the impacts will be excessive in sectors such as agriculture, education, the environment, etc. He went on to provide the pathway to graduation as prescribed by the Committee for Development Policy of the United Nations (UN-CDP). UN-CDP affirms a well-designed Smooth Transition Strategy (STS) which is very crucial to continue development endeavors and mitigate losses from graduation.
CGS Chairman Dr Manjur Ahmed Chowdhury also gave his valuable insights in the session. He said that the withdrawal of trade-related benefits and IP rights (TRIPS) waiver would make things difficult for us and the main test now is how to make our economy competitive enough to face the difficult times after Covid-19 pandemic.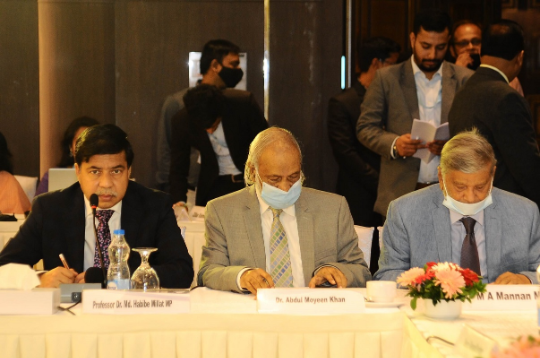 The First Roundtable was on 'Preparedness for Smooth and Sustainable LDC Graduation'. Mercy Miyang Tembon, Country Director (Bangladesh and Bhutan) World Bank Group was the guest of honor and respected speakers for the session were Sheikh Shahidul Islam (Former Minister; Secretary General, Jatiya Party), Selima Ahmad MP, Professor Dr. Md. Habibe Millat MP, Professor Rashed Al Mahmud Titumir Chairman, Department of Development Studies, Dhaka University; Chairperson, Unnyan Onneshon, Professor Dr. M A Aziz, Secretary General, SWACHIP, Dr. M Abu Eusuf , Executive Director, RAPID & Faculty Member, University of Dhaka, Parvez Karim Abbasi, Faculty Member, Department of Economics, East West University and Mr. Mamun Rashid, Senior Partner, PwC Bangladesh, moderated the session. The objectives of the First Round Table was to facilitate the preparatory work for the development of Sustainable Transition Strategy (STS) and establish a consultative mechanism with key stakeholders, assist Government of Bangladesh (GOB) in remaining entitled to receive all benefits available to LDCs in the post-graduation period until achievement of Sustainable Development Goals (SDGs) and beyond, make recommendations for the preparation of the Voluntarily Reports on the preparation of the transition strategy to the CDP on an annual basis and outline ideas in launching promotion and campaign across the country to keep abreast the citizenry with the impact of graduation.
The World Bank Country Director, Mercy Miyang Tembon suggested policy reforms such as tariff rationalization and quick service delivery to facilitate national development. She emphasized on the need for trade competitiveness in order to become more competitive. In addition to that she highlighted the need for engaging the private sector to facilitate national development. There are challenges like skill gap, and weak institutions, healthcare and education, which need to be addressed and added that some reforms had been made in the country but there was a necessity for bringing in major reforms. Following low-hanging reforms, she said, 'we now need to go on to the second generation of reforms that will boost the country and shift its gears to where it wants to go'. 'You need to translate the plan and those ideas into action that touches everybody in the society. It has to be green, resilient and inclusive,' she added.
Chairman of the Department of Development Studies at the University of Dhaka, Prof. Dr. Rashed Al Mahmud Titumir said 'For sustainable development during the preparatory, graduation and transition periods, we need to enhance productivity, catch up with modern technologies and move towards innovation'. This is because competitiveness comes with increased productivity, for which adequate resource distribution and capacity building is required. "However, the initiative could be made easier to implement through public investment or different fiscal incentives," he added.
Sheikh Shahidul Islam (Former Minister; Secretary General, Jatiya Party) expressed that we are incompetent for LDC graduation. Most of the preparation was only on paper. 'We are underprepared, and we should start our journey right now. Otherwise, we will get left behind' the former minister said. Bangladesh needs a political system that can sustain development. The quality of governance in Bangladesh is also in doubt. "There must be administrative reforms and extensive capacity building ingenuity are required for these reforms. For that, the nation needs decentralized administration", he added.
Special Guest Dr. Abdul Moyeen Khan (Former Minister for Planning, Information, Science & ICT; National Standing Committee Member, BNP) gave his speech after Round Table Discussion-1. There are three major indexes: gross national income, human assets, and economic vulnerability – that any nation must fulfil to get recommended for graduation, said Abdul Moyeen Khan. However, all these international criteria are flawed in terms of concept when it comes to Bangladesh as an economy can't be devoid of society and the most important criterion for graduation is democracy, said Khan
Chief guest M.A. Mannan MP, (Minister, Ministry of Planning) spoke after the end of Roundtable discussion-1. The minister emphasized Bangladesh's amazing progress since independence and added that the country overcame electricity and starvation problem to graduate from LDC status. According to the minister, there are income disparities in Bangladesh, but no country in the world is without them. The government's objective is to boost the entire economy. He further pointed out, during the Covid-19 pandemic, Prime Minister Sheikh Hasina used selective lockdowns initiatives to protect the poorest people's livelihoods. 'The stimulus package's speedy implementation was one of the world's fastest responses. Without a question, there was corruption, but for the most part, the system worked', he added. Regarding the discussion of what comes first, development or good governance, the minister said 'Good governance for Bangladesh is a pie in the sky'. He stated that significant development needs to come first before we arrive at that destination.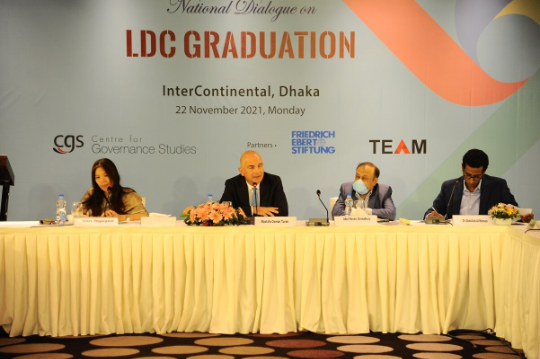 For the 2nd roundtable discussion: "LDC Graduation and Effective Development Cooperation", Abul Hasan Chowdhury, Former State Minister, Ministry of Foreign Affairs and H.E. Mustafa Osman Turan, Turkish Ambassador to Bangladesh were the guest of honor. Speakers of the session were Van Nguyen (Deputy Resident Representative, United Nations Development Programme, Bangladesh), Dr. Badiul Alam Majumdar (Secretary, SHUJAN), Dr. Muhammad Abdul Mazid (Former Chairman, National Board of Revenue), Dr. Ahsan H Mansur (Executive Director, Policy Research Institute), Zahir Uddin Swapon (Former Member of Parliament, BNP), Prof. Dr. Jonaid Shafiq (Managing Director, Navana Pharmaceuticals Ltd.). Dr. Abdullah-Al-Mamun, Research Director of CGS and Chairman of the Department of Japanese Studies, University of Dhaka was the moderator for the session. The objectives of the session were to facilitate the preparatory work for the development of smooth and sustainable transition strategy and establish a consultative mechanism with development partners, assist GoB in retaining benefits available to LDCs in the post-graduation period, suggest mechanisms to seek assistance from the United Nations system in the preparation of the smooth transition strategy, make recommendations for the preparation of the CDP Voluntarily Reports and recommend ways and means to consolidate engagement with global bodies related to LDC graduation.
'Bangladesh, under Prime Minister Sheikh Hasina's leadership, is moving forward on the path towards becoming a developed country', said Abul Hasan Chowdhury. This is Bangladesh's achievement. 'Bangladesh is currently Asia's most evolved country in terms of social parameters. Bangladesh's obstacles towards this path are challenges that all countries encounter' he added.
'We all have to work together,' Van Nguyen said. The trend of change must be maintained. She said that UNDP will always be with Bangladesh in this path.
Bangladesh is a beacon of optimism for H. E. Mustafa Osman Turan. He advised Bangladesh to learn from Turkey's shortcomings. He urged Bangladesh to make the best possible use of its natural riches. He ended by stating that Turkey is eager to accommodate Bangladesh in any and every manner it can.
Bangladesh should learn from South Korea, according to Dr. Badiul Alam Majumdar. Whereas 50 years ago, South Korea and Bangladesh had the same per capita income; today, South Korea's per capita income is hundreds times higher than Bangladesh's. While comparing democracy with prosperity, he argued that neither should be substituted for the other; we require both.
"What we need to do after being promoted is vital," Dr. Muhammad Abdul Mazid said. He went on to suggest that whether the development will be sustainable has to be seen. It is essential for developed nations to make a concerted effort for underdeveloped countries to progress in the world. This necessitates talks with developed countries. He also argued that the private sector should be given emphasis.
Dr. Ahsan H Mansur mentioned that the time has finally come to progress Bangladesh forward. Although a few in Bangladesh may want more time until LDC graduation, Bangladesh should not take advantage of the situation, assessing the country's growing economic development. If Korea and Vietnam can thrive, so can Bangladesh.
According to Zahir Uddin Swapon, the issue of LDCs is still in the policy-making stage. However, in order to be successful, the government must engage the general public.
As per Prof. Dr. Jonaid Shafiq, 'Nothing can stop the progress of our pharmaceutical industry as it is well poised with technology and manpower.' To him, all that the pharmaceutical industry needs is the government's cooperation. .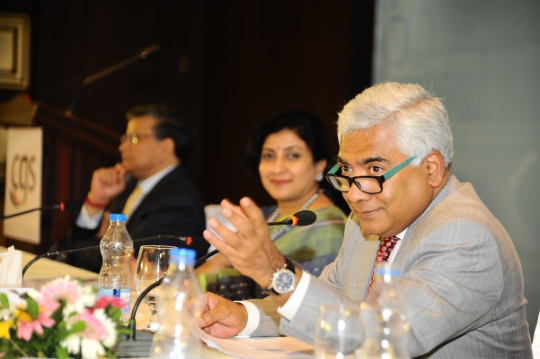 The final round table discussion on LDC Graduation: Opportunities and Challenges for Commerce and Trade, was embraced by eminent speakers including Md. Jashim Uddin, President, FBCCI (Guest of Honor); Mahesh Mishra, Head of Prosperity and Economic Growth Team, Foreign, Commonwealth & Development Office (FCDO), British High Commission; Abdul Awal Mintoo, Former President, FBCCI Yuji Ando, Country Representative, Japan External Trade Organization (JETRO), Bangladesh; Abdul Haque, Former Director, FBCCI; President, BARVIDA; Abdullah Hil Rakib, Director, BGMEA; S M Shafiuzzaman, Secretary-General, Bangladesh Association of Pharmaceuticals Industries; Prof. Dr. Sarder A Nayeem, Chairman, Japan Bangladesh Friendship Hospital; Dr. Khondaker Golam Moazzem, Research Director, Centre for Policy Dialogue (CPD); Hasnain Khurshed, Head of Communication & Corporate Philanthropy, Fair Group and Dr. Nazneen Ahmed, Country Economist, UNDP Bangladesh served as moderator. This session was aimed to engage stakeholders in a generative discussion and reached at the following objectives: to facilitate the preparatory work for the development of smooth and sustainable transition strategy and establish an effective consultative mechanism with business entities, assist GoB in providing suggestions for receiving trade and commerce related benefits available to LDCs in the post-graduation, outline ideas in launching promotion and campaign to keep abreast the business community with the impact of graduation and suggest ways and means to consolidate engagement with global trade bodies relevant to LDC graduation..
'Bangladesh is the biggest economy to exit from LDC status,' as per guest of honor Mahesh Mishra. This phase of transition should be used to accommodate Bangladesh to international competitiveness. Intellectual property policies must be reinforced if Bangladesh wants access to foreign technologies. For Bangladesh to become a high-income country in future, it will need to reform its strategies, regulations, and infrastructure.
According to Abdul Awal Mintoo, the income per capita does not reflect their way of living. Rather, growth should be inclusive and redistribution should be equitable. Everything has an impact on our quality of life, including our health care system and educational attainment.
'We expect that trade between Japan and Bangladesh will rise after a Free Trade Agreement (FTA) is signed' said by Yuji Ando. 'We hope that more Japanese companies will approach Bangladesh's EPZs to invest. Prior to that, it is necessary to guarantee that administrative support runs smoothly', he added.
Abdul Haque said, 'Bangladesh should graduate from an aid reliant country to an investment-friendly country. We are still structured under the British model where institutional shortcomings are still present'.
Bangladesh, according to Dr. Khondaker Golam Moazzem, must take a stand when negotiating trade agreements with the World Trade Organization. If Bangladesh is able to gain duty-free access to international markets after graduation, it will be incredibly beneficial. Bangladesh should, however, carry on working to develop its institutions so it can thrive without relying on preference-based trade.
S.M. Shafiuzzaman said that the Pharmaceutical industries are equipped with modern technologies and brilliant leaders from Bangladesh. Foreign countries are very happy with the quality of medicine of Bangladesh.
The daylong event ended with the dialogue of Md. Jashim Uddin, he believes that LDC graduation will be a great opportunity for the country. FBCCI has been working closely with the government to prepare for this transition. He highlighted some opportunities in international trade that Bangladesh can take advantage of, such as a Free Trade Agreement with Germany.
Comments