'Bloodstained' UP Elections and The CEC's Alternative Truth
Kamal Ahmed | 28 November 2021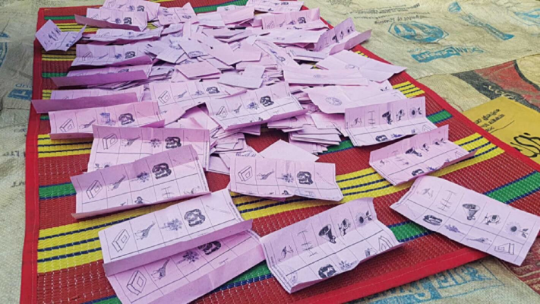 ---
Post-result recovery of ballots were published in the media, but the aggrieved parties were simply told to go to election tribunals. Photo: Star
Video footage and reports have been emerging daily on both traditional and social media exposing how violent and intimidating our elections have become. It has been going on throughout the country and in all the phases of local government elections—mostly union parishads (UPs) but in a few municipalities too. Death counts from these acts of violence are between 39 and 50, depending on official and unofficial statistics. The Chief Election Commissioner (CEC) Khan Mohammad Nurul Huda, however, said "the elections were not violent and there were only a few incidents of violence", whereas his fellow Commissioner Mahbub Talukder termed it as "bloodstained".
A closer scrutiny of the facts shows that during the first two phases of UP elections, at least 200 chairmen were elected uncontested, which is suggestive of intimidation by candidates favoured by local administration in order to force likely contenders to quit the race. Such administrative favours, though unlawful and undesired, are quite rampant due to the pressures applied by the ruling party's local leadership, which in most cases involve MPs. Hence, we have seen the High Court's intervention and follow-up queries to ensure a few MPs leave their constituencies during this period. Several videos have gone viral, showing members of the ruling party asking voters that they would have to show their votes before putting them in the ballot box. Post-result recovery of ballots—more than enough to overturn the outcome in Tangail and Cox's Bazar—were published in the media, but the aggrieved parties were simply told to go to election tribunals. The third phase of UP polling, scheduled for today, is unlikely to be any different.
The unfortunate loss of lives during these elections meant that, on an average, at least one person had to die for every 25 UPs. Had the CEC and his fellow commissioners had some decency, they would have apologised to the families of each of these victims and initiated appropriate legal actions against the perpetrators. Instead, the CEC has engaged himself in putting out alternative narratives, devoid of facts. The current Election Commission's records in poll management and conduct—with the exception of one commissioner, Mahbub Talukder—are similar to the preceding EC led by Kazi Rakibuddin Ahmed. Those similarities are not only in their failures to make elections participatory, competitive and fair, but in callous behaviours too, including disregard for human lives.
These are quite a few symptoms of the total collapse of the electoral system and its supervisory institution. Unfortunately, many among us are more concerned about symptoms instead of the cause of the ailment. Some people have called for doing away with contests based on party nominations, as if the EC is not at fault. But, ground reports show that most of these contests are between various factions of the ruling party. In some places, it's a battle between the local MP and upazila chairman or party executives. In a number of places, leaders of the student or youth wings are running against main party functionaries.
The reason for such desperation among factions is to get a share of the pie—cuts from development projects and government allocations for social support. Quite a few newspapers have reported that the number of so-called rebels from the ruling party account for more than one-third of the elected chairmen. In most of these places, election officials belonging to civil administration favour the strongest due to the power equation. Until and unless the Election Commission assumes its constitutional obligations honestly and sincerely, they will not be able to make the administration act with neutrality and according to law.
Primarily, the responsibility of the bloodshed and electoral farces lies with the EC. Despite having all necessary constitutional authority and power to hold free, fair and participatory elections, they have not delivered a single election in their nearly exhausted five-year term which people deemed credible. Mahbub Talukder's comment that UP "elections are now in ICU (Intensive Care Unit) and democracy is on life support as its side effect" is equally true for all the elections and by-elections held under the current EC and its immediate predecessor. It was aptly put by the chief of Shujan (Sushashoner Jannyo Nagorik), Badiul Alam Majumder, when he said at least people in our country had one day of democracy every five years when as a kingmaker they could vote, but that too was lost due to the failure of the EC.
Apart from the Election Commission, it is the government that shares the blame for causing so much harm to the electoral mechanism. Since scrapping the 13th amendment and abolishing the system of caretaker government, the ruling party Awami League has been gradually shifting towards authoritarianism. Dissent and criticism are no longer tolerated and politicisation of state institutions, including the civil administration, has made the functioning of a viable opposition almost impossible. As a result, whoever holds any ambition for a public office and political power and influence has little choice other than joining the Awami League. It explains why elections nowadays are an intra-party contest and frequently turn deadly. Creating and maintaining a peaceful electoral environment thus no longer remains a priority for the administration.
Historical data shows the worst record of electoral violence was in the UP elections of 2016, when a total of 145 lives were lost. But, the second worst record goes back to 1988 under the military rule of General Ershad, when 80 people were killed in union parishad elections. It, therefore, could be argued that violence in elections of the lowest tier of local government is more likely to be linked with lack of, or, weaker democracy; and not whether the contest was on the basis of party nominations and symbols.
The first UP elections after Awami League's return to power, held in 2011, was managed by the Election Commission led by Shamsul Huda, when the opposition was much stronger despite the fact that their representation in parliament was much diminished. Those elections too were very competitive and unfortunately saw 10 lives lost, but no one questioned the integrity of the electoral process and the role of the commission.
In the past, violence in elections was largely meant to stifle political competition, but now it also disenfranchises the electorate. And, it is the result of the Election Commission's failure to stand up to the hegemonic pressure from the party in power. Without the restoration of the honour and integrity of this constitutional body, these farcical theatrics are simply a waste of national resources.
Kamal Ahmed is an independent journalist.
This article was originally published on The Daily Star.
Views in this article are author's own and do not necessarily reflect CGS policy.
Comments