Overview of Bangladesh's NDC at COP26
Apon Zahir | 04 November 2021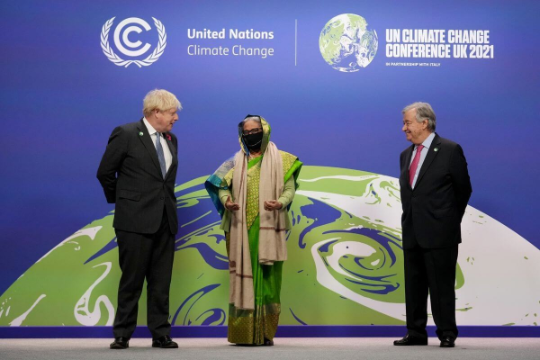 ---
The government of Bangladesh signed the Paris Climate Accords on 22nd April 2016. The clauses of the agreement were put into force by 4th November of the same year. According to the Paris Agreement, each member country is to outline and communicate their post-2020 climate actions, known as their Nationally determined contributions (NDCs).
The sole aim of the Paris Agreement (PA) is to change the current course towards combating climate change, harbouring a sustainable development pathway by limiting global warming within 1.5 - 2 degrees Celsius above pre-industrial levels. One of the key elements of the PA is the Nationally Determined Contributions (NDCs) previously referred to as Intended Nationally Determined Contributions (INDCs) before the ratification of PA. Bangladesh submitted its first INDC to UNFCCC on 25 September 2015, for three sectors (Power, Industry and Transport). Subsequently, Bangladesh prepared the NDC Implementation Roadmap and Action Plan in 2018.
This year, Bangladesh submitted its updated NDC which covers Energy (Power, transport, energy use in industry, residential, commercial, agriculture and brick manufacturing, F-gases and Fugitive emission), Industrial Processes & Product Use (IPPU), Agriculture, Forestry and other Land use (AFOLU) and Waste sectors. With the submission of the new NDCs, we have now access to a plethora of climate data to analyse and predict Green House Gas (GHG) emission trends in Bangladesh.
Centre for Governance studies presents an in-depth analysis of the latest data that the delegation of Bangladesh will present at COP 26.
To read the full analysis click here
Apon Zahir, Research Assistant, Centre for Governance Studies.
Views in this article are author's own and do not necessarily reflect CGS policy.
Image credit Reuters.
Comments