Cycle of Rule of Law and The Tragedies of Its Failure
Md Alif Mia | 19 October 2021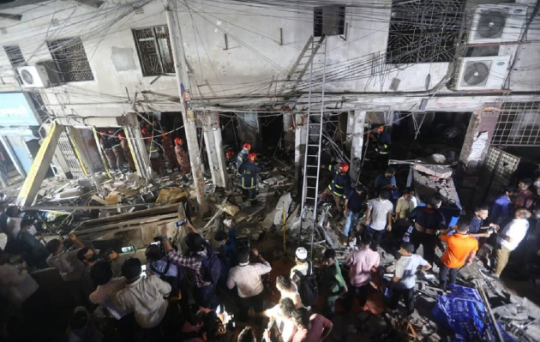 ---
On July 8 earlier this year, a fire broke out at the Hashem Foods factory in Rupganj upazila of Narayanganj district. The tragic incident claimed the lives of at least 50 workers at the juice processing unit operated by Sajeeb Group.
According to Mohammad Abul Hashem, chairman of Sajeeb Group, building the industry was one of his greatest mistakes.
"Why am I being held responsible, it's not like I nor any of my managers set the fire," he said.
"Where there is industry, there are workers, and if there are workers, accidents happen due to human error," Hashem added.
So, with the owner denying responsibility and the government seemingly indemnified, it seems only the people who died are to blame for the incident.
Similarly, a fire broke out at a three-storey residential building in the capital's Moghbazar on June 27 earlier this year, killing at least 11 people and injuring 26 others.
Officials of the Fire Service and Civil Defense department and a bomb disposal unit speculate that the explosion was caused by condensed gas in the building's pipeline.
Furthermore, they believe that the building must have had at least one illegal gas line.
However, Ali Iqbal Mohammad Nurullah, managing director of Titas Gas, dismissed the notion.
"There was no illegal gas line at the building so it seems certain people are using the situation to scorn the relevant authorities," he said.
In each case, the government had formed three or four committees comprising seven members each to conduct investigations into the matter.
But although these committees inspected the scene, official reports would never see the light of day.
These are not isolated incidents either as numerous incidents in the past, such as the Tazreen Fashion fire incident, collapse of Rana Plaza, and explosions at chemical warehouses in Old Dhaka, all flew under the radar.
This raises suspicions over whether the owners have a direct link with these accidents which play an integral role in claiming insurance.
I would also like to mention another such incident, that of a 12-storey apartment building collapse on June 24 this year in Miami, US.
As per the latest reports, a total of 38 bodies have been recovered from the wreckage while 109 people are still missing.
Mayor of Miami-Dade city Daniela Levine Cava and Surfside Mayor Charles Burkett have been monitoring the situation non-stop, guiding rescuers from the scene.
After the cause of this incident was discovered, US President Joe Biden released this information to global media.
Now many would say that comparing such practices between Bangladesh and the US is like comparing apples and oranges, a statement even I would agree to. However, Bangladesh should at least aim to go closer to the standards held by western nations.
This is even more important now as most countries keep claiming that Bangladesh has become another Venice or Singapore.
But whenever I meet someone new, I usually ask them about what they find most challenging about permanently living in the country.
The most common answer is "security", or lack thereof.
To put matters into perspective, imagine you run into an accident or any other unforeseen emergency in a developed or developing country. In this case, the state would arrange immediate treatment, even for free depending on the state, and also ensure financial compensation to the next of kin in case of death.
On the other hand, the situation is quite different in Bangladesh, where victims of the Rana Plaza tragedy still take to the streets demanding justice.
All of these incidents could have been properly addressed if those responsible had performed their duties properly and also be held accountable after the fact.
There are basically two aspects to this accountability. First, political responsibility refers to the fulfilment of commitments that policymakers make in the manifesto.
If a member of parliament does not perform his or her duties properly, then that person should have to beg for votes in the next election.
So, if they want people to vote for them, they will have to answer whether they have fulfilled their previous promises.
However, many people think that Bangladesh's political culture is fundamentally broken in this regard and so, political accountability is largely missing.
Second comes administrative responsibility. The state's executive branch is held accountable by the greater parliament, where members of the cabinet play the role of ministry executives.
Therefore, when the parliament gives the responsibility to a state administration apparatus, it is obliged to thoroughly fulfill that responsibility.
But ensuring this accountability has now become a big challenge for our country. From the past, many have been saying that the ruling party is becoming more and more dependent on bureaucrats.
The manifestation of which was seen in the last few days during parliament. In the speeches delivered by Tofail Ahmed and Kazi Firoz Rashid, close associates of Bangabandhu and veteran politicians, it was made clear that the administration has moved from its previous position.
Although politicians themselves are responsible for this depletive situation because they failed to control the administration, many claim the real reason is that politicians have moved away from the people.
Now the question is, since we are not able to ensure any accountability, will this declining scenario of the state continue?
The answer is yes if we cannot ensure that the rules of law are maintained. The prerequisite for good governance is to ensure rule of law, which can ensure the responsibility and accountability of the state's apparatus.
This will depend on some predilections of the incumbent government. If our government shows uprightness, ensures a repression free, independent and conducive environment for law enforcement, we will move towards good governance zilch.
Without removing inertness in our existing conventional legal framework and ensuring an independent judiciary, there is no way to establish the rule of law.
This requires a participatory government, which refers to governments that are people-friendly and provide direct opportunities for public participation in running the state. This does however depend on the will of the current ruling party and general masses.
Md. Alif Mia is an executive of Budget Planning and Forecasting at the Centre for Governance Studies.
Views in this article are author's own and do not necessarily reflect CGS policy.
Comments