Addressing the Goals of COP-26 in South Asian Context: Pitfall and Explications
22 September 2021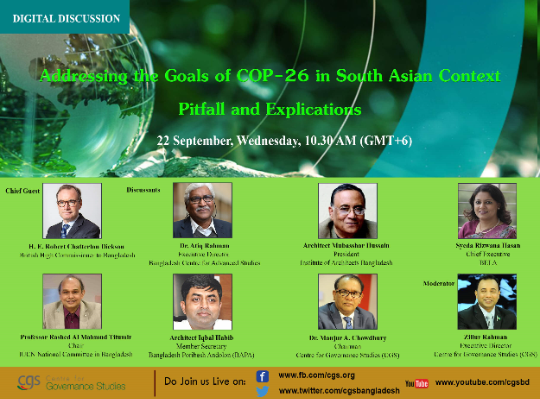 ---
Climate change is one of the biggest threats to regional stability and security in Bangladesh. Being one of the most vulnerable countries to the effects of climate change, Bangladesh has played a leading role in advocating national level actions to control carbon emission and meet the National Determined Conditions (NDCs) as agreed on in the UNFCCC Paris agreement of 2016. Bangladesh is also the current chair of the Climate Vulnerable Forum, and the current voice representing all countries that are disproportionately affected by the consequences of global warming.
This year, the 26th UN Climate Change Conference of the Parties (COP26) will be hosted by the United Kingdom in Glasgow. The slogan of COP26 is Uniting the World to Tackle Climate Change, emphasizing the importance of international cooperation to address climate change. In light of the COP26, The Centre for Governance Studies arranged a webinar focusing on both the COP26 and current climate issues in Bangladesh and South Asia. The webinar titled "Addressing the Goals of COP-26 in South Asian Context: Pitfall and Explications" was hosted on 22nd September, Wednesday, 1030 BST (GMT+6).
His Excellency Robert Chatterton Dickson, British High Commissioner to Bangladesh was the chief guest at the webinar. Other esteemed participants in the dialogue were Dr Atiq Rahman, Executive Director, Bangladesh Centre for Advanced Studies, Ar Mubasshar Hussain, President, Institute of Architects Bangladesh, Ms. Syeda Rizwana Hasan, Chief Executive, Bangladesh Environment Lawyers Association (BELA), Professor Rashed Al Mahmud Titumir, Chair, IUCN National Committee in Bangladesh, Architect Iqbal Habib, Member Secretary, Bangladesh Poribesh Andolon (BAPA), and Dr Manjur A. Chowdhury, Chairman, Centre for Governance Studies (CGS). Mr Zillur Rahman, Executive Director of CGS moderated the event.
Robert Chatterton Dickson stated at the event that particularly vulnerable nations such as Bangladesh and severely affected regions inside it like Gabura represent A microcosm of the problem at large. There are now overwhelming scientific evidence and real-life examples of the effects of climate change in almost every country. The Climate movement has grasped the attention of world leaders, as seen by the example of China stopping investment in coal power plants. The High Commissioner recognized Bangladesh's leadership role in the realm of climate change mitigation and adaptation and applauded the tremendous achievements Bangladesh will present at this year's COP.
In his speech, the High Commissioner highlighted four individual aspects of tackling climate change. Namely Coal, Cash, Cars, and Trees.
Regarding coal, he stated that Bangladesh's contribution to emission reduction has been exemplary. He was impressed by the government's Mujib climate prosperity plan and believes Bangladesh can achieve a net-zero carbon emission target by 2050. The British High Commission has been working with the government to form a Long term strategy towards net-zero emission. He also noted Bangladesh's accelerated efforts to phase out coal and seek out renewable energy sources. He indicated that our neighbouring nations have potential Hydroelectric projects in the making that Bangladesh could benefit from as well.
Regarding cash, the High Commissioner admitted that the developed world has not yet delivered on its promises. He stated that there will be doubled commitment from developed countries and doubled climate finance over 2021-2025. He also stated that the High Commission is looking for ways to increase private financing towards adaptation and mitigation in Bangladesh. He ended this point by saying that the real money from developed nations will be put on the table during the final weeks leading up to the event.
Regarding cars, the High Commissioner said that Bangladesh is still in the early stage of the transition from fossil fuel to electric cars. He highlighted the benefits of reduced emission and reduced urban pollution from ensuring this shift over the long term.
Regarding Trees, the High Commissioner emphasised the unique role of the Sundarban mangrove forest as a part of climate mitigation and adaptation in Bangladesh. He said that the mangrove forest has protected Bangladesh from many natural disasters, and need to be preserved to maintain its role in combating climate change.
The High commissioner admitted that these are major challenges for the world. However, real progress has already been made and Climate change is now the top issue in the world.
Dr Atiq Rahman stated that even though direct participation will not be possible for many people due to covid 19, Bangladesh will still bring a pretty big delegation to COP26. He highlighted the pledge of the developed world to provide $100 billion per year to vulnerable nations, which has not yet materialised. Meanwhile, Bangladesh is already spending $10-$20 billion on climate adaptation. The climate change mitigation plan for Bangladesh includes the creation of the Padma Bridge which will reduce overall emissions from cars by improving road transit efficiency. Other initiatives for reducing emissions include the adaptation of Improved household stoves, which has halved the emission from burning wood. He also stated that Bangladesh is going through rapid progress in propagating electricity connections. An estimated 5.58 million households are now electrified by solar power and about 22 million people are getting direct lighting benefits from solar power. Bangladesh is now the world's largest user base of solar energy. 4-5 million children are also benefiting from education due to access to light during the night. There are also plans for 100 new economic zones to accommodate climate refugees. At COP26 Bangladesh will bring forward these progressive messages and contribute a progressive plan to tackle climate change. Dr Atiq Rahman concluded by emphasising that the COP has to ensure that the long term commitments from various members are kept.
According to Iqbal Habib, there are two motivations at play in combating climate change. One is to raise funds and mitigate, the second is the adaptation process for individual countries and peoples. He emphasized Bangladesh's need for planned urbanisation. Bangladesh will inevitably suffer from migration from rural areas into cities due to climate change. However, Dhaka is more than overcrowded already. There needs to be an improvement in housing technology and increased government support in terms of housing development funds. According to the architect, cities in Bangladesh are lacking proper housing solutions. This issue is not just a matter of lack of funding. The technology used here is not up to modern standards. There needs to be a shift from using burn brick to concrete blocks in construction. There needs to be an overall paradigm shift in the construction industry of Bangladesh. However, such a shift cannot happen without technological support from foreign countries. Iqbal Habib also indicated the problems in the urban sewerage systems and the over-reliance on groundwater extraction. There need to be portable water solutions from surface water reserves to meet the growing water needs in the cities. He also highlighted how inefficient Bangladesh is in developing infrastructure, stating that our infrastructure development cost is one of the highest in the world. Environment equity must be an important concern, and development cannot be based solely to serve private owner interests. Iqbal Habib concluded by saying that technical support and investment management guidelines from developed countries might be better than just promises of funding. Climate adaptation needs to be a partnership.
Professor Rashed Al Mahmud Titumir made a vivid description of the plights of the people of Gabura due to the onslaught of natural disasters. He said that people are losing their ancestral homes to soil erosion and are being forced to seek asylum, surviving through sheer resilience. The propensity of natural disasters due to global warming is increasing worldwide, there is no time at hand, and we need to take effective steps to deal with climate change. People of Gabura are suffering due to Increased salinity issues, which is hampering crop production, reducing drinking water supply, and also affecting the reproductive health of women. Meanwhile, the US, China, and India are lagging on their Nationally Determined Contributions (NDCs) as set in the Paris agreement. According to the professor, There is still too much investment in fossil fuel and not enough in renewable energy. There are also conflicting policy decisions in the west in terms of reducing emissions. World Leadership is not playing an effective role in solving the Rohingya refugee crisis in Bangladesh, leaving us particularly vulnerable in dealing with the new waves of climate refugees. The professor ended his speech by stating that there is no substitute for global cooperation and political goodwill and raised the question of whether Glasgow will heed the cries of Gabura.
According to Ms Syeda Rizwana Hasan, climate change is both a justice issue and an equity issue. The attorney highlighted the justice issues by highlighting that due to lack of transparency, the funds being allocated towards Bangladesh are ultimately ending up in personal pockets. She emphasized the importance of the government to set up a policy of transparency so that funding reaches the people who need it the most. She also stated that we must ensure that our NDCs are active enough to adequately face the effects of climate change. We must then go for rigorous implementation of these NDCs. She also stated that developed nations need to be more ambitious while setting NDCs and that we haven't seen the leadership as expected from the developed world in regards to climate change. She called for higher mitigation standards in Bangladesh and worldwide, stating that the world needs to rethink the model of development as the current one is not sustainable. She urged Bangladesh to not rely solely on foreign aid and first ensure our capacity for adaptation and mitigation.
Ar Mubasshar Hussain stated that we need to talk about decreasing emissions worldwide before we talk about mitigation and adaptation. Climate change will affect everyone in the end. He urged all nations to work together to reduce carbon emissions to zero. He also suggested maintaining trees and foliage inside Dhaka city to tackle lowering air quality, and shifting to using concrete blocks instead of burnt bricks. He concluded that a joint solution is needed across the globe to solve this issue.
Dr Manjur A. Chowdhury made the concluding speech by restating that climate change is an issue that affects everyone all over the world. Bangladesh is a frontline country as far as climate change is concerned. We are already facing the Rohingya refugee crisis. If we are forced to deal with more climate refugees it will be a lot of pressure on our economy. The chairman of CGS stated that the most important issues to be discussed in COP26 will be viable ways of financing climate mitigation and adaptation. Another important issue to discuss is methods of reducing emissions. The developed world is consuming far more energy than Bangladesh. Comparatively, our emissions are negligible. Yet we are the ones being asked to reduce emissions. Dr Manjur A. Chowdhury concluded by urging the developed world to find a way to reduce emissions, as we are the ones who are facing the consequences.
Comments