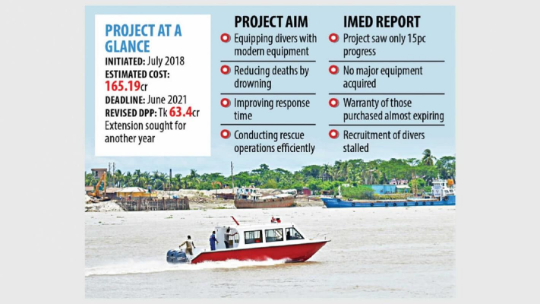 ---
In 2018, Bangladesh Fire Service and Civil Defense department initiated a three-year project to expand their "diving unit" to reduce the devastating number of deaths from drowning in the country.
However, although the project ended this year, there has only been 15 percent progress so far, according to a recent report of the Implementation Monitoring and Evaluation Division (IMED) of the planning ministry.
"In case of waterway accidents or flood, immediate response from fire service is vital, which could help save more lives. If they have proper equipment along with skilled divers, it would be of great help amid a crisis."
Dr Aminur Rahman
deputy executive director of CIPRB
The IMED report found that the authorities concerned did not acquire the major equipment needed for the unit yet. Moreover, the warranty of the ones they acquired are almost expiring.
IMED stated that even though only 16pc of the estimated capital expenditure was made, the budget allocated for transportation and office equipment was fully spent. The project director purchased a Tk 53.69 lakh inspection jeep in the first year of the project.
With so little progress on the project, with only 50 divers available countrywide, the fire service authorities are struggling to properly conduct rescue operations in waterway-related accidents.
On Friday evening, at least 22 people died when two sand-carrying vessels hit and capsized a boat in Brahmanbaria while two children drowned in a pond in Dhaka's Azimpur area the day before.
Forty-three percent of the total number of children's deaths in the country are caused by drowning, according to the World Health Organization (WHO). Besides, the number of deaths from drowning in Bangladesh is around 18,000 every year.
PROJECT DELAY
Tk 165.19 crore project, approved by the Executive Committee of National Economic Council (Ecnec) on November 4, 2018, was initiated to equip and familiarise divers with modern rescue equipment and technology and, above all, to reduce deaths by drowning.
Under the project, seven fire stations -- in Ashulia, Narayanganj, Chattogram, Chandpur, Khulna, Barishal and Rangpur -- were to be equipped with modern rescue equipment.
The equipment includes one salvage fire-fighting tug, seven pontoons and jetties, 14 heavy-duty boats, 14 light-duty boats, seven rescue vehicles, 42 diving apparatus sets, seven air compressor machines, seven light trucks for transporting rescue boats etc.
The IMED report, released in June, mentioned that during the implementation period, only 19.97 percent of purchase packages were placed for tender.
Sixty-eight percent of the estimated Development Project Proposal (DPP) was excluded from the project, it said.
The report showed that of the 45 items, 17 were excluded from the project along with the fire-fighting tug, pontoon and jetties for lack of space and proper maintenance.
Two items were in the tender process, 10 agreements were signed, nine items were not placed for tender and only seven items were supplied.
After excluding the items, the proposed revised DPP stood at Tk 63.4 crore.
The collected items were stored in the project director's office instead of being used in the project implementing areas. Meanwhile, most exceeded the warranty period, the IMED report said.
Most importantly, the recruitment process of divers was stalled for nine months, IMED said.
Contacted, project director Md Mosharraf Hossain cited the ongoing pandemic as the reason behind the delay.
He said that they have applied to the planning ministry with a revised DPP to extend the duration of the project for a year.
Asked why the DPP was revised, he claimed that many of the facilities such as tugboats, pontoons and jetties were already available.
"That's why, we excluded those in the DPP," he added.
He said he did not know the reason behind the delay in recruitment of divers.
"The finance ministry refused the proposal to appoint six divers in a district. We will write to them again for appointing at least three in a district," he said.
'MONEY AT RISK'
On June 18, 2019, the fire service signed an agreement with Khulna Shipyard Limited for 14 heavy duty rescue boats worth Tk 19.99 crore.
According to the agreement, they were supposed to deliver the products within June 17, 2020. But they failed to deliver the boats as of August 20 this year.
According to the agreement, 95 percent of the money has been paid in advance by the fire service authorities. The audit department said the fire service has put the money at risk.
Hossain, however, claimed that they have played by the book.
"We can pay the government organisations in advance. We have already inspected the boats and they need some modification… also, some equipment has to be brought from abroad," he said.
But not only these heavy-duty boats, the fire service didn't get 14 light-duty boats from abroad either, even after the project period expired.
The IMED report said they fixed the timeframe to get the boats after the project implementing period was over, which was contrary to purchase planning.
Asked, the project director said they purchased those from Malaysia, but couldn't find any big ships to bring them from there. They would be able to do so by next February, he hoped.
About the expired warranty of equipment, he said they purchased the equipment in last year's June-July and they have two years' warranty. "We hope to complete the project within that period," he said.
Asked, Dr Gazi Md Saifuzzaman, chief of IMED Monitoring & Evaluation (Sector-1), said they start monitoring projects as per their internal jurisdiction.
"If we find some errors, we give recommendations or observations to the project implementing authorities. We wait for their response for a certain period and then we inform the ministry concerned for further action," he added.
According to experts, introducing a diving unit in every fire station is an apt decision. However, adequate manpower, training and proper equipment is crucial in this regard.
"With more trained personnel and modern equipment, we would get better results," Dr Aminur Rahman, deputy executive director of Center for Injury Prevention and Research Bangladesh (CIPRB).
"In case of waterway accidents or flood, immediate response from fire service is vital, which could help save more lives. If they have proper equipment along with skilled divers, it would be of great help during a crisis," he said.
Contacted, Brig Gen Md Sazzad Hussain, director general of Fire Service and Civil Defense Directorate, told the Daily Star that they are expecting to get the boats in November.
He also said, "In case of drowning incidents, respond time is crucial. If we have enough manpower and equipment, and if we can respond quickly, the number of deaths by drowning will definitely reduce."
News Courtesy:
https://www.thedailystar.net/news/bangladesh/news/overhauling-waterway-rescue-operation-diving-project-drowns-mismanagement-2163296
Comments