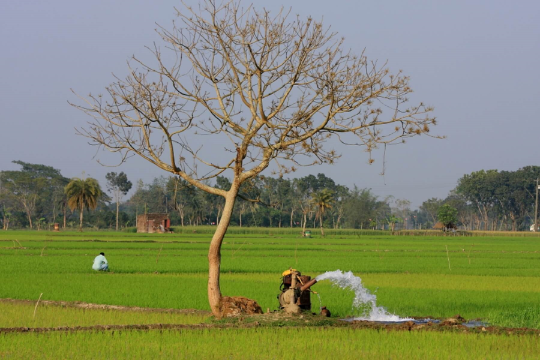 ---
Water is considered the most basic asset for manageable agricultural development around the world. The amount of irrigated land will increase in forthcoming years but the amount of groundwater will remain the same.
Irrigation is needed for crops in the dry season. In Bangladesh, there is widespread use of both shallow and deep tube wells for irrigation of agricultural lands. High-yielding rice varieties and other crops are very susceptible to drought and need very frequent irrigation, especially in the dry season.
According to a study led by the Bangladesh Agricultural Development Corporation (BADC), Department of Agricultural Extension (DAE) and Barind Multipurpose Development Authority (BMDA), around 55.87 lakh hectares of land was irrigated in 2018-19.
Of this amount, about 40.83 lakh hectares, or 73 per cent, of the land was irrigated through the use of ground water while the remaining 15.03 lakh hectares, or 27 per cent, was irrigated with surface water.
Five profoundly powerful techniques for irrigation are sprinkler irrigation, drip irrigation, surface irrigation, basin irrigation, and furrow irrigation.
Among them, the drip irrigation system is the most proficient and suitable water system framework.
Rather than wetting an entire field surface, water is applied only to the plant root zone. The objective of a drip irrigation system is to apply water when plants need it most and in rates required for appropriate plant development.
But in Bangladesh, the most popular irrigation method is surface irrigation. Here, the water flows over the soil using gravity. However, this means that farmers sometimes end up using excessive amounts of water in their fields.
Since most of the farmers in Bangladesh are basically uneducated, they do not know how to plan out a proper irrigation process.
They do not know how much water is required by a crop or understand soil quality, effective rainfall, the various irrigation methods or even when to irrigate.
As a result, they are not getting the expected amount of crops. The different modes of irrigation used in our country include using deep tube wells, shallow tube-wells, low-lift pumps, manual & artesian wells, gravity flow, solar pump, dug wells and other traditional methods.
However, the government has taken several initiatives in irrigation management which are praise worthy.
The biggest irrigation venture in Bangladesh is the Tista barrage, located on the Tista river in Duani Union of the Hatibandha sub-region in Lalmonirhat.
This project will require lots of other developments, such as improving the existing water features, drainage, and navigability while also dealing with raising shorelines, flood control, and so on.
There are five major irrigation projects currently being developed under the BMDA.
The first is the Short Irrigation Crop Production Project , which began in July-2018 with an estimated completion date set for June-2021. The project entails digging 450 wells in Barinda to facilitate the cultivation of various vegetables on about 1,350 hectares of land. It will supply water to 3,650 people in the rural area while also maximizing the use of surface water by reducing the pressure on groundwater.
Second is the irrigation facility expansion project in Bagha, Charghat, and Paba upazila of Rajshahi district, which began in October-2018 and is set to be complete by June-2021.
The project aims to reduce water scarcity and increase the availability of surface water to assist in the conservation of groundwater in re-excavated canals, use in irrigation, and increase in research of groundwater, limit the cultivation of low water consuming crops and overuse of groundwater through the digging of wells, as well as using renewable solar energy for irrigation.
Next is the irrigation expansion project in Natore District, which aims to ensure the best use of surface water and conservation of rainwater by increasing the use of renewable energy for irrigation and reducing the pressure on electricity by installing solar-powered LLPS.
Under the project, 600 farmers will be provided training on modern agriculture practices, irrigation infrastructure, moderate use of groundwater/ surface water, restricting the production of drought-tolerant and low water consuming crops, such as onions, garlic and eggplants. The project began in July-2019 and will end in December-2023.
Another project aims to ensure minimal irrigation through the re-excavation of ponds and development of surface water.
This means increasing the water holding capacity of various water bodies by re-digging government khas ponds/dighis, assisting in the recharge of groundwater and making it usable for multiple purposes, to assist in the development of the environment through tree planting, and creating employment opportunities for marginal farmers. The project duration is set for July-2019 to December-2023.
Lastly, the Irrigation expansion project in Rangpur District aims to ensure the best use of surface water and also conserve rainwater.
The project, to be undertaken between October-2019 to December-2024, will make 350 hectares of land suitable for agriculture through the removal of waterlogging, and using renewable energy for irrigation.
It will also help produce low water consuming crops through the digging of wells in a bid to aid the creation of additional forest resources and development of the environment by planting 2.30 lakh fruit, forest, and medicinal saplings.
The rubber dam is another new term for the people of Bangladesh. A rubber dam is located on the Atrai River in Dinajpur, facilitating irrigation using surface water instead of underground water as well as fish cultivation.
The dam is 135 meters long and four meters high with a 44-kilometre long repository in the waterway that generally evaporates in the lean season.
Around 7,000 hectares of land in nine unions of two upazilas in the district utilise water from the supply for the development of rice and other crops.
Some examples of using surface water irrigation in our country is the hydraulic elevated dam at Anowara, Chattogram; Michhakhali rubber dam in Bishambharpur, Sunamganj; Cusec Solar LLP at Sunamganj sadar upazila, Sunamganj; Chellakhali rubber dam in Nalitabari, Sherpur; Chilai river rubber dam in Doyarabazar, Sunamganj; Intake point of Sluice Gate in B.Baria; Submerged Weir in B.Baria; RCC channel in Habiganj; and re-excavation of Falimari Khal in Badarganj, Rangpur.
Some examples of gravitational flow in our country are the Cusec Floating Pump, Dockyard Narayanganj; Portable Distribution System in Char area, Lalmonirhat; and Cusec LLP, Chadpur.
But the main problem mostly faced in our country is that Bangladesh suffers from excessive water in the monsoon and a shortage during the dry season.
The government authorities, water planners, and irrigation engineers should take proper planning to solve this problem. The emerging climate change makes the problem more visible, which can only be solved with an effective management system.
Nazia Azrumir Prima is a Program Assistant at the Centre for Governance Studies.
Views in this article are author's own and do not necessarily reflect CGS policy.
Comments