The Future of Water in South and Southeast Asia: A Geopolitical Analysis
Mahmudur Rahman | 24 July 2021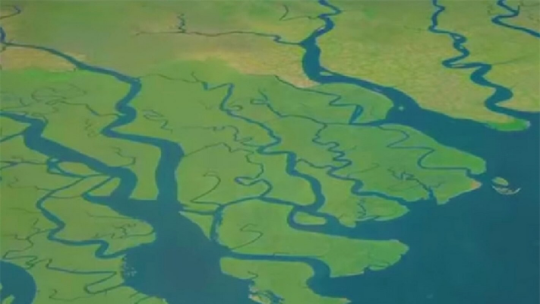 ---
The transformation of the People's Republic of China (PRC) from a regional actor with relatively insignificant power and influence to a global superpower is an astronomical achievement.
China's indomitable control of the South China sea shows its commitment to protect what it believes to be its sovereignty.
Chairman of the Central Advisory Commission (CAC), Deng Xiaoping, whose economic reform launched China's remarkable rise had a famous motto: "hide your strength and bide your time", but in the last decade, China has abandoned this principle.
This is evinced by the country's massive displays of military might and numerous leverages it uses to control the actions of other states.
Its influence has reached every corner of the world, from the megaprojects in sub-saharan Africa to its expanding influence on Europe. China even has broad ambitions for influence in the Arctic region, where its investments have heavily increased.
The power and influence of China will only keep rising as it solidifies its control of Tibet, the water tower of Asia, and starts building multiple mega dams on its numerous transboundary rivers.
The Yangtze, Yellow, Indus, Ganges, Yarlung Tsangpo-Brahmaputra-Jamuna, Salween and Mekong rivers flow across Asia and provide water and a source of livelihood for more than 1.5 billion people, a fifth of the world's population.
Tibet has about 200 million kilowatt hours (KWh) of water resources, its glaciers are the origin of much of the fresh water in India, Bangladesh, Pakistan, Nepal, Bhutan, Thailand, Laos, Myanmar, and Cambodia.
Although these countries collectively outnumber China, the country has total upper riparian control over these downstream nations through its political control of Tibet.
This makes Tibet China's greatest geographic advantage.
To understand water in a strategic context, one first needs to understand the norms and realities of international river use and governance.
The right to use the water of a border-crossing river involves a combination of de-facto and de-jure control -- control in fact and control in law. Fortunately for China, and unfortunately for its neighbors, the country has a strong hand by both measures.
China is the world leader in respect of total installed hydropower capacity with over 370 gigawatts (GW).
Throughout 2020, hydropower projects totaling 21 GWs in capacity were put into action. Nearly two thirds of this growth came from China, which saw 13.8 GWs of new capacity.
China has plans for damming the transboundary rivers of the Tibetan Plateau, which have thus far remained largely unexploited.
The country has a stagnant population growth but rapid urbanisation and industrialisation is increasing its need for renewable energy. The state-owned companies are lobbying the govt to approve hydropower projects in Tibet, with more than 20 of these projects waiting for approval.
The most massive undertaking is the proposed dam on the Yarlung Tsangpo. When complete, the mega-dam project will generate 60 Gws and have three times more hydroelectric capacity than China's current largest dam, the Three Gorges, which has a total capacity of 22,500 megawatts (MW).
The origin of Yarlung Tsangpo is the Angsi glacier near Mount Kailash in western Tibet and from there it flows eastwards for about 1,700 kilometers. Then Yarlung Tsangpo takes a sharp u-turn around the Himalayan peak of Namchi Barwa, flows south-westwards and enters India.
The Brahmaputra flows westwards in Assam and takes a southward turn as it enters Bangladesh downstream of the town of Dhubri, from where it takes on the name Jamuna.
Now with the aim of achieving carbon neutrality by 2060, Beijing has redoubled its efforts on hydropower projects in Tibet even though the dams have drawn criticism from Tibetan rights groups and environmentalists.
Downstream India and Bangladesh have raised their concerns regarding the dams China has built and the ones it is planning to build as well.
However, China has shrugged off these concerns, stating that they will install hydroelectric facilities which do not require a large reservoir. Energy is harvested by diverting part of the river to run through electricity generating turbines before it comes out and flows back to the main river.
This sounds reassuring because in theory, such a system would have little impact downstream. Except that is not how the power grid works, too much electricity generation can overload the grid, hence river facilities usually store large volumes of water during the day then release it for electricity generation during peak energy demand in the evening.
By manipulating the daily fluctuations of the water, there is a clear downstream consequence. The three chinese dams on the Brahmaputra-Jamuna mark the opening salvo in a long line of projects to come.
Beijing is planning to construct a dozen hydropower plants on the river and several more on its tributaries. As these dams start operating, the altered waterflow will damage agriculture, ecology and disrupt the lives of 1.3 billion people living in downstream India and Bangladesh.
Now, India has found itself in the same difficult situation that Bangladesh faces while trying to get a water sharing agreement with the neighbouring nation even though the two entered the Ganges Treaty in 1996.
This treaty guarantees a minimum level of cross-border flows into Bangladesh and divides the Ganges' waters almost equally between the two countries.
Bangladesh wants a similar treaty regarding the Teesta, a tributary of the Brahmaputra but the Chief Minister of West Bengal Mamata Banerjee has been a thorn for Bangladesh in signing that agreement.
From 2002 to 2018, four memorandums of understanding (MoUs) on the "Provision of Hydrological Information of the Yarlung Tsangpo/Brahmaputra River in Flood Season", and one MOU on Strengthening Cooperation on Trans-Border Rivers, were signed by the Ministry of Water Resources, China, and the Ministry of Water Resources, India.
Bangladesh has also signed a hydrological data sharing MoU with China. This cooperation can be called a mild success but no water sharing agreement has been signed by China and India.
Besides, these MoUs are non-binding, which means there are no means to enforce them.
Data sharing had stopped in 2017 after the border standoff between India and China over Doklam even though China maintains that it was because its flow measurement stations were being upgraded.
The convention on the law of non-navigational uses of international watercourses was adopted by the UN's General Assembly (GA) on May 21, 1997, which China voted against.
Since this is a GA resolution, it is non-binding, thus it cannot make China or India stop building these dams or their attempt to control the water of downstream nations.
The inconvenient truth is that participation in water-sharing agreements remains optional. China refuses to opt in and India has not yet shown itself able to coax or force China to the table and extract binding, enforceable concessions.
As China rolls out its hydropower policy for Tibet, water scarcity will become an authentic policy issue for downstream nations. There are a multitude of reasons that explain the stress of water scarcity.
The UN predicts that water scarcity will affect 1.8 billion people by 2025 while Asia will be hit particularly hard as locals will face water stress or outright shortages.
Bangladesh is known as the land of rivers but has little to no control over them. About 54 transboundary rivers flow into the country from India, most of which originate in Tibet.
India has adopted its own hydropower policy along the Ganges River. Indian dams have reduced water flow in downstream Bangladesh and as a result, soil salinity is destroying farmlands and forcing thousands to relocate.
Bangladesh is heavily dependent on external sources for water. The 1,800-kilometer-long Brahmaputra river, is the largest source of external water for Bangladesh. Environmentalists believe that if both India and China draw water from upstream Brahmaputra, Bangladesh will become a barren land.
While India and China compete for influence in South Asia, both are keen to cultivate relations with Bangladesh but local lawmakers have no leverage over them, nor does the country have the capacity to search for alternative solutions while dealing with the hydropower policy of its upstream neighbors.
Bangladesh must also deal with depleting underground water levels in its major cities due to massive industrial consumption.
In 2018, 78 per cent of the water supply came from underground sources while the remainder came from treating surface water. With this backdrop, the future prospects of water in Bangladesh does not look promising.
The power and influence of China increases with every new dam installed in Tibet.
As the number of Chinese dams in the region increase, water scarcity will become a nightmare policy issue for downstream countries. The concern is that, in the future when China has fully realised the hydropower potential of Tibet, it could use the flow of water as a political weapon to extract geo-political concessions.
At the flick of a switch, China could flood some areas while other places dry out. How Beijing chooses to apply the pressure is at its own discretion.
For Beijing, keeping Tibet a part of China goes beyond the already important strategic objective of maintaining the country's territorial integrity.
Tibet is the hydrological lynchpin of the region. Control of the Tibetan Plateau allows China to remain a water-independent country whose major rivers all originate within its own borders, and allows it to exercise hegemonic hydrological leverage over its neighbors, including India, China's only potential competitor in the region.
And the future construction of ever-larger dams on those rivers will offer China the capability to choke off those neighbors' freshwater supplies or threaten to do so.
As long as China controls Tibet, the epicenter of water in Asia, Chinese hydrological hegemony shall prevail. In the not-so-distant future, as nations fight for water and the survival of their people, China sits on the Iron Throne, controlling the actions of its downstream neighbors.
Mahmudur Rahman, Research Intern, Centre for Governance Studies (CGS).
Views in this article are author's own and do not necessarily reflect CGS policy.
Comments