Small and Medium Enterprises: An Overview of Covid-19 and Stimulus Packages
Mahmudur Rahman | 28 June 2021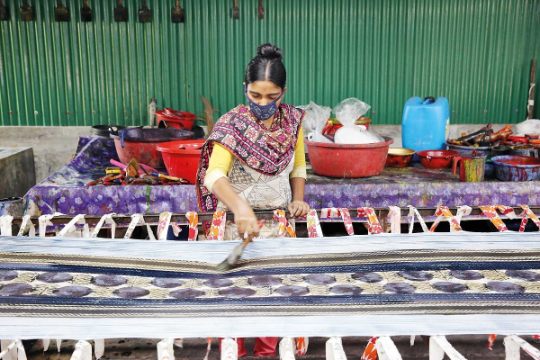 ---
Small and Medium Enterprises (SMEs) are the backbone of a nation, providing a multidimensional contribution to the socioeconomic environment of a country. Due to the broad definition of SMEs, they reach a vast number of sectors such as manufacturing, mining, wholesaling, retailing, service and much more, thus employing millions of people in Bangladesh. According to Bangladesh Ministry of Industries, Micro, Small and Medium enterprises (MSMEs) employ around 7.8 million people. Asian Development Bank's 2015 report states that MSMEs contribute about 25% to Bangladesh's Gross Domestic Product (GDP).
The contribution of SMEs to our GDP is comparatively less than our Asian neighbors. India boasts a whopping 80%, China 60% and Japan 70%. Bangladesh's closest competitor on many economic indicators, Vietnam has a SME contribution to GDP of 40%. A study by Japan Bangladesh Chamber of Commerce and Industry (JBCCI), found that Bangladesh has 17,384 micro enterprises, 15,666 small ones, 6,103 medium and 3,639 large scale enterprises.
SMEs in Bangladesh face a number of challenges such as limited access to bank finance, limited availability of skilled and semi-skilled workers, technical illiteracy, lack of coordination among government agencies, and corruption. During the covid pandemic SMEs faced all these challenges with even higher difficulty, since business activities were halted either partially or in full, cash inflow drastically reduced and many SMEs struggled to pay wages, hence some were forced to shut down completely.
By March 2020, the Ready-Made Garment (RMG) sector faced order cancellations of nearly 650 million garments, worth a total of US$2.04 billion, impacted 738 factories and about 1.42 million workers, according to the Bangladesh Garment Manufacturers and Exporters Association (BGMEA).
Bangladesh Government was quick to provide a 5000-crore stimulus Package for export-oriented businesses. This was a form of liquidity support that went directly to the bank accounts of the workers of the businesses. According to the ministry of finance, by November 2020, 100% of the funds were allocated which reached a total of 3,500,000 people.
The owners were content but many trade unionists felt that the owners and associations were not willing to take any responsibility for workers, but wanted to pass on all obligations to the government. Some of the union leaders questioned whether factories even needed the stimulus package, asking why they would not be able to pay wages for 2-3 months on their own, given that the sector had been functioning profitably for 40 years.
On 13th April, 2020 Bangladesh Bank (BB) released a circular on Special Working Capital facility for cottage, micro, small and medium enterprises (CMSME) sector under Financial Incentive package, which amounts to BDT 20,000 crore. To avail this package SMEs had to prove that they faced loss due to the Covid-19 Pandemic and they had to provide the previous year's financial statement. Some conditions were attached to this package, this loan couldn't be used to pay out other loans, expand business activities or start a new business. This was only to be used as working capital. As of 30 April, 2021, 73% of the package has been disbursed. To properly utilize this subsidy and bounce back from this stagnant economic state, the rest of the funds need to be disbursed as soon as possible. On the other hand, the disbursement rate for large enterprises is much higher. This indicates the priority of the authorities.
Although BB's initiative was aimed at bringing greater benefits to the SMEs, it has yet struggled to qualify as an inclusive program because SMEs that can't provide collateral have a lesser chance of getting the loans, this has led to the rejection of loan applications of many SME owners and why the disbursement process hasn't finished yet. Since, banks are fearful of loan defaults, the Govt can consider "Mobile Financial Services". This will also be beneficial for those SMEs operating outside the periphery of Banks.
Not just BB initiatives, the budget of FY 2021-2022 has also disheartened the SME owners, there is no direct cash support to revive the CMSMEs sector, where millions of workers lost jobs. And the proposed 1% tax cut on Import of Capital Machinery and Turnover tax are welcome but in the short-term SMEs require now are soft loans provided at a low interest.
The uphill battle of SMEs could be reduced if the COVID-19 Emergency and Crisis Response Facility Project (CECRFP) can be properly implemented. A loan agreement has been signed by the Government of Bangladesh (GoB) and the Asian Infrastructure Investment Bank (AIIB) on February 26, 2021 to carry out this project. The said refinance facility from AIIB amounting USD300 million (BDT. 2,520 Crore) is available to provide liquidity support to Banks and Financial Institutions parallel to BB's own refinance facility to CMSME stimulus package.
Operational and Financial, these two types of challenges arise while providing support to the SME sector. SMEs don't keep data or the data is unorganized, so it is difficult for banks to assess their financial condition. And the Covid-19 pandemic hampers banks' ability for field visits. Low interest rates can cause a spike in loan applications, loan supply may be insufficient to meet demands. Banks tend to provide loans to customers with pre-existing relationships, CMSMEs without existing lender relationships may be deprived of loans.
Bangladesh Bank must provide certain incentives to the banks. Banks which take a risk premium by providing collateral free loans should be given credit guarantees. And mandatory loan targets should also be placed to incentivize the banks to mobilize the funds at a faster rate.
Shock resilience of SMEs has always been an issue, the GoB has to initiate tailor made policies for this sector. Copying and pasting the policies of other nations and other sectors may not provide the expected result. To this end, policy discussion with relevant stakeholders and Focus Group Discussions are of utmost importance. Good governance will be key to the effective mobilization of the SME sector.
Mahmudur Rahman, Research Intern, Centre for Governance (CGS).
Views in this article are author's own and do not necessarily reflect CGS policy.
Comments