Webinar on The Future of Liberal Democracy in Bangladesh after the COVID-19 Pandemic
29 May 2021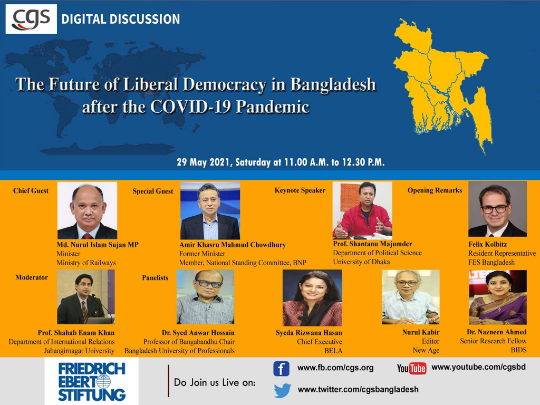 ---
Recently we are experiencing various shifting of powers and politics and government systems around the world. COVID-19 has an added affect to this ever-changing shapes of democracy around the world and Bangladesh is not an exception. Centre for Governance Studies organized a webinar on 29th May, 2021 tilted as "The Future of Liberal Democracy in Bangladesh after the Covid-19 pandemic" on the basis of a paper published by Professor Shantanu Majumder. It was moderated by Prof. Shahab Enam Khan, Deparment of International Relation, Jahangirnagar University.
As the opening speaker Mr. Felix Kolbitz, Resident Representative, Friedrich-Ebert-Stiftung (FES) Bangladesh gave an emphasis on the rights of minority and the relationship between the majority and the minority in a democratic system. Liberal democracy in establishing justice and peace among the citizens and saving them from any oppression and inequality. The principles of democracy are under threat worldwide in recent times. Mr. Felix concluded his speech by wishing the paper would take place in national data and be of use for long term implications for eradicating crisis and development in Bangladesh.
The other panelist of the webinar was Dr. Syed Anwar Hossain, Professorof Bangabandhu Chair, Bangladesh University of Professionals; Syeda Rizwana Hasan, Chief Executive, BELA; Nurul Kabir, Editor, New Age; and Dr. Nazneen Ahmed, Senior Research Fellow, BIDS. Md. Nurul Islam Sujan MP, Minister, Ministry of Railways, his execellency joined as chief guest and Amir Khasru Mahmud Chowdhury Former Minister, Member, National Standing Committee, BNP joined as special guest on the Webinar.
Professor Shantanu Majumder, Department of Political Science,University of Dhaka, the keynote speaker of the webinar who also presented a paper talked about the issue of self-censorship and the present crisis of liberal democracy in Bangladesh with its historical background. The recent system has been a result of the liberation war, assassination of the Head of State, military dictatorship, collapse of military rule and then the parliament election of 1991. The weakening of the opposition party began with the parliamentary election of 2014 and there lies a debate of how to hold a free and fair election. Subtle de-politicization is also another reality. Long lasting realities were brought forward. There has been lack of enthusiasm for democratic values at the societal level and nothing encouraging in the regional and global political landscapes. He also gave several recommendations regarding the issues and he considers that traditional civil society organizations need a wake up call. Creation of scope for formal and informal interactions among the ruling party and opposition party was also recommended along with the support from West-European and Scandinavian countries, international community and for the opposition party to not be directly or indirectly involved with anti-democratic forces.
Professor Sayed Anwar in describing the constitution of Bangladesh said, he doesn't see any democracy in the country, rather "demosclerosis". The democracy was labeled as absolutely dysfunctional. Although we have democratic system in our mind, we don't have the democratic spirit in our actions. He also highlighted that corruption has been integral part of government system in Bangladesh. The role of a real and active opposition party is very crucial in balancing a democratic nation and Bangladesh lacks such institution as it only is dependent on the government and there are various crisis going on in the main opposition party. He also pointed out that he doesn't see any civil society but political society in our country that are divided in their own interest.
Moreover, in addressing the importance of liberal democracy in economic and financial state, Dr. Nazneen Ahmed focused on how institution matters not only for freedom of speech but also for economic development. Even though the GDP growth rises without a proper democratic system, the economic development is still not attained properly as in the long run effective institutions are very important. The powerful and rich are just growing bigger and better but the poor population aren't growing as expected and based on the GDP growth. Nurul Kabir agreed with her on the immense inequality between poor and rich in the country despite the GDP growth. While concentrating on the theoretical values of liberal democracy and compared with Bangladesh's scenario he pointed out people's sovereignty, development of a democratic republic, separation of power, separation of religion and politics and right to public property are very crucial.
On the other hand, Syeda Rizwana criticized the repressive and restrictive laws enacted by government party. Proper implication of 'Referendum', which is included as a provision in Bangladesh constitution was suggested as well as the significant role of election commission, judiciary, bureaucracy, civil society and the media is very necessary to evaluate while talking about a democratic nation.
BNP leader Amir Khasru Chowdhury, defend the accusation of entrance of military personnel in the political process where he said there are many historical examples in the world where the military leaders contributed more than the political leader who came through a proper political process. He said, in liberal democracy people are supposed to be at the center of power and electoral democracy is the bedrock of parliamentary democracy but unfortunately both are absence for last few years under this government.
On the other hand, the honorable minister Nurul Islam Shujan MP defended the stance of government under current circumstances and said the government under the leadership of MP Sheikh Hasina has built as a self-reliant state through its remarkable achievement in economic sector. Later on, he criticized the role of opposition and said it should not be forgotten that, to establish liberal democracy an accountable opposition in needed who has many roles to play.
Apart from them, there were other people who joined the webinar as guest speakers; Dr. Amena Mohsin, Professor Department of International Relations, University of Dhaka, Dr Muhammad Abdul Mazid, Former Chairmen of NBR, Former State Minister of Foreign Affairs, Abul Hasan Chowdhury and many others. Amena Mohsin in her short speech emphasized on empowering individuals through education, health system and other informal sectors. Dr Abdul Mazid suggested to strengthen the government institutions like NBR, Public Service Commission and Election commission which is a major requirement in liberal democracy.
In conclusion, the speakers called for an affective participation of the opposition party as well as the involvement of the civil society to bring a mutual understanding between them and the leading party. To uphold and upgrade the democratic values, cooperation of all the concerned parties were emphasized, to work together for establishing a liberal democratic society.
Watch the full webinar here

Comments