Searching Ways Forward for Bangladesh in the Time of Pandemic:Public Health Sector in Bangladesh
20 February 2021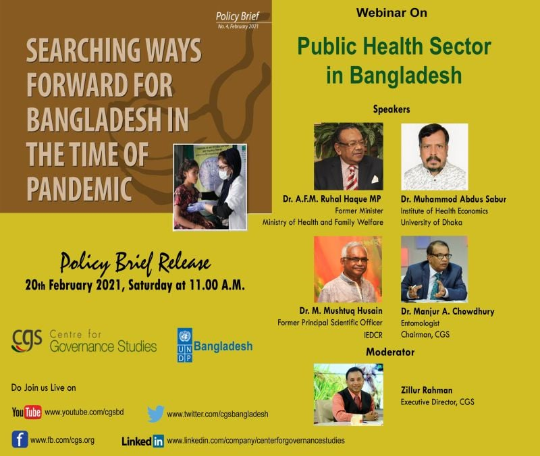 ---
Despite having numerous infrastructural facilities, due to the lack of skilled manpower and skill-mix imbalance, the return of such facilities is not adequate, said by Dr. Muhammod Abdus Sabur, who was the key speaker and also the author of the policy brief. The webinar was organized by the Centre for Governance Studies(CGS), supported by UNDP to release a policy brief on public health titled "Searching Ways Forward for Bangladesh in the Time of Pandemic:Public Health Sector in Bangladesh". It was hosted by Zillur Rahman, the executive director of CGS.
Dr. A. F. M. Ruhal Haque MP, Current Member, Parliamentary Standing Committee and Former Minister,Ministry of Health and Family Welfare;Dr. M. Mushtuq Husain,Former Principal Scientific Officer, IEDCR and Dr. Manjur A. Chowdhury, Entomologist, Chairman, Centre for Governance Studies (CGS) were also present as the speakers in the webinar.
Dr. Sabur talked about the poor coordination among relevant stakeholders and also the governance problems in the health sector during the pandemic. He emphasized on increasing the budget and strengthening management capacity. Dr. Mushtuq expressed his concern saying a new pandemic might come at any time due to the excessive interaction between humans and wildlife. He suggested giving more focus on public health institutions through providing more research and training facilities with the necessary equipment.
During the webinar, Dr. Manjur raised an important issue saying there is no law or regulation based on which a patient can suit legal action if they feel they don't get proper medical facilities. Dr. Ruhal Haque MP, also pointed out the limitations the world had to face and at the same time appreciate the efforts of the Bangladesh government during the Covid period. He advised to consider Upozilla level hospital as a prime area of improvement and also provided a solution to initiate a double or triple shifting system for the doctors to develop the service delivery.
Almost every speaker in the webinar pointed out the administrative and management incapacity in the health sector and encouraged reshaping the cadre system and private sector regulations.
Comments