Searching Ways Forward for Bangladesh in the Time of Pandemic; Covid-19 and the Bangladesh Economy: Nature of the downturn and prospect for recovery
13 February 2021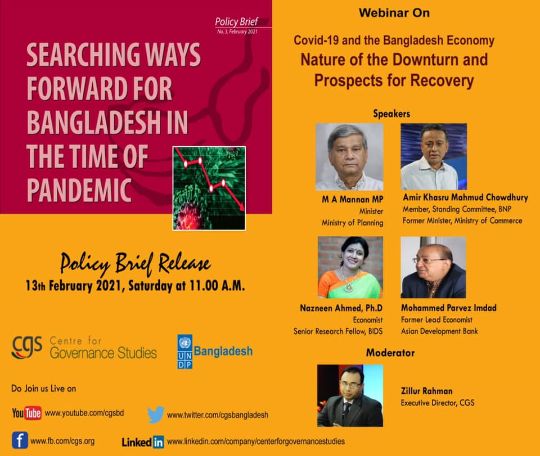 ---
Economist Dr. Nazneen Ahmed provided a forward-looking presentation of policy where she said Bangladesh's economy could not achieve the target due to the covid-19. She was talking in a webinar which was organized by Centre for Governance Studies(CGS) and supported by United Nations Development Programme that took place on 13th February 2021. The webinar was arranged to release the policy brief, titled "Searching Ways Forward for Bangladesh in the Time of Pandemic; Covid-19 and the Bangladesh Economy: Nature of the downturn and prospect for recovery."
The speakers of the webinar were M.A Mannan M.P, Minister, Ministry of Planning; Amir Khasru Mahmud Chowdhury,Member, Standing Committee, Bangladesh Nationalist Party (BNP) and Former Minister of Commerce and Dr. Nazneen Ahmed, Economist and Senior Research Fellow, BIDS. The webinar was hosted by the executive director of CGS Zillur Rahman.
Dr. Nazneen Ahmed who developed the policy brief appreciated the stimulus package offered by the government but said policymakers should learn from the crisis they face in the health sector. She also suggested revising the restoration act related to the auto rise mills. She divided the whole pandemic period into three phases; a. Prevention phase b. Recovery phase and c. Progress phase.
In the webinar Amir Khasru Mahmud Chowdhury said the current economic model is excessively corrupted and controlled by a certain group of people. He also condemned the government initiative to procure the vaccine from a private company. On that note, he suggested resting the current economic model into a proper framework.
M.A Mannan, in his speech showed some data from IMF and World Bank and said Bangladesh has done better compare to many developing countries in the covid period. He also said that the government is trying to customize and find new ways to develop the current micro-credit system to help poor people. He hoped to be recovering from the current crisis by the middle of the year through a proper vaccination programme.
At last, Dr. Nazneen suggested it is important to monitor the small and middle scale industries properly for their smooth entrance and exit from the business.
Comments