Searching Ways Forward for Bangladesh in the Time of Pandemic: Food and Nutrition Security in Post-pandemic Bangladesh
09 February 2021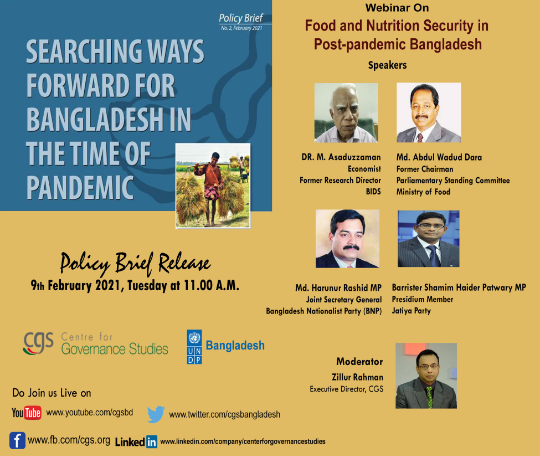 ---
A webinar was arranged by Centre for Governance Studies, supported by United Nations Development Programme on 9th February, 2021. The webinar was under the project, titled "Searching Ways Forward for Bangladesh in the Time of Pandemic: Food and Nutrition Security in Post-pandemic Bangladesh."
The webinar was hosted by the executive director of CGS Mr. Zillur Rahman, where specialist from relevant sector, politicians and few members of parliament were present. Dr. M. Asaduzzaman, the author of the policy brief, was the key speaker at the event. Md. Abdul Wadud Dara, Former Chairman, Parliamentary Standing Committee, Ministry of Food; Md. Harunur Rashid MP ,Joint Secretary General, Bangladesh Nationalist Party (BNP) and Barrister ShamimHaider Patwary MP, Additional Secretary & Presidium Member, Jatiya Party were also present as the speakers of the webinar.
Mr. Asaduzzaman started his speech by saying unless we carefully plan for now and for future large scale food deprivation and nutrition insecurity may raise. The need for involving mass people and the experts from the relevant sector with the bureaucrats is essential," he also added. On the other hand, Md. Abdul Wadud Dara has appreciated the efforts of Sheikh Hasina and said if financial institutions run on the proper process, food scarcity might reduce.
Barrister Shamim Haider Patwary said, for the lack of consumption, several sectors related to food might get wiped out. Regarding this, he suggested to research where the consumption might increase and decrease in the post-pandemic era. Md. Harunur Rashid was accusing that, the experiences that have been gathered through visiting other countries are not implementing properly in our policy discussion. He also expressed his concern on improper product marketization, and emphasizes the need for cooperative management in that case.
At the very last, Mr. Assaduzzaman concluded his speech by thanking everyone for bringing up and addressing the economic, social, and political aspects related to the issue.
Comments