Conspiracy Theories Swirl Around Sikh Separatist Amritpal Singh Sandhu
The now-detained radical's actions may herald a new age of militancy
C. Christine Fair | 03 May 2023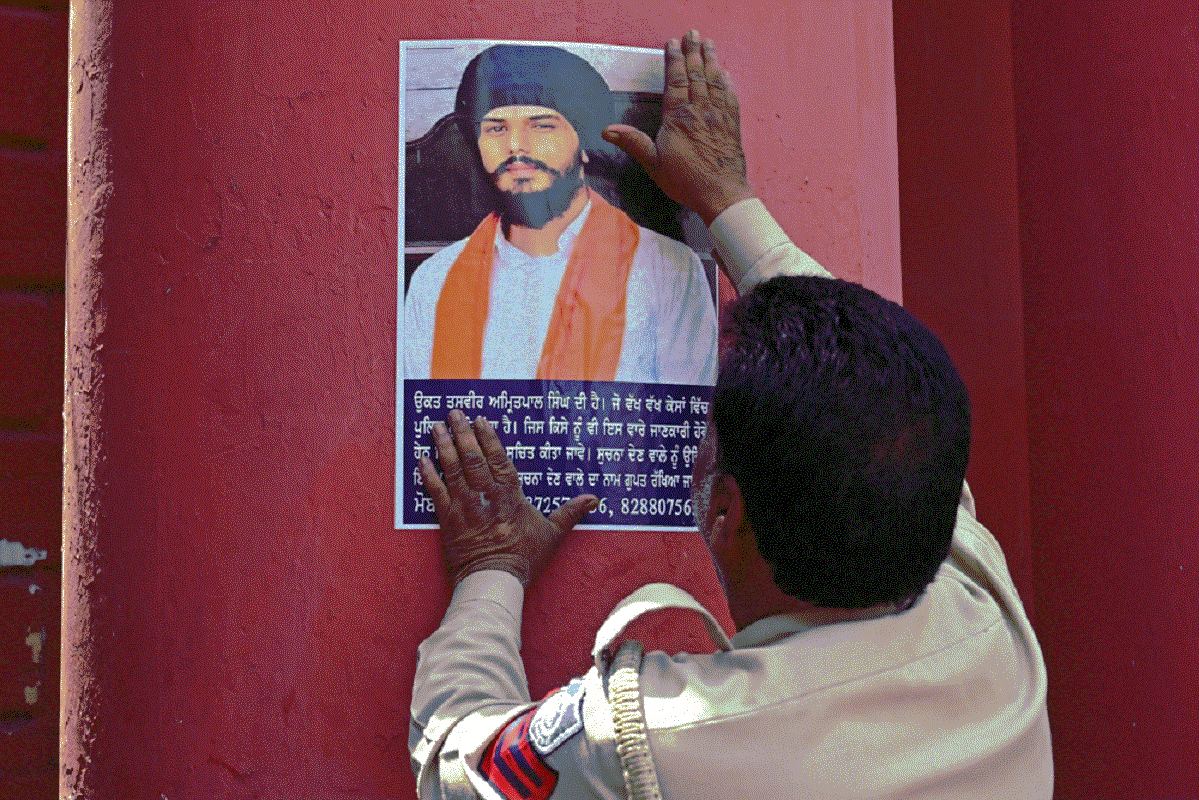 ---
Amritpal Singh Sandhu is no longer on the run. Since March, the 30-year-old proponent of an independent Sikh state—to be carved from India's Punjab province—had eluded a massive manhunt that commenced after he escaped an attempted arrest during a dramatic car chase in the Punjabi city of Jalandhar on March 18. Singh is wanted in numerous criminal cases, including attempted homicide. Before his April 23 arrest, Singh gave one final address at a gurdwara (a Sikh temple). Many of Singh's associates have already been wrapped up and dispatched to the Dibrugarh Central Jail in India's Assam province, but Singh remained elusive despite promises to surrender before Baisakhi (April 14) at the Sikh's holiest of holies, the Golden Temple, before eventually surrendering.
The Sikh empire was once a mighty force in the subcontinent, and many Sikhs have never given up the aspiration for a state of their own based in Punjab, known as the Khalistan movement after the putative name of a Sikh nation. Sikh separatism—and communal violence against Sikhs—has been part of the Indian political landscape since independence. In his rhetoric and his clothes, Singh is trying hard to recall another charismatic young leader of the Khalistan movement who disported with armed escorts, claimed to be a Sikh religious and political leader, and launched a campaign of terror: Jarnail Singh Bhindranwale, the leader of a radical separatist movement in 1984.
Yet Indians have been bewildered by Singh and his seven-month political career that seemingly manifested from nothing—and wondering who is behind this sudden celebrity. When I was in Punjab during December 2022 and January 2023, few people had heard of him before the fall of 2022. The Sikh community in Punjab is tightly knit, so when Singh emerged, many Punjabis suspected a hidden hand propelling him to prominence. Throughout Punjab, questions continue to swirl about just who is backing Singh—and why.
Singh has become another piece in the conspiratorial puzzle of Indian politics. While some Punjabis accuse the current Bharatiya Janata Party-led (BJP) government of using Singh to bring down the Aam Aadmi Party, the BJP's opposition in Punjab, others suspect that he is an agent of Pakistan's dreaded intelligence agency, the Inter-Services Intelligence (ISI) directorate, backed by foreign financing possibly coming from pro-Khalistan elements in the global Sikh diaspora.
There are plenty of mysteries around Singh's origins. He was born in January 1993 in the Amritsar district of India's Punjab province. After finishing the 10th grade in Amritsar District, he claims to have enrolled in a mechanical engineering program in 2009 at the Lord Krishna Polytechnic College in Kapurthala. He seems to have dropped out as soon as he joined, as no faculty member can recall his presence. In 2012, Singh moved to Dubai, where he helped with his family's transport business. He had an online social media presence, supporting the mass farmers' protest movement, which began in 2020 and was predominantly led by Sikh farmers protesting against the new agricultural regulations introduced nationwide by the BJP government, and complaining about issues in Punjab.
Singh's original rise to popularity seems to have come through his association with a former lawyer and film star, Deep Sidhu, who became a prominent political activist. Sidhu rose to prominence during the farmers' movement. Sidhu gave fiery speeches despite being a previous supporter of the BJP, and linked the farming laws to wider socioeconomic problems that enmired Punjab, such as addiction, joblessness, and the travails of the province's farmers.
Sidhu, along with gangster-turned-activist Lakha Sidhana, became notorious when they encouraged groups of protesters to enter New Delhi and vandalize the Red Fort, a historic site, where they clashed with police and hoisted the Nishan Sahib (a Sikh religious flag) atop it on Republic Day (Jan. 26) in 2021. Both men were subsequently arrested. Other parts of the movement denounced them for resorting to violence—or accused them of being agents provocateurs.
Sidhu soon transitioned from focusing upon the farmers' movement to more expansive challenges in Punjab, combined with Sikh nationalism. On Sept. 30, 2021, Deep founded Waris Punjab De (Heirs of Punjab) ahead of the Punjab Legislative Assembly elections as a "social organization" intended to serve as a "a pressure group to protect and fight for rights of Punjab and raise social issues." When he launched the group in Chandigarh, he described it as an organization that would "fight for the rights of Punjab against the Centre and raise voice whenever there will be any attack on the culture, language, social fabric and rights of Punjab."
Sidhu, a successful actor with close ties to Bollywood royalty, was a popular figure. Prior to the controversial actions at the Red Fort, he was regarded as a significant social media commentator in Punjab and amassed more than half a million followers on his Facebook page. Before his untimely death, he had mapped out a future after the farmers' movement ended. Having achieved film stardom when he played a young gangster in Amardeep Gill's Jora 10 Numbaria, he had planned to return to Punjabi films and was, in fact, working on three such films before his death in a car accident with a truck on Feb. 15, 2022.
His death occurred five days before the scheduled state elections, while Sidhu was en route to campaign for a pro-Khalistan candidate. While his friends suggested that the driver intentionally attempted to kill him, noting that he was allegedly "receiving threats from some people," the police have ruled out foul play and said they found bottles of alcohol in Sidhu's vehicle. Sidhu's body was cremated amid crowds shouting pro-Khalistan slogans.
His death opened up a space for Singh, who had briefly returned to India from Dubai to support the farmers' protests in 2020-21 in person, leaving after the government caved to the protesters in November 2021. At this time, he did not appear with the most obvious signifiers of a devout, orthodox Sikh, which are known as the five K's, such as uncut hair and a kirpan (ceremonial knife).
However, when Singh returned to India in August 2022, he looked visibly different from his previous photos in which his hair and beard were fashionably trimmed. He now projected the image of an adherent to orthodox Sikhism. His beard was long and untrimmed, his uncut hair covered by a blue turban. He now wore the steel bangle as well as a kirpan tucked into its traditional strap and dangling from his waist. Explaining his dramatic makeover, Singh claimed that he had stopped cutting his hair on Sidhu's advice prior to his death.
On Sept. 25, 2022, he was initiated into the Khalsa, the community of devout Sikhs, at Anandpur Sahib, a gurdwara of significant religious and political import. In 1973, the Shiromani Akali Dal—the most important political party claiming to represent Sikh interests—unfurled its list of demands of the central government at Anandpur Sahib. These demands became known as the Anandpur Sahib Resolution and sparked a series of violent clashes with the government.
Curiously, the self-styled preacher of a religion that puts a high emphasis on literacy claims that he has never read a single book. This has not deterred Singh from confidently recounting the varied struggles and injustices countenanced by Sikhs in fluent Punjabi.
Subsequently, on Sept. 29, 2022, massive crowds witnessed Singh's dastar bandi (ceremony of tying a turban) to signify that he would be the new head of Waris Punjab De. The ceremony was held at Rode village, Bhindranwale's birthplace. This marked Singh's transformation from a social media influencer to a notorious proponent of Sikh separatism. In fact, by this time, people were referring to him as Bhindranwale 2.0. From that point onward, his rise seemed meteoric—even though he had done very little to justify the fame he now enjoyed.
Sidhu's own family were quick to distance themselves from Singh, saying that they never appointed him as the head of their son's organization and were baffled as to how this man "who made a parachute landing from Dubai suddenly took over the reins of 'Waris Punjab De.'" Yet Singh's uncle, Harjit Singh, asserted that Sidhu's own supporters made him the leader. Sidhu's family maintains that there are now two organizations with the same (or similar) name, one which was formed by Sidhu and headed by a man named Harnek Singh Uppal and another by Singh.
More recently, news reports claim that according to confiscated documents, Singh created an organization named "Warris Panj-Aab De," which was phonetically similar to Sidhu's own Waris Punjab De, and backdated its founding "to piggyback on the late actor's popularity after the radical preacher failed to take control of the existing outfit." In fact, there is no evidence that Singh ever met Sidhu in person.
Many in Punjab questioned how Bhindranwale 2.0 could materialize seemingly out of nowhere. Singh's time in Dubai galvanized further questions, and a flurry of answers and theories. Well-placed sources in Punjab and Delhi claimed to me that while in Dubai, he was an asset of India's own intelligence agency, the Research and Analysis Wing, which tasked him with keeping tabs on Khalistani activities in Dubai. These serious allegations obviously cannot be confirmed.
However, many ordinary persons in Punjab share the view that Singh was an asset dispatched by the "BJP-ruled Centre seeking to destabilize the fledgling Aam Aadmi Party government in Punjab," as one of them claimed to me. The Aam Aadmi Party Punjab is the Punjab wing of the Aam Aadmi Party (AAP), which Arvind Kejriwal established in 2012. In March 2022, the AAP Punjab came to power in the Punjab Legislative Assembly on a mandate for change.
This was a significant development for Punjab, which has traditionally been governed by the Indian National Congress party or the Shiromani Akali Dal, the aforementioned long-established Sikh party, often in various coalitions with each other. The AAP Punjab also enjoys considerable presence in India's upper house, the Rajya Sabha. As the BJP seeks to consolidate its hold over Indian politics at the center and in the states, Punjab remains an important prize. That has generated various suspicions about the role of the central government, believed to be cynically using Singh as a tool to bring about a collapse of the Punjab government. In this regard, the state's Chief Minister Bhagwant Mann has done his party no favors with his allegedly insalubrious conduct and debatable performance in governance.
Questions about the central government's potential role in Singh's rise recalled the trajectory of Bhindranwale, whose career was the creation of former Prime Minister Indira Gandhi, who propped him up to undermine the Akali Dal, her rival in Punjab. This did not turn out well. Bhindranwale turned on Gandhi upon realizing he was her stooge. He began fortifying the Golden Temple in Amritsar, where he amassed countless weapons and militants from which he commenced a reign of terror that claimed several tens of thousands of lives.
Gandhi, in June 1984, launched a poorly planned and even more poorly executed military operation to oust him, known as Operation Blue Star. At the end of the operation, the temple complex was destroyed and Bhindranwale was dead, but a full-fledged insurgency was born. Later, on Oct, 31, 1984, she was assassinated by two of her Sikh bodyguards. Congress politicians in collusion with the police launched a brutal pogrom on Delhi's Sikh, in which many thousands were murdered. In turn, this brutal event further justified the growing concerns among a large segment of Sikhs that they could not be safe in India. Those convinced of Singh's status as an asset of the government fear that history could repeat itself, with Sikhs bearing the consequences.
Others rubbish accusations of the BJP's involvement and argue that that Singh is a tool of Pakistan's intelligence agency, the dreaded ISI, with foreign funding—possibly from the diaspora. This suspicion, too, is founded on historical precedent. In the 1980s, while Pakistan was supporting the anti-Soviet insurgency in Afghanistan along with the United States, Saudi Arabia, and China, it was also supporting the Sikh militancy in India's Punjab.
Pakistan provided military training, guidance, and money, and it redirected Chinese arms intended for Afghanistan to Punjab. Long after the militancy ended formally, Pakistan continued its efforts to nurse lingering Khalistani sentiments not only in India, but also in the Sikh diaspora, where the demand for Khalistan remained very much alive. The ISI is also suspected of helping diaspora groups calling for Khalistan in myriad ways as well.
Yet, it hardly matters who is behind Amritpal Singh Sandhu and his movement. While it is commonplace to assert that there is no broad support for any revivified Khalistan movement, my own experience tells me that this is highly generational. Those who lived through the terror of Sikh militancy have no taste for its return owing to the brutality of both the militants and the security forces combatting them. Fears of any such movement are further bolstered by the gruesome anti-Sikh pogroms waged by the Indian National Congress party using state resources, for which justice remains elusive.
However, for younger Sikhs born long after peace had returned, Bhindranwale has assumed a Che Guevara-like status. Socioeconomic conditions in contemporary Punjab are fundamentally similar to the conditions that spawned the Sikh militancy, with one exception: today's Punjab is roiled in pervasive opioid addiction. A 2017 study found that the majority of young Punjabis had problems with drugs or alcohol, with more than 20 percent addicted to heroin. It is therefore not surprising that one of Singh's planks was a de-addiction campaign, and many of his militant followers have come out of rehab centers.
While it is very unlikely that Punjab will witness a return to the carnage of the 1980s, the possibility of violence is still there. Whoever was backing Singh, his rise—and his popularity—come from genuine anger and unhappiness. That poses a challenge for Western countries with prominent Sikh diasporas, where pro-Khalistan groups take advantage of the free speech of democracies. Listening to Indian concerns around militancy may be important in the future if Washington wants to build close ties with New Delhi.
C. Christine Fair is a professor at Georgetown University's security studies program within the Edmund A. Walsh School of Foreign Service. She is the author of Fighting to the End: The Pakistan Army's Way of War and In Their Own Words: Understanding Lashkar-e-Tayyaba.
This article was originally published on Foreign Policy.
Views in this article are author's own and do not necessarily reflect CGS policy.
Comments