What's happening: Trends and Patterns of the Digital Security Act 2018 in Bangladesh
25 January 2023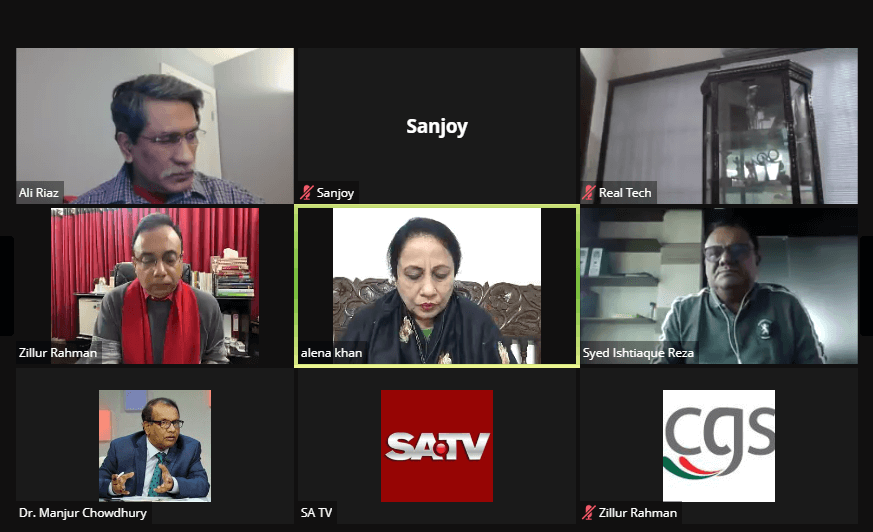 ---
Since its inception, the Digital Security Act has been widely used in Bangladesh against people from different backgrounds to limit their voices and establish an environment of fear. Human rights defenders, activists, academicians, and legal experts have repeatedly said this act can be used as a weapon against freedom of expression instead of protecting digital platforms for mass audiences. Considering the significance of this law, the Center for Governance Studies has been conducting a project to track down the cases under this act since October 2018.
CGS has been able to track 1109 cases with detailed information, where the number of accused and arrested are 2889 and 1119, respectively, from October 2018 to August 2022, and has conducted a study where it analyzed the cases.
Part of this project there was a webinar organized by the CGS (Centre for Governance Studies) titled "What's Happening: Trends and Patterns of the Digital Security Act 2018 in Bangladesh" on January 14, 2023. Dr. Ali Riaz, Distinguished Professor of Political Science at Illinois State University, USA, and a member of the advisory board of the Centre for Governance Studies (CGS), presented a research report on the Digital Security Act 2018 at the webinar. The report showed a trajectory where the DSA was increasingly used to silence journalists and opposition politicians.
Besides Dr. Riaz, the other discussants of the webinar are Syed Ishtiaque Reza, chief editor, Global Television; Masud Kamal, senior journalist; Advocate Alena Khan, human rights activist; and Saimum Reza Talukder, senior lecturer, BRAC University.
The program was presided over by Dr. Manjur Ahmed Chowdhury, Chairman of the Centre for Governance Studies, and moderated by CGS Executive Director Zillur Rahman.
Dr. Ali Riaz, in his keynote, highlighted some important statistics from the research conducted by CGS. He stated that the most alarming matters are: first, the law stipulates that an investigation report must be submitted within 60 days. If it is essential, the investigating officers can seek an extension of 15 days from the authorities. After 75 days, officers will have nothing to do, and at that time, it will fall under the jurisdiction of the tribunal. But over the past four years, we have detected that in many cases, although the investigation report is not given within the required 75 days, the accused is still in custody and commendably being punished before the trial. Second, there are 26 teenagers who are under 18 who have been accused under this law. Dr. Riaz stated that such practice continued, and a culture of fear and self-censorship has taken hold, with people gradually ceasing to express their thoughts and opinions both online and in books and news articles.
The most striking highlight of the study is the clear indication that the DSA is being used to target journalists and political opponents by members of the ruling party. As for the professions of the accused, they identified their professional identities as 1029. Among them are politicians, journalists, and students, who comprised the largest numbers: 301, 280, and 106, respectively. Of the people of the professions who were arrested in larger numbers, among the 423 arrestees about whom information could be gathered, about 92 were politicians, 84 were journalists, and 76 were students. In the case of the teachers, among the 51 accused, 38 were arrested. Madrasah teachers make up the largest number of these arrestees, with 16. He also added that in 2021, most of the cases will be filed against politicians, whereas in 2020, the most accused will be journalists.
While presenting the statistics, he described that, in a 47-month period among the accused journalists, the following details about journalists' media affiliations were known: 109 are associated with national-level media, and 144 are local journalists. Of the 280 journalists, a majority of them are associated with the print media—a total of 132, or almost half of the journalists whose workplace has been identified. The second-highest number of journalists are associated with online media, totaling 88. Furthermore, this Act empowers the government to order the removal and blocking of any information or data on the internet if it believes that doing so will silence those who are critical of its policies or who share information about human rights violations in this country.
The study shows that cases were filed by both government officials and individuals. They could identify accusers in 636 cases. Among them, law enforcement agencies and government officials filed 192 cases, and 249 cases were filed by individuals with direct affiliations with political parties. Among the politically connected accusers, 198 belonged to the ruling Bangladesh Awami League (BAL) and its affiliated organizations.
In the past 47 months, the law has been extensively used to claim that individuals have defamed the Prime Minister, various ministers, and politicians. Statistics show that 140 cases have been filed alleging that the PM has been defamed. In these cases, 210 individuals have been accused and 115 have been arrested. Among those, 21 cases were filed by law enforcement agencies, and 119 cases were filed by individuals. The political affiliations of 64 individuals have been identified, and all belonged to the ruling Bangladesh Awami League and its affiliated organizations.
Dr. Riaz added that, similarly, 64 cases have been filed accusing 130 individuals of defaming various ministers. Here, only four were filed by law-enforcing agencies and six by the aggrieved minister along with his or her family members. The remaining 54 cases were filed by people who were neither directly involved in the incident nor had their feelings hurt.A total of 130 people have been charged, and 51 have been arrested.
"In the case of defaming politicians, we can see a similar pattern," he added. Until August 2022, 168 cases accusing 470 people had been filed. Five cases were filed by law enforcement agencies, 69 were filed by aggrieved politicians, and 94 were filed by his or her supporters amidst all the cases. However, 120 individuals were arrested in the name of defaming politicians.
Due to increased internet accessibility in recent years, social media, mostly Facebook, has experienced exponential growth. It has also become a social platform for expressing disgruntlement with social problems and government policies. In this case, DSA has been used as a tool to silence opponents' voices. Statistics show that 698 cases have been filed against 1489 individuals for posts and comments on Facebook. Among the 578 cases, 115 have been filed for hurting religious sentiments, in which 177 individuals were accused.
Of the 22 sections of the DSA dealing with offenses and penalties, only four have been used spontaneously so far. They are: 25, 29, 31, and 35. Under Section 25, 163 cases were filed, in which 497 people were accused and 112 were arrested. Under Section 29, 162 cases were filed, 427 were accused, and 76 were arrested. Under Section 31, 105 cases were filed, 256 were accused, and 70 were arrested. Under section 35, 113 cases were filed, 518 were accused, and 114 were arrested. All other relevant statistics regarding the use of the DSA that were discussed in the presentation are available on the website freedominfo.net. CGS will also publish a hard copy of the report in the near future.
Participating in the discussion, Syed Ishtiaque Reza, Editor-in-Chief of Global TV, said that we should reconsider and think about reforming the act. The government should investigate the flaws and abuse of this act against individuals. DSA has been used against secularists rather than radicalists. He further added that it is questionable how safe we have actually become under this law; as much as the law has been used against progressive groups, fundamentalists have not been brought under this law. A large part of this law has been used to talk about hurting religious sentiments. Every day, however, it is spoken against the basic spirit of Bangladesh in the Waz Mahfil. He expressed his opinion on Facebook about how he is being subjected to personal attacks from fake IDs. Government policymakers should consider whether this law needs to be amended, so it would have been preferable if a law minister or a telecommunications minister had attended today's event.
Saimum Reza Talukder, senior lecturer at BRAC University, stated that we must focus on five key points. Relationships with other laws, the definition of DSA, the shortcomings of this act, ensuring freedom of expression, and repeal should all be discussed and brought to the attention of policymakers, he added. He also said that the Digital Security Act should be renamed the "Digital Freedom Act" as far as freedom of expression is concerned. He also said that the law does not define digital security. As a result, this law cannot be a law to protect the rights of the citizen. It needs to be analyzed whether the state is playing the role of an oppressor through this law. If he had done it himself, he would have called this law the "Digital Freedom Act." The existing Digital Security Act has to be repealed, and a new law has to be enacted.
Senior journalist Masud Kamal stated and defined DSA as an act of establishing a fear culture. He added that, while people who are accused are living in fear, people who are not accused are also living in fear. Thus, the situation has been made such that if you like a post on social media, you can be accused; in fact, if you shake your head, you can be accused as well. So far, not a single police officer, government officer, or minister has been accused under this law, which proves that this act isn't for all. Basically, the law has been brought in to create panic everywhere.
Human rights activist and lawyer, Advocate Alena Khan, stated that different provisions of DSA are contradictory to our constitution. She added that the Digital Security Act is against existing laws and gives police the power to arrest anyone on the basis of suspicion. Misuse and creating tools to suppress are also matters of discussion, which she included in her speech. She accused the police of misusing Section 54 to a great extent and said that now the Digital Security Act is similar to that section. She expressed her concern about how the act is keeping everyone in fear and at risk.
Dr. Manjur Ahmed Chowdhury, Chairman of the Centre for Governance Studies (CGS), concluded the session by stating that the DSA has created a culture of fear in Bangladesh. Now people are thinking twice before writing their opinion in a book or a Facebook post. Freedom of expression is an inherent right of the people guaranteed in the constitution. He said that various groups used DSA against ordinary, powerless people when the law should actually be used to keep digital space secure.
Zillur Rahman, the Executive Director of CGS, moderated the webinar. He stated that DSA has been used to create an atmosphere of fear. Not only journalists but also ambassadors from various countries and human rights activists have expressed concern that this act will erode the right to free expression but unfortunately, the situation has not improved.
Full Webinar: https://www.youtube.com/watch?v=IpkyPBHEPPY&t=99s
Comments