Global Action is Needed to Topple Myanmar's Criminal Junta Boss
Simon Tisdall | 09 January 2023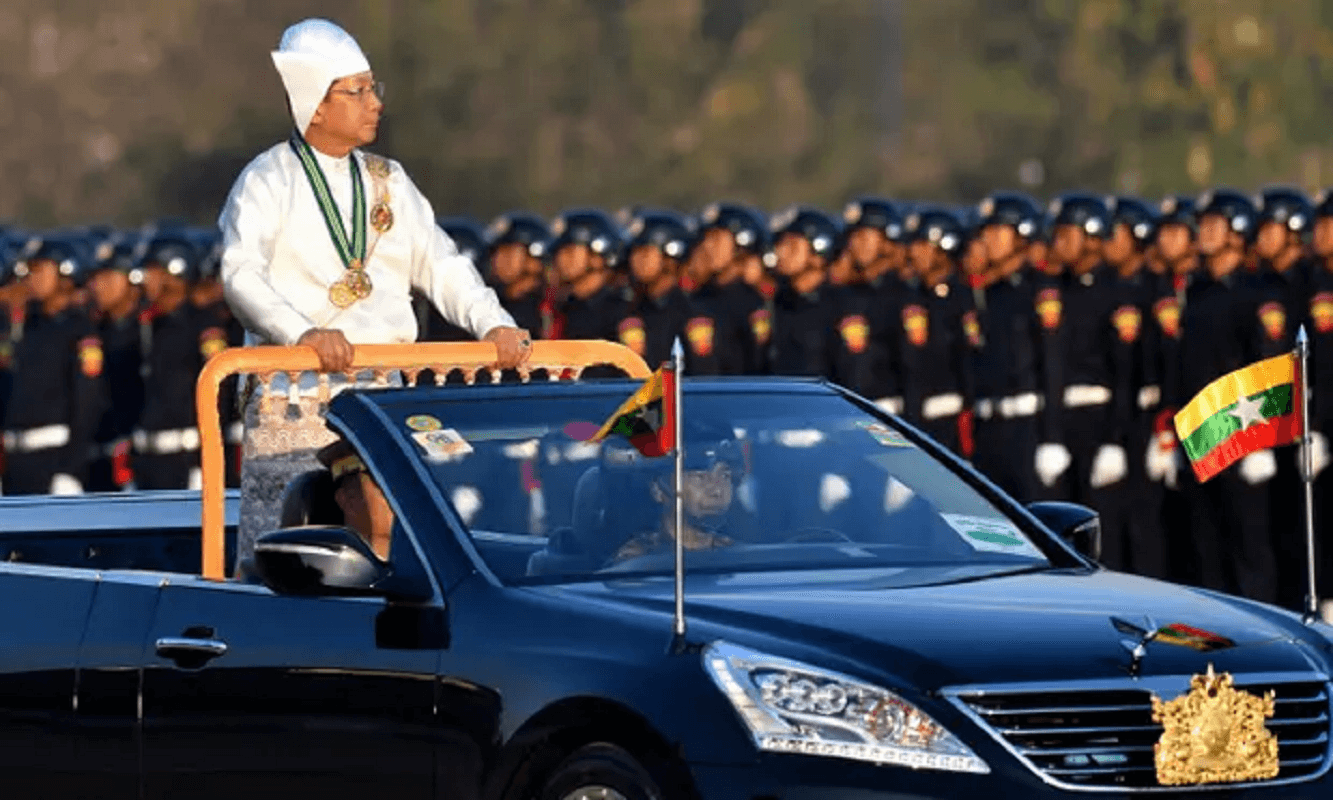 ---
From brutal murders and military parades to jailed opponents, Min Aung Hlaing is true to the tyrant's playbook. The worldwide fight for democracy has to be fought here
It's a country where children are imprisoned, tortured and sexually abused. Hundreds have been killed since the military coup two years ago. In total, more than 2,600 people have been murdered and nearly 17,000 detained by a brutal regime led by a genocidal war criminal. In case you're wondering, this isn't Ukraine and it isn't Vladimir Putin.
The criminal in question is Myanmar's junta boss, Gen Min Aung Hlaing, who struts about in a uniform adorned with meaningless decorations and gaudy gold braid. As a general rule, the more medals a dictator wears, the more absurd and dangerous they are. This killer, this bigoted bomber of villages, schools and hospitals, this displacer of millions, is right up there with the worst of them.
Min Aung Hlaing "celebrated" Myanmar's 75th independence anniversary from Britain last week with a big military parade silently boycotted by most Burmese. Days earlier, he slapped yet another prison term on Aung San Suu Kyi, the democratically elected leader he deposed. True to the tyrant's playbook, the junta plans sham elections this year that will exclude its opponents.
Addressing a sullen nation, Min Aung Hlaing thanked countries which have declined to join the EU, US and UK in imposing sanctions. It was a roll call of shame. "We are closely working with China, India, Thailand, Laos and Bangladesh ... for border stability and development," he said. He might have mentioned Russia, too, his main arms supplier.
What the general failed to say is the junta's grip on power is weakening in the teeth of growing political and armed resistance from an umbrella group, the People's Defence Force, so-called ethnic armed organisation (EAOs), and the exiled, civilian-led national unity government.
Despite regime efforts to suppress independent reporting, much of Myanmar appears to be in a state of semi-permanent insurrection, punctuated by junta atrocities. Yet to succeed, disparate resistance groups need to forge a united front, Scot Marciel, a former US ambassador, suggested.
"The junta may be able to stay in power for some time just through pure brutality, but there's no evidence at all that [it] will be able to stabilise or effectively govern the country or gain any kind of popular support," Marciel told the Irrawaddy news website last week. "They [the resistance] have to show ... they present a stable alternative."
It's plain Myanmar's people need help. So what more should the "international community" be doing? As the former colonial power, Britain is lead country on Myanmar at the UN. Notwithstanding foreign secretary James Cleverly's recent boasts in the Guardian, its good-faith efforts have proven largely ineffectual over the years.
As is so often the case, hopes are pinned on the US. The 2023 National Defense Authorization Act authorises the Biden administration to provide non-lethal assistance and funding to opposition organisations, political prisoners and civil society groups. But it is unclear what, if anything, the White House may do next.
If the world really wants to end Myanmar's suffering, and bring Min Aung Hlaing to heel, China – in theory – is best placed to try. Huge business and infrastructure investments afford it unmatched leverage. It cares nought for democracy, but chronic instability on its border is not in Beijing's interest.
Self-serving calculations, not principles, explain China's unexpected decision not to veto last month's first-ever UN security council resolution on Myanmar, which called for an end to violence and the freeing of all political prisoners. Following Beijing's lead, Russia also abstained. Now comes the hard part: ensuring the junta complies.
The UN, like Myanmar's opposition, needs a united front. To work, it must also include India's government which, as with Ukraine, puts money before morality; Bangladesh, which is struggling to cope with a million Burmese Rohingya Muslim refugees; and Thailand and other Association of South-East Asian Nations (Asean) members.
But Asean is split. Its "five-point consensus" peace plan has stalled. Some states fantasise the junta's sham elections will provide genuine legitimacy. Even recent tragedies involving Rohingya boat people have left regional leaders largely unmoved.
The Burma Campaign UK pressure group complains the UN resolution does not go far enough, with no mention, for example, of a long-sought global arms embargo. "Russia, China and India are using their seats on the security council to protect their profitable dodgy arms deals with the Burmese military," said UK director Mark Farmaner.
Trying to maintain momentum, activists want the UK and other governments to block supplies of aviation fuel, to stop the junta launching air strikes. Too many international companies still do business in Myanmar, they say. Legal action alleging a Rohingya genocide is under way at the UN's International Court of Justice – but the process will take years.
Who else can deter the junta? Religious leaders might be expected to help. But the regime assiduously courts majority Buddhist opinion. Last week it honoured Wirathu, an ultra-nationalist monk notorious for anti-Islam rhetoric who was once dubbed the "face of Buddhist terror".
Disappointingly, Catholic leaders feted Min Aung Hlaing at a Christmas service at Holy Trinity cathedral in Yangon. Cardinal Charles Maung Bo prayed for peace, apparently forgiving of the fact his parishioner's stormtroopers frequently burn churches – and attacked his home village last year.
Bottom line: all concerned actors, international and domestic, must join together to dethrone the region's worst regime since the Khmer Rouge terrorised Cambodia. "What is required is action," Tom Andrews, UN rapporteur on Myanmar, declared last month. "Systematic, gross human rights violations, amounting to war crimes and crimes against humanity, [are] being perpetrated daily on the people of Myanmar."
What could be clearer? If the 21st century's defining global struggle for democracy, justice and civil liberties is to have any hope of succeeding, it must be fought here, too.
Simon Tisdall is a foreign affairs commentator. He has been a foreign leader writer, foreign editor and US editor for the Guardian.
This article was originally published on The Guardian.
Views in this article are author's own and do not necessarily reflect CGS policy.
Comments